27 March 2010
My Movie – Prasthanam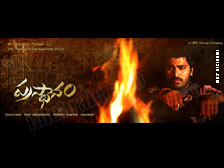 If someone asks me how to describe Prasthanam , I would say " The genetics of filmmaking has been reinvented". It s absolute, wonderful, raw and amazingly philosophical.
Deve Katta delivers one of the most philosophical movies to remember for years to come. Kudos!! In a era where telugu audience are forced to watch the same sumo blasts, crappy comedy, guy falls for a girl, steals girl at her wedding etc., etc.,….Prasthanam stands out. Ravi Vallabahneni deserves credit for supporting a project like Prasthanam.
Coming to movie technicalities, the first 15 minutes is just a treat for someone who enjoys and observes technical aspects of movie. The village rivalry, sibling insecurities, friendship has been portrayed in the right concoction. The movie covers every aspect of human sensibilities and struggle within. It has details on how a servant believes in his master, what a son does to his step father and intricacies of sibling rivalry. Sai Kumar is born for this role. It's his show all the way. Sharwanand fits the bill perfectly with right modulation in voice according to intensity in scenes.
I always believe there is no good and there is no bad. It all depends on your personal interpretation and perspective. No one is born a bad guy nor a good guy. In the materialistic world, it's the way we react to situations, our character is judged. In this conflict the decision we take is always right for a particular person in that particular situation. This is the whole jist of Prasthanam.
Deva Katta's dialogues about aham(ego), aakali(hunger), aasa(wish) in the ending are wonderful interpretation of the huge conflict in human sensibilities. Its a movie that DESERVES absolute applause. Deva Katta should have read almost most of our puranas, vedas to present such an extreme, entertaining, energizing view of philosophy through characters Loknadh(Sai Kumar), Mitra(Sharwanand), Chinna (sundeep),Basha.
Absolutely the best film I watched in a while.
Good Luck to Deva Katta and team
Suresh Matta
sureshkmatta at yahoo dot com
Virginia, USA
More My Movie experiences:
Prasthanam by Amarnath
Prasthanam by Krishna Chaitanya
Prasthanam by Che
Prasthanam by Purnesh
Prasthanam by Kumar
YMC by Kumar
YMC by Mallik
YMC by Satya
YMC by Anurag Reddy
YMC by Ramskott
YMC by Dellcom
YMC by Ashok
YMC by Ramya
YMC by Sudheer
YMC by Laya
YMC by Survi
YMC by Rajeev
YMC by Pavan
YMC by Rohit
Inkosaari by Avanthi
Inkosaari by Sneha
YMC by Praveen
YMC by Rajani
YMC by Sujith
Inkosaari by Ganesh
Leader by Sreekanth D
Maya Bazar by Gopal
Mahatma by Kishore
Baanam by Stanley
Josh by Nathan
Magadheera by Ashok
Magadheera by Wannabe Director
Magadheera by Shanti
Magadheera by Anitha
Magadheera by SS
Oy by Prathna
99 by Bala Thirumalasetty
Veedokkade by Srinivas
Delhi 6 by Vamsi
KIKK by Sweta
Luck by Chance by Srini
KIKK by Lalitha Spoorthi
Arundhati by Naveen
Arundhati by Srini
Arundhati by Bharat
Sasirekha Parinayam by Santhi Venkat
Sasirekha Parinayam by Vamshi Muthapu
Sasirekha Parinayam by Niharika Reddy
Nachavule by Vamsi Krishna
Neninthe by movie lover
Avakai Biryani by Vamsi Krishna
Kotha Bangaru Lokam by Vamsi Krishna
Kotha Bangaru Lokam by S
Ashta Chemma by Deepthi
Ashta Chemma by Lalitha Spoorthi
Sarkar Raj by Pradeep
Jalsa by Lalitha Spoorthi
Gamyam by Sridhar
Gamyam by Sreekanth D
Gamyam by Sanjay
Halla Bol by Purnesh
Taare Zameen Par by Ashok Varma
Taare Zameen Par by Raja Simha
Happy Days by Krishna Sastry
Chirutha by Phani Kumar
Chak De India by Ravi
Yamadonga by Lalitha
Chak De India by Shyam
AMAV by Darsakudu
5 in March by Sashidhar
Okkadunnadu by Anand
Black Friday by Ratnakar
Desamuduru by Krishna Prasad
Guru by It's opinion
Dhoom 2 by Lalitha Spoorthi
Dhoom 2 by ASK
Don - Syam
Boss - Anand
Boss - Hrithik
Stalin - Bala
Bommarillu - Nandini
Bommarillu - Darsakudu
Bommarillu - Vasu
Bommarillu - Harsha Prakash
Bommarillu - Lalitha Spoorthi
LRMB - Shravan
Bommarillu - Anirudh
LRMB - Srinivas
LRMB - Darsakudu
LRMB - S Sridhar
Bommarillu - Shridevi
Bommarillu - Vasudev
Bommarillu - Roopa
Sriram - Godavari
Sarath - Bangaram
Bala - Pokiri
Srinadh - Allari Pidugu
Sudheer Allari Pidugu
Anu - Athadu
Shyam Krishna - Iqbal
Purnesh - Grahanam
Sudhindra - Super
Vijay - Aparichitudu
Madhav - Aparichitudu
Hazaraon Kwaishein Aisi
Swades
Shyam - Black
Sai - Anand
Rohit - Anand & Veer Zaara
Jaya Prakash - 7GBC
Raj - Anand
Purnesh - Anand
Purnesh - The Village
Sriram - Gudumba Shankar
Purnesh - Gharshana
Purnesh - Lakshya
Purnesh - Yuva
Leenesh - Yuva
Kis - Lakshmi Narasimha
Indian Pride - Tagore
Raj - Boys
Phani - Gangotri
Phani - Khadgam
Vikram - CKR
BKR - Indra (Singapore)
Ram - Indra (Dubai)
Ranjeet - Idiot
Rahul - Indra
King Koduri - Indra
Srilakshmi Katragadda - Mitr: My Friend