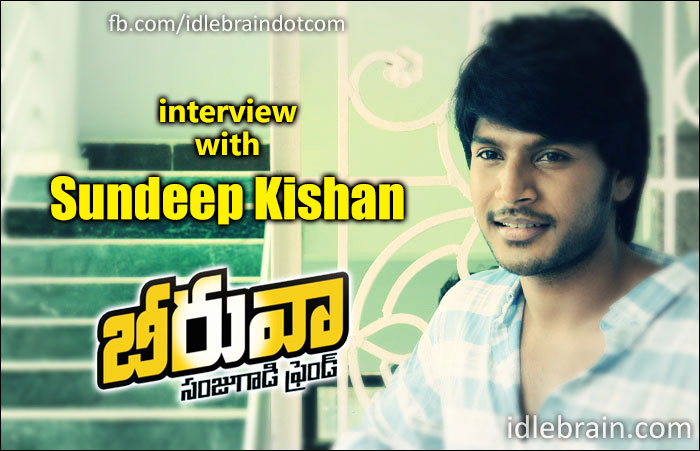 23 January 2015
Hyderabad
Sundeep Kishan's latest film Beeruva is hitting screens on 23 January. Beeruva is coming from the combination of Venkatadri Express (Sundeep Kishan - Gemini Kiran - Chota K Naidu). Sundeep Kishan is confident that this film will hit bull's eye in an exclusive interview given to idlebrain.com
What went wrong with Joru?
It was a mistake. My credibility took a beating because of Joru. I will be very careful while selecting scripts in the future.
Tell us about Beeruva?
Beeruva is a fun entertainer. It's a concept film that is woven around Beeruva. The comedy in this movie is going to be fresh and situational. Beeruva is like Brahmanandam for our movie. Beeruva presents you with a twist whenever it's opened. There is a love story too.
Beeruva is hero's best friend in this movie. He hides in Beeruva whenever he is upset. Beeruva helps him in many situations including his love story too.
How did Beeruva project materialize?
It was the director who approached Usha Kiron movies first. Usha Kiron movies wanted to do this film in association with Anandi Arts. It was Gemini Kiran who sent me this script. We loved it and wanted minor changes. Director has made the movie better than what he narrated us. It's rare script that is entertaining. It appeals to all sections of audiences (class, family and youth).
The opening credits are done innovatively. There are no additional commercial elements that dominate the story. There are 2 fights and 3 songs. This film has obtained U/A certificate.
We have also had a test screening for different kinds of audiences. There was a positive response.
Tell us about the economics of the movie?
This film was sold before audio launch for good profits. Beeruva is the biggest budgeted movie in my career.
What is your gut feel about Beeruva?
Beeruva will be another Venkatadri Express in my career. I was hesitant to talk about and predict commercial success of my earlier films. But, I can confidently say that Beeruva will be a sure shot hit.
Tell us about your next movie Tiger?
Tiger is slated for summer release. Tiger is not a mass film, it's a stylized thriller. Whoever liked me Prasthanam are going to love my character in Tiger.