6 June 2010
My Movie – Vedam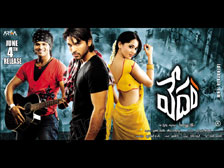 Vedam! After a long time, I am very happy as a passionate Telugu movie lover to have watched a meaningful film in the form of Vedam. If destination (gamyam) marked the debut of Krish, Vedam cements his place as a director to stay.
Basis of the story
Every individual possesses a few qualities based on his/her background and upbringing that dictate their behavior and outlook. Change in this pattern is only possible due to specific action(s)/experience(s) that bring about an everlasting change in the person's outlook.
Krish used this formula in Gamyam film wherein the hero undergoes a change in his outlook towards life after meeting with people and undergoing some life changing experiences.
Vedam revolves around 5 main characters and how they cross paths and culminate at one point. Each individual character carries a particular behavioral pattern. There is greed and avarice (Allu Arjun), nonchalance (Manoj), timidity (Nagayya & Sharanya), hope (Anushka) and vulnerability (Manoj Bajpai). There are also allies to the main characters - Satyam Rajesh & Karpuram (loyalty) and antagonists - Inspector (pre-conceived notion) and Patel (exploitation).
Irrespective of their basic qualities, all the above characters share a common behavior - an intrinsic good of varying degrees. The build up scenes used to bring out this "good" from the characters is the heart and soul of this film.
Cable Raju (Allu Arjun) decides to steal money to take his girl friend to a party. He tries all short cuts and finally steals money from Nagayya; while doing so, he develops a guilt feeling. For the next few scenes, he is owned by this guilt feeling. So much overpowering is this guilt that he confesses the truth to his girl friend. As soon as Cable Raju returns the money to Nagayya and his daughter-in-law, he relieves himself of the guilt and becomes a free man.
Vivek Chakravarthy (Manoj Kumar) does not care about an accident on a road side caused due to his arrogance. When the same truck driver whom he taunts helps him, Manoj becomes a changed man. Towards the climax, he is willing to give up his concert for the sake of helping a pregnant whom he does not know.
Saroja (Anuskha) decides to open her own brothel company. Towards the end of the movie, she is willing to forget her past and start a new life of morality.
Ramulu (Nagayya) wants to educate his grandson. He is shown as a very timid person in the beginning of the movie. Towards the end, he is shown as an individual with aggression who is not willing to be cowed down by the loan shark. Even a minor character like Patel becomes impressed with the kid's math ability and decides not to exploit the poor family anymore.
Inspector (Ravikanth) carries a preconceived notion against muslims. After seeing Manoj Bajpai's character under fire and being saved by the character of Manoj Bajpai, he changes his outlook towards muslims. Here the character played by Manoj Bajpai plays a triggering role in changing the inspector's mindset.
It is worthwhile to note that there are some characters that retain their values towards the end of the movie. The character of Manoj Bajpai (Khureshi) remains the same. Karpuram and Satyam Rajesh maintain their unblemished loyalty towards their friends until the last moment. They are aware that Saroja and Cable Raju are treading through an immoral path but such is the over-powering loyalty that they become allies with a very little persuasion.
A good director is an individual who is able to make his/her characters speak. He is a man behind the scenes and has to convey the message through characters. In that regard, Krish has succeeded in making his characters speak. We don't see Allu Arjun or Manchu Manoj but Cable Raju and Vivek Chakravarthy. We see an old helpless weaver from Sirsilla but not Nagayya. Likewise, we don't see Manoj Bajpai but a muslim who feels vulnerable at every juncture.
This is a welcome change for Telugu films and as a Telugu movie fanatic, I wholeheartedly congratulate Vedam's team for marking a (hopefully!!!) new beginning in Telugu films.
Tailpiece
Saurabh Kalia (a Kargil war hero) on his way to the war said to his mother, "Mom, one day I will make you proud and the whole world will make talk about me". He returned in a coffin but became known as the first Kargil war hero who in his death informed the Indian army the extent of intrusion by the enemy. The dialog by Manchu Manoj to his mother has an agonizing interpretation towards the end when he dies saving scores of patients.
Overseas BO
The movie had an excellent turnout in Virginia over the weekend. I will not be surprised if the trend continues for the next few weeks and Vedam ends up as one of the top grossers in overseas (especially in the USA).
Sreekanth Devarakonda
devarakonda at hotmail dot com
More My Movie experiences:
Prasthanam by Ravi
Prasthanam by Suresh
Prasthanam by Amarnath
Prasthanam by Krishna Chaitanya
Prasthanam by Che
Prasthanam by Purnesh
Prasthanam by Kumar
YMC by Kumar
YMC by Mallik
YMC by Satya
YMC by Anurag Reddy
YMC by Ramskott
YMC by Dellcom
YMC by Ashok
YMC by Ramya
YMC by Sudheer
YMC by Laya
YMC by Survi
YMC by Rajeev
YMC by Pavan
YMC by Rohit
Inkosaari by Avanthi
Inkosaari by Sneha
YMC by Praveen
YMC by Rajani
YMC by Sujith
Inkosaari by Ganesh
Leader by Sreekanth D
Maya Bazar by Gopal
Mahatma by Kishore
Baanam by Stanley
Josh by Nathan
Magadheera by Ashok
Magadheera by Wannabe Director
Magadheera by Shanti
Magadheera by Anitha
Magadheera by SS
Oy by Prathna
99 by Bala Thirumalasetty
Veedokkade by Srinivas
Delhi 6 by Vamsi
KIKK by Sweta
Luck by Chance by Srini
KIKK by Lalitha Spoorthi
Arundhati by Naveen
Arundhati by Srini
Arundhati by Bharat
Sasirekha Parinayam by Santhi Venkat
Sasirekha Parinayam by Vamshi Muthapu
Sasirekha Parinayam by Niharika Reddy
Nachavule by Vamsi Krishna
Neninthe by movie lover
Avakai Biryani by Vamsi Krishna
Kotha Bangaru Lokam by Vamsi Krishna
Kotha Bangaru Lokam by S
Ashta Chemma by Deepthi
Ashta Chemma by Lalitha Spoorthi
Sarkar Raj by Pradeep
Jalsa by Lalitha Spoorthi
Gamyam by Sridhar
Gamyam by Sreekanth D
Gamyam by Sanjay
Halla Bol by Purnesh
Taare Zameen Par by Ashok Varma
Taare Zameen Par by Raja Simha
Happy Days by Krishna Sastry
Chirutha by Phani Kumar
Chak De India by Ravi
Yamadonga by Lalitha
Chak De India by Shyam
AMAV by Darsakudu
5 in March by Sashidhar
Okkadunnadu by Anand
Black Friday by Ratnakar
Desamuduru by Krishna Prasad
Guru by It's opinion
Dhoom 2 by Lalitha Spoorthi
Dhoom 2 by ASK
Don - Syam
Boss - Anand
Boss - Hrithik
Stalin - Bala
Bommarillu - Nandini
Bommarillu - Darsakudu
Bommarillu - Vasu
Bommarillu - Harsha Prakash
Bommarillu - Lalitha Spoorthi
LRMB - Shravan
Bommarillu - Anirudh
LRMB - Srinivas
LRMB - Darsakudu
LRMB - S Sridhar
Bommarillu - Shridevi
Bommarillu - Vasudev
Bommarillu - Roopa
Sriram - Godavari
Sarath - Bangaram
Bala - Pokiri
Srinadh - Allari Pidugu
Sudheer Allari Pidugu
Anu - Athadu
Shyam Krishna - Iqbal
Purnesh - Grahanam
Sudhindra - Super
Vijay - Aparichitudu
Madhav - Aparichitudu
Hazaraon Kwaishein Aisi
Swades
Shyam - Black
Sai - Anand
Rohit - Anand & Veer Zaara
Jaya Prakash - 7GBC
Raj - Anand
Purnesh - Anand
Purnesh - The Village
Sriram - Gudumba Shankar
Purnesh - Gharshana
Purnesh - Lakshya
Purnesh - Yuva
Leenesh - Yuva
Kis - Lakshmi Narasimha
Indian Pride - Tagore
Raj - Boys
Phani - Gangotri
Phani - Khadgam
Vikram - CKR
BKR - Indra (Singapore)
Ram - Indra (Dubai)
Ranjeet - Idiot
Rahul - Indra
King Koduri - Indra
Srilakshmi Katragadda - Mitr: My Friend