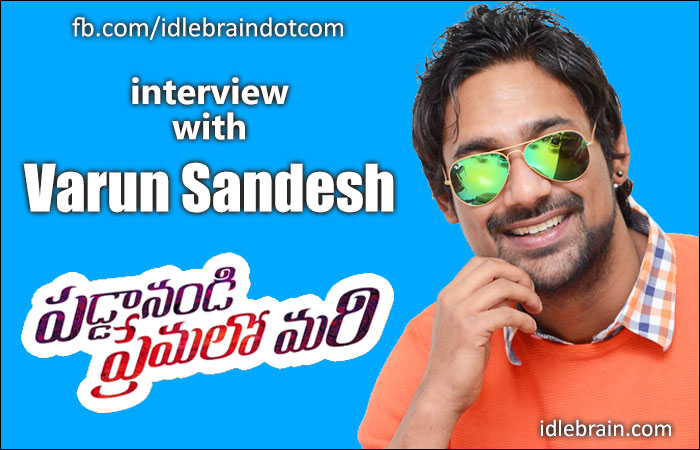 14 February 2015
Hyderabad
Varun Sandesh is always known as an actor without ego and a cheerful human being. He admits about his lost credibility and promises to rebuilt it by doing good scripts starting with Paddanandi Premalo Mari (PPM). Here are the excerpts of an exclusive interview -
You didn't have a commercial hit since Yemaindi Ee Vela film which was released in 2010?
I had a film titled Brahmigadi Kadha which was a decent grosser. My film D for Dopidi is a well made one, but didn't fare at the box office. I admit that it's a disappointing period in between.
Tell us about Paddanandi Premalo Mari?
After Nuvvala Nenila is done, I wanted to take a break for 3 months and visit USA. I wanted to start my career afresh by selecting good scripts. That's when Anil (of Anil Bhanu designs) called me and referred this project to me. I was reluctant, but wanted to give a try anyway.
Director Mahesh has done a film titled Jagame Maaya on a compact budget. It's an unreleased one. When I visited his office, he has shown me the trailer of Jagame Maaya and I am impressed. I asked him to narrate the story in 45 minutes, but ended up listening to two and half hour narration without any break.
Paddanandi Premalo Mari is a family entertainer which got a clean U certificate from censor board. It has engaging screenplay and a subject with all commercial ingredients (family drama, comedy, songs and romance)
I play the character of Ram who is a helpful guy with a lot of humanity. PPM shows that you need not have bitter feelings when a breakup happens. It also tells you to respect love despite breakup. The flashback of the film happens in Vijayawada and it's shown in a journey from Hyderabad to Vijayawada. This movies sports an engaging screenplay.
Thagubothu Ramesh has played a nice and entertaining role. I personally feel that this will be the most hilarious role for him after Ala Modalaindi. Peela Gangadhar (Uyyala Jampala fame) also doing a good character. Posani Krishna Murali has an entertaining character. Both deceased legends MS Narayana and Telangana Sakuntala played nice roles.
I am so much confident about PPM that I have taken USA rights and will be screening it for the next weekend.
Tell me about your future films?
I am currently doing a film titled Lavakusa. I play dual role in this movie for the first time in my career. One guy is from Telangana and another is from AP. Brahmanandam plays full length role. Richa Panai and Ruchi Tripathi play female leads. This film is directed by Jayasri Sivan who assisted Maruthi. Lavakusa is made on GR89 Entertainments banner.
You said that you want to carefully select scripts from now onwards. But shouldn't they be converted into action in terms of box office performance?
Yes. I know that I have lost my credibility after starting off my career with two huge hits. I need to rebuild it up with my selection of scripts. Paddanandi Premalo Mari is the first script I have selected after making a decision to do films only when I get a good script. I want to go slow and steady.
You are a fan of Jr. NTR. What's the reason behind releasing you film along with Temper?
The title of this film is inspired by NTR's Student No.1 song. I have become a huge fan of NTR with Yamadonga movie. But Valentines Day is the right occasion to release my film. I wish that both films become successful.
This is your 8th year as an actor. How does it feel?
I came to Hyderabad to work for Happy Days on 13 February around 8 years back. I was 17 then. I have 18 released films so far. PPM is my 19th film.