Story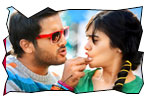 Varun (Nithin) is a hippie who goes on living by roaming around the world. Hayati (Adah Sharma) visits Spain and stays in her ISKON Ramana (Brahmanandam) uncle's house. Varun who happens to be roaming in the same city likes Hayati at first sight. He teases her and woos her to kiss him. She asks him for a promise before kissing. The rest of the story is all about what the favor she asks and about whether Varun honors it or not.
Artists Performance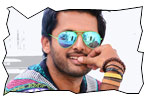 Actors: This is the best character done by Nitin so far in his career. He has interpreted his character excellently and performed it to perfection. His dialogue delivery, expressions and body language are just perfect. Nitin is completely at home and in his comfort zone while enacting an exotic character designed by Puri Jagan. Adah Sharma looks exotic and performs well. Voice dubbed to her in the movie adds another dimension to her character. Kesha Khambhati is vivacious with her work. Brahmanandam comes up with another hilarious performance as ISKON Ramana who is serving for ISKON in Spain. Ali provides entertainment in second half as a Tamil vendor in Goa and as a fan of Rajnikant. Ajaz Khan played the role of main villain and he fits the bill. Ajay played a baddie and his mannerisms and expressions in a few scenes are praiseworthy. Prakash Raj plays a cameo and gives a happy ending to the movie.
Technical departments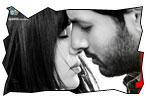 Story - screenplay - direction: The basic storyline is very thin. This film is about small moments and characterizations. After introducing the character of bounty hunter with Ek Niranjan, Puri Jagan introduces another unusual character of a hippie with Heart Attack film. He has narrated the entire movie from hero and heroine point of view and didn't compromise on any aspect. He has shown the pain of love in an intense way. He has effectively used craigslist website for hero's employment, which in turns helps him to achieve the goal in climax. The way he cut the Titanic film and interpreted from Brahmanandam's point of view is hilarious. I liked the way clock is shown in pre-interval kissing episode. The threads of Brahmanandam and Ali are used for familiarising with the proceedings as the entire film is shot in exotic locations (Spain, Thailand and Goa). There is no Andhra Pradesh backdrop to it. Puri Jagan has maintained the same texture to the entire film.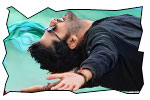 Other departments: Cinematography by Amol Rathod is a huge asset. Camera angles and framing of shots is in exquisite taste. The visual effects and color grading complements the visuals (you can see the finesse of visual effects in the blade flying in the climax). All songs scored by Anup Rubens richly accentuates with the spirit of the movie. All songs have good beat and are hummable. Background music by Anup Rubens is excellent. Lyricist Bhaskarabhatla sums hero's characterization up as 'ee life ki sequel ledura mama' in introduction song. The editing cuts and styling patterns deserves special mention. Action episodes composed by Ram Laxman are extremely stylish. Art director Brahma Kadali does a neat job as we see almost virgin locations on a Telugu screen. Editing by SR Sekhar is crisp. This is the first film produced by Puri Jagan on his Touring Talkies banner (earlier films were done on Vaishno Media banner). One can see his uncompromising attitude as producer when you look at lavish visuals on the screen.
Analysis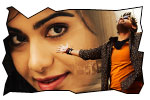 Heart Attack is one of the few Puri Jagan's films where the characterization of hero is consistently and convincingly maintained from the first frame to last frame. It is also probably one of the few films where the entire story is set outside AP. Puri Jagan takes a lot of risk and sticks to his story and characterizations without bothering for other commercial aspects. Liking or disliking this movie depends on how you connect and travel with the character of hero in the film. These kinds of movies have potential to do well if made in Bollywood as national market supports them. This is the best stylized movie done by Puri Jagan so far. We have to wait and see how Telugu audiences embrace the movie.