8 June 2010
My Movie – Vedam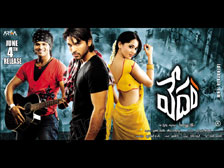 Vedam – the format in which it has been told was never done before in Telugu cinema(although OmShanti and Yuva have come audience are still new to format) and might be not new for people who have watched Crash.
"Car lonchi chusthe prapancham scenary la kanipistundi bike lo velthe reality kanipistundi" – Gamyam. Gamyam was about realisation and had a cinematic approach of opting for naxalism in the climax.
Vedam is a satire on human life. It explores all human needs, importance of money, aspirations of rural people. ambitions of youth, bubble sized dreams of a street side kick. It has a simple story with a simple philosophy in the movie.It revolves around 4 characters who get down to a hospital in the climax which everyone knew before the release of the movie.
Allu arjun repeated the magic act of Allari Naresh in Gamyam here. The writing for his character and old man's character is outstanding. The way human needs are explained, the ambitions, the frustrations are dealt in an entertaining way for Allu Arjun's role. The old man character depicts the life of a old man and his grand son who are bonded under a patel(Zamindari System which was once prevalent in Telangana) is heart touching and evokes lot of sympathy. Anushka character has oomph and her character brings some funny moments but lacks conviction in the sense the graph of anushka's character is pretty much same for entire movie. The dialogues for her character are hard hitting but do not take the movie to a next level.Manchu manoj's character is average. There is no weight to his character and screen time for his character is also less. His character is of no big use to the movie though he pitches in a good performance. Manoj bajpai's character is predictable.
Dialogues are the asset of this movie and Allu arjun is the face and soul of this movie. The way his character develops is amazing. Career best performance.
Music is nice but could have been better.Photography is top class.Editing was jerky in the first half and considering format it was okay but editing in the second half was terrific.
Climax is again a cinematic approach of ending everything in hospital with Mumbai attack theme and looks artificial for some time and appears forced after some really novel scenes.
Keeping Jaaneman poster in the flashback, Brahmanandam's locket sequence which later saves anushka, allu arjun having extra three thousand from his mother are some scenes which increases authenticity of film.
On the whole Allu arjun(doing a street side and a urban role is possible only for him) and old man's character(actually he did not act he lived in the character) make Krish's vedam a real film. Other things are cinematic. It is a class film for mass people and mass film for class people.
This movie is a rare attempt which touches different shades of human life and which could be understood by everyone. It could be judged as preachy, predictable but hits the right place successfully. Krish did full justice to his script.
This might be a trend setter which might force film makers to come with a novel idea with commercial elements in the coming days. Inspite of cinematic approach in the climax and Manchu manoj's plot Vedam is a take on human life especially for Allu Arjun's and old man plots.
contact me at santoshimz at gmail dot com
More My Movie experiences:
Vedam by Sreekanth D
Prasthanam by Ravi
Prasthanam by Suresh
Prasthanam by Amarnath
Prasthanam by Krishna Chaitanya
Prasthanam by Che
Prasthanam by Purnesh
Prasthanam by Kumar
YMC by Kumar
YMC by Mallik
YMC by Satya
YMC by Anurag Reddy
YMC by Ramskott
YMC by Dellcom
YMC by Ashok
YMC by Ramya
YMC by Sudheer
YMC by Laya
YMC by Survi
YMC by Rajeev
YMC by Pavan
YMC by Rohit
Inkosaari by Avanthi
Inkosaari by Sneha
YMC by Praveen
YMC by Rajani
YMC by Sujith
Inkosaari by Ganesh
Leader by Sreekanth D
Maya Bazar by Gopal
Mahatma by Kishore
Baanam by Stanley
Josh by Nathan
Magadheera by Ashok
Magadheera by Wannabe Director
Magadheera by Shanti
Magadheera by Anitha
Magadheera by SS
Oy by Prathna
99 by Bala Thirumalasetty
Veedokkade by Srinivas
Delhi 6 by Vamsi
KIKK by Sweta
Luck by Chance by Srini
KIKK by Lalitha Spoorthi
Arundhati by Naveen
Arundhati by Srini
Arundhati by Bharat
Sasirekha Parinayam by Santhi Venkat
Sasirekha Parinayam by Vamshi Muthapu
Sasirekha Parinayam by Niharika Reddy
Nachavule by Vamsi Krishna
Neninthe by movie lover
Avakai Biryani by Vamsi Krishna
Kotha Bangaru Lokam by Vamsi Krishna
Kotha Bangaru Lokam by S
Ashta Chemma by Deepthi
Ashta Chemma by Lalitha Spoorthi
Sarkar Raj by Pradeep
Jalsa by Lalitha Spoorthi
Gamyam by Sridhar
Gamyam by Sreekanth D
Gamyam by Sanjay
Halla Bol by Purnesh
Taare Zameen Par by Ashok Varma
Taare Zameen Par by Raja Simha
Happy Days by Krishna Sastry
Chirutha by Phani Kumar
Chak De India by Ravi
Yamadonga by Lalitha
Chak De India by Shyam
AMAV by Darsakudu
5 in March by Sashidhar
Okkadunnadu by Anand
Black Friday by Ratnakar
Desamuduru by Krishna Prasad
Guru by It's opinion
Dhoom 2 by Lalitha Spoorthi
Dhoom 2 by ASK
Don - Syam
Boss - Anand
Boss - Hrithik
Stalin - Bala
Bommarillu - Nandini
Bommarillu - Darsakudu
Bommarillu - Vasu
Bommarillu - Harsha Prakash
Bommarillu - Lalitha Spoorthi
LRMB - Shravan
Bommarillu - Anirudh
LRMB - Srinivas
LRMB - Darsakudu
LRMB - S Sridhar
Bommarillu - Shridevi
Bommarillu - Vasudev
Bommarillu - Roopa
Sriram - Godavari
Sarath - Bangaram
Bala - Pokiri
Srinadh - Allari Pidugu
Sudheer Allari Pidugu
Anu - Athadu
Shyam Krishna - Iqbal
Purnesh - Grahanam
Sudhindra - Super
Vijay - Aparichitudu
Madhav - Aparichitudu
Hazaraon Kwaishein Aisi
Swades
Shyam - Black
Sai - Anand
Rohit - Anand & Veer Zaara
Jaya Prakash - 7GBC
Raj - Anand
Purnesh - Anand
Purnesh - The Village
Sriram - Gudumba Shankar
Purnesh - Gharshana
Purnesh - Lakshya
Purnesh - Yuva
Leenesh - Yuva
Kis - Lakshmi Narasimha
Indian Pride - Tagore
Raj - Boys
Phani - Gangotri
Phani - Khadgam
Vikram - CKR
BKR - Indra (Singapore)
Ram - Indra (Dubai)
Ranjeet - Idiot
Rahul - Indra
King Koduri - Indra
Srilakshmi Katragadda - Mitr: My Friend