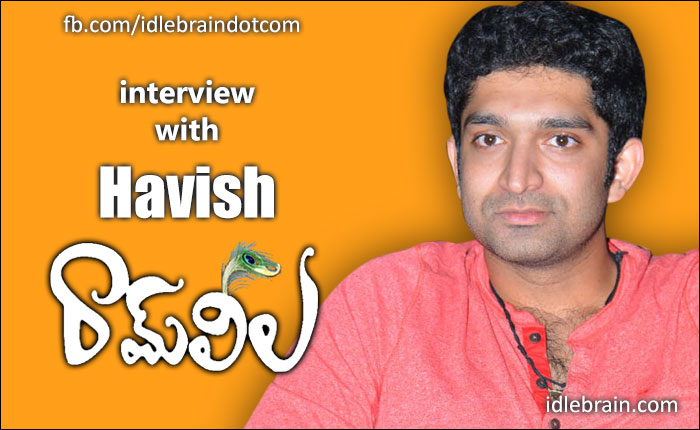 27 February 2015
Hyderabad
Havish is the grandson of Koneru Laksmaiah - founder of popular educational institute KL University. He is supposed to take care of his family business after completing his studies in USA. But the acting bug has brought him to Telugu film industry. He tried on his own to become an actor despite having affordability to produce a film. He landed with a controversial role in Nuvvila film and did it without any qualm. He has got good applause for his first film. Then he did Genius movie. His third film Ram Leela is releasing on 27 February. Here are excerpts of an exclusive interview -
Background:
I have completed my engineering degree in Purdue University, USA. I came back to India. Chinna Krishna was doing real estate business with my father. He saw me and thought that my personality is good enough for an actor. He wanted to produce a film with me as hero. He has asked my father. When my father asked me if I were interested, I was surprised as I never had any such intentions. Hence I said no. But my father said that we shouldn't let such opportunities go. I was sent to Satyanand's film school for a six months course. During that time, Chinni Krishna decided not to produce a film. I went back to Vijayawada and started helping dad in KL University work for an year.
Kiran who is an associate of Chinni Krishna approached me and said that he is going to direct a Hindi film to be produced by PVR Cinemas. He wanted me to act in that film as one of the male leads. That film too didn't happen. But I was bitten by acting bug already. I wanted to look for opportunities myself. I came to Hyderabad and started giving auditions for all banners like Usha Kiran movies, Suresh Productions etc. I was also auditioned for Life Is Beautiful. Ravi Babu was planning Nuvvila film at that time. He has asked me to come up with three scenarios. I have written a scene each for a comedy, sad and romantic acting. I was selected for one of the three main leads.
We had a special screening of Nuvvila for my friends and family friends. Dasari Kiran who is a real estate friend of my father liked my work and wanted to produce a film with me. Omkar met me and narrated me the story of Genius. I had a few doubts about story. Chinni Krishna has worked on it and made sure that script is locked without any loopholes. We have released film in a big way. It didn't do well in multiplexes, but had a good openings in single screens. But it was taken away from the theaters when big star films released a couple of weeks later.
We announced another film titled 'Vasta Nee Venuka' in the last year. It had Ilayaraja music and Amala Paul was signed as heroine. The project was stalled and Amala Paul got married. Kiran who narrated Hindi script for me in the beginning days has approached me again. He has modified the story and narrated it to me as Ram Leela. Since he is a first timer, he said that he will bring senior cinematographer S Gopal Reddy on board to guide us. We have signed Abhijeet and Nandita for other main leads.
Tell us about Ram Leela?
It's a travel film. Abhijeet encounters a problem. I join him after some time with an intention to solve it. And I end up creating further problems to him. You have to watch the movie to know more. The real story begins in the second half. Dialogues in this movie are going to be good. The movie has come out really well.
We have started the shoot in November and finished in December. We have shot the film in 38 working days. We have shot movie for 20 days in Malaysia in places like Kuala Lumpur, Putrajaya, Genting Highlands, Penang, Langkawi etc. The film is shot in India for 18 days. We have completed post production in January and February.
What's your future plans regarding film career?
I don't have any strategy. I look forward for my next film and try doing my best. I want to do different characters.