8 June 2010
My Movie – Vedam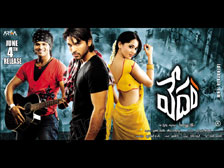 గంగి గోవు పాలు గరిటడైనను చాలు.. కడివెడైననేమి ఖరము పాలు
This renowned phrase from vemana satakam aptly applies to certain group of fresh directors who are just not rushing making some crap but are showing their zeal to convey splendid message to society. Jagarlamudi RadhaKrishna is truly one among them. His debut Gamyam has fetched him critical acclaim from all corners of the country. And now it's the turn of his new venture Vedam, which has created much hype pre-release as a multi-starrer.
Noble intention of the movie:
Movie is about bringing out the spark of humanity that lies deep inside every human being. Well the inner conscience knows the distinction between good and bad but it is always subdued by external desires. This movie has the situations that help the five different people from different ways of life to realize the essence of life.
5 Actors/Characters:
Allu Arjun acted as Cable Raju, a young brat who lives in slums. He manages to trap rich girl pooja( Deeksha seth) and it's all about to what extent he goes to fulfill his love. He has come up with very brilliant performance and the one he could count up on. Especially the scene where he shifts his ways is awesome.
Manoj acted as aspiring Rock star. His part of story is about his journey towards his first ever live performance and also his journey towards sacrifice. His character reflects the present youth and he is quite impressive. He just suited the role perfectly.
Anushka acted as a sex worker. She portrayed the toughest role with élan. She should and she will be highly appreciated firstly for accepting such a role and performing the same flawlessly. The sex appeal she carries and that too being in the limits is truly amusing.
Manoj Bajpai is seen as Muslim. He resembles the pain experienced by true Muslim where his nobility is tested now and then by the circumstances that force to treat every Muslim as the enemy. Well he did justice to the role.
Nagayya is a small time weaver. He resembles the poverty and the ignorance prevailing in the country. For first timer, he is simply great. He could bring out tears and touch the audience.
Others :
Lekha Washington as Manoj's friend is good and could make her mark. Deeksha Seth as Allu Arjun's love interest just scores well in looks department. Satyam Rajesh (Allu Arjun's friend), Ravi Prakash (Cop who hates Muslims), the actor who played hijra and Saranya(Nagayyas daughter-in-law) acted very well. Siya of Neninthe is seen as Manoj bajpai's wife. Brahmanandam,Posani had brief roles.
Music: Keeravani is back with a bang. He had few duds post Magadheera, but Vedam remarks his credibility. He has provided the lyrics to the most of the songs i.e." Rupai song,Vedam title song and Ye cheekati cherani" all are real good. Rerecording throughout the movie is in sync with the picture. Other Lyricists who worked for this movie like Sirivennela, Sahithi provided good lyrics.
Krishhhhhhhh …
Krish has come up with simply superb screen play. Mixing up five different stories without any confusion is of course not an easily accomplishable task. The dialogues he has written are entertaining and at the same time thought-provoking. Bringing out the brilliance from each actor and striking the chord with good blend of emotional and entertaining sequences made him successful as director for the second time.
Few good dialogues/scenes I remember:
memu guddalippukuni ammudupotaam...meeru guddalesukuni ammudupotaaru" -- anushka says to a police oficer (posani)
"mana basti lo yevadainaa potey ganta lo savam lepestaaru... dabbunolla intlo evarainaa potey ilaa moodu rojulu unchutaara.." – Allu arjun
"ee lokam lo rende kulaalu raa...okati unnollu,, rendu lenollu" -- bunny
"veelladhi religion problem kaadhu..language problem...aa devudni ye baasha lo pilavaalo teliyatam ledhu.. oka basha lo allah antaaru, inko basha lo raamudantaaru... vere basha lo jesus antaaru... aayannu ye peru petti pilavaalo teliyaka kottukuntunaaru.." -- manchu manoj
"aaripoye jeevitaalu sir maavi"—hijra/karpuram character when asked about her name..
"illu kattevodiki illu untada…cheppulu kuttetodiki cheppulu untaaya sir.."-touching dialogue from Nagayya
"Mana chinnodu sadivetanduku mana kadupullo emunnayyo anni ammukundaam.."-Touching scene .saranya says to Nagayya..
When hijra's character searches for suitable rest room..that was funny scene..cleverly included one
Movie Flow:
First half flows very smoothly with good songs; hilarious moments even there are 5 different stories weaved together. Second is filled with more of emotional quotient and slows down a bit. Actually movie could be made little compact in later half. One should have guts for coming up with a daring climax. Producers are highly commended for bringing out such a nice movie and especially for keeping aside the calculations made to attain the Box office collections.
Disappointments:
A movie which is hyped as a multistarrer ended up showing Manoj as guest appearance in the titles. This should have been avoided for truly delivering what it promised. Vedam title Song is also cut short for the obvious reasons.
The sequences in second half are little artificial and the pace slows down. But anyways Krish soon makes up driving us to the climax.
Final Verdict:
Vedam is of course a commercial cinema with right proportions of all the ingredients that could bring the Box office success. Rajamouli has rightly commented that Krish has wiped the thin line between a conventional and commercial cinema .Yes he truly has achieved it and has set a new trend.
KUMAR
[email protected]
More My Movie experiences:
Vedam by Santosh
Vedam by Sreekanth D
Prasthanam by Ravi
Prasthanam by Suresh
Prasthanam by Amarnath
Prasthanam by Krishna Chaitanya
Prasthanam by Che
Prasthanam by Purnesh
Prasthanam by Kumar
YMC by Kumar
YMC by Mallik
YMC by Satya
YMC by Anurag Reddy
YMC by Ramskott
YMC by Dellcom
YMC by Ashok
YMC by Ramya
YMC by Sudheer
YMC by Laya
YMC by Survi
YMC by Rajeev
YMC by Pavan
YMC by Rohit
Inkosaari by Avanthi
Inkosaari by Sneha
YMC by Praveen
YMC by Rajani
YMC by Sujith
Inkosaari by Ganesh
Leader by Sreekanth D
Maya Bazar by Gopal
Mahatma by Kishore
Baanam by Stanley
Josh by Nathan
Magadheera by Ashok
Magadheera by Wannabe Director
Magadheera by Shanti
Magadheera by Anitha
Magadheera by SS
Oy by Prathna
99 by Bala Thirumalasetty
Veedokkade by Srinivas
Delhi 6 by Vamsi
KIKK by Sweta
Luck by Chance by Srini
KIKK by Lalitha Spoorthi
Arundhati by Naveen
Arundhati by Srini
Arundhati by Bharat
Sasirekha Parinayam by Santhi Venkat
Sasirekha Parinayam by Vamshi Muthapu
Sasirekha Parinayam by Niharika Reddy
Nachavule by Vamsi Krishna
Neninthe by movie lover
Avakai Biryani by Vamsi Krishna
Kotha Bangaru Lokam by Vamsi Krishna
Kotha Bangaru Lokam by S
Ashta Chemma by Deepthi
Ashta Chemma by Lalitha Spoorthi
Sarkar Raj by Pradeep
Jalsa by Lalitha Spoorthi
Gamyam by Sridhar
Gamyam by Sreekanth D
Gamyam by Sanjay
Halla Bol by Purnesh
Taare Zameen Par by Ashok Varma
Taare Zameen Par by Raja Simha
Happy Days by Krishna Sastry
Chirutha by Phani Kumar
Chak De India by Ravi
Yamadonga by Lalitha
Chak De India by Shyam
AMAV by Darsakudu
5 in March by Sashidhar
Okkadunnadu by Anand
Black Friday by Ratnakar
Desamuduru by Krishna Prasad
Guru by It's opinion
Dhoom 2 by Lalitha Spoorthi
Dhoom 2 by ASK
Don - Syam
Boss - Anand
Boss - Hrithik
Stalin - Bala
Bommarillu - Nandini
Bommarillu - Darsakudu
Bommarillu - Vasu
Bommarillu - Harsha Prakash
Bommarillu - Lalitha Spoorthi
LRMB - Shravan
Bommarillu - Anirudh
LRMB - Srinivas
LRMB - Darsakudu
LRMB - S Sridhar
Bommarillu - Shridevi
Bommarillu - Vasudev
Bommarillu - Roopa
Sriram - Godavari
Sarath - Bangaram
Bala - Pokiri
Srinadh - Allari Pidugu
Sudheer Allari Pidugu
Anu - Athadu
Shyam Krishna - Iqbal
Purnesh - Grahanam
Sudhindra - Super
Vijay - Aparichitudu
Madhav - Aparichitudu
Hazaraon Kwaishein Aisi
Swades
Shyam - Black
Sai - Anand
Rohit - Anand & Veer Zaara
Jaya Prakash - 7GBC
Raj - Anand
Purnesh - Anand
Purnesh - The Village
Sriram - Gudumba Shankar
Purnesh - Gharshana
Purnesh - Lakshya
Purnesh - Yuva
Leenesh - Yuva
Kis - Lakshmi Narasimha
Indian Pride - Tagore
Raj - Boys
Phani - Gangotri
Phani - Khadgam
Vikram - CKR
BKR - Indra (Singapore)
Ram - Indra (Dubai)
Ranjeet - Idiot
Rahul - Indra
King Koduri - Indra
Srilakshmi Katragadda - Mitr: My Friend