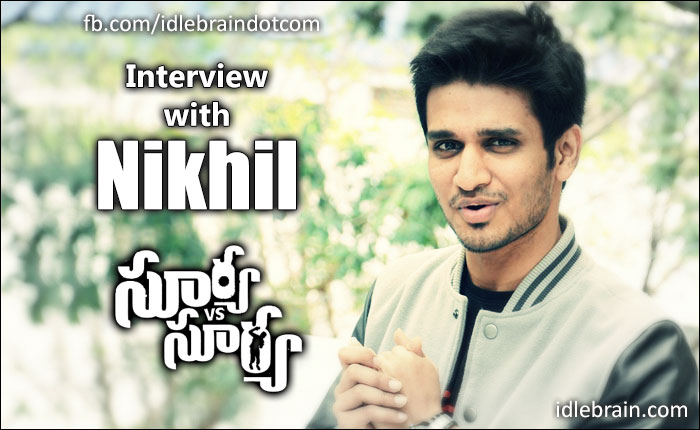 04 March 2015
Hyderabad
Nikhil had a string of flops, but decided to put a stop for it. He has the patience, tact and elegance that is required for games like Golf and Poker. Such skills can be honed by very few in a field like film industry. After delivering two consecutive hits Swamy Ra Ra and Karthikeya, Nikhil is coming up with another interesting film Surya Vs Surya. Here are excerpts of an exclusive interview -
Tell us about the financials of you earlier movies Swamy Ra Ra and Karthikeya?
Swamy Ra Ra: This film was made on a budget of 1.8 crores and it has collected 5 to 6 times of the budget. The exhibitors have also made a lot of money. In a place like Uttarandhra, it has crossed a share of 1 crore.
Karthikeya: Karthikeya was made on a budget of 4 crores. It has collected over 10 to 12 crores.
Surya vs Surya: This film was made on a budget of 3.5 crores. And the producer Siva Kumar has made a good table profit on it. The satellite rights of the movie is bought by Gemini has Karthikeya has generated a TRP of 10.54.
How come you became wiser with Swamy Ra Ra film after delivering a string of flops?
I knew at the time of signing that I was doing those films for obligations as those are produced by either friends of producers with loads of money. After that I have decided not to go for obligations and do films only if I genuinely like the stories. I didn't want to do films that suits any commercial hero. I wanted only stories with novelty.
Directors like Rajamouli, VV Vinayak and Puri Jagan were small when they made their debut. NTR was lucky to introduce VV Vinayak and Rajamouli. I thought that I should do films who have potential to become next big directors.
I knew Sudheer Varma and Chandu Mondeti right from the beginning of my career. I observed them and I realised the talent they possess. I travelled with them and offered them movies when it was the right time. I have spotted Karthik Gattamaneni and made him do his debut with me.
Tell us about how Surya Vs Surya project happen?
Karthik Gattamaneni has directed a short film titled Infinity which was tweeted by Farhan Akthar (An engaging short film. Congratulations to the team. INFINITY). Karthik has read a news item about a patient suffering from Porphyria - a rare genetic disorder. He wrote a story that revolves around Porphyria. He has narrated it to many producers who have outrightly rejected the idea. When I came to know about it, I was excited and signed Surya Vs Surya with him. He has another script called Mario and I am eager to do it too.
Surya Vs Surya film is a love story set against the conflict of Porphyria. Surya can't watch sun. It's about positive thinking. Surya who feels bad that he can't watch sun will develop a positive attitude and looks it as 'I don't have to watch the sun'. This movie tells that life must go on despite of obstacles.
When are you getting married?
I am so much in love with cinema that I don't have time to fall in love and date a girl. I don't want to invest my time in love. Hence I asked my parents to look out for a girl. It will be an arranged marriage and I will get married as soon as parents find one.
What do you think are the sacrifices you do as an actor?
As an actor, you have to be your best at all times. There was a time when I had to do a scene in lake with fever when temperature was just 5 degrees.
What's your next movie?
It's not yet decided. But there will be a film each with Chandu, Sudheer and Karthik in near future. I am going to tonsure my head at Tirupati in a couple of days. I have enrolled myself in an acting/filmmaking course at New York Film Institute. It will be a 45-days course. I will attend it as my hair grows back. I want to learn about acting for graphics film (acting while imagining stuff which will be replaced with graphics in post-production). I will start another film after 3 months and plan to release it by the year end.