8 June 2010
My Movie – Vedam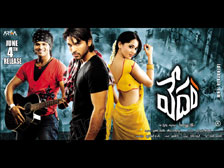 I am so delighted to write about another beautiful and meaningful Telugu movie released in recent times. That is Vedam. I was privileged to watch this awesome movie in Dallas, TX yesterday at 9:30 show with full packed crowd. From starting to ending, this is a wonderful watch. It has humor, it has sensitive emotions, touch of philosophy, touch of spiciness and leaves the audience in thinking mode at the end of the movie.
Allu Arjun, I can say this is his career best movie. Leave aside starry airs, big dishum dishum and Ratham pulllings single handedly. This is his finest performance to date, did wonderful romantic scenes, acted like a rich kid and like a slum kid, he knows what he does is either wrong or right but blindly in love to become a rich guy by marrying a rich gal. His scenes especially towards the end are marvelous. The way he stole the money from Nagyya but cannot take his eyes of ill patient are perfectly shot on him, dialogues written for him are wonderful. The kid he plays with in the hospital, they were shot very naturally. Dialogues especially "pulihora lo puli undadu" lanti dialogues.
Manchu Manoj.., I am not sure why it was publicized as Guest appearance, but we can see him all the way from starting to the end. He did wonderful acts, especially breaking the car glass in real. I believe he sets the tempo for the movie itself, with his entrance like a real rock star in the beginning, he like a rock star at utmost conviction. I cant really see anyone else in the current generation who can play a rock star with this perfection, he suited very well with his build and acting prowess. His character of realizing he himself helping somebody instead of thinking some one else can help, his realization and how he acted in the climax scenes are good.
Anuskha, really wonderful., she did very good infact with limitations. A heroine of her stardom agreeing for this role is worth praising and the way she questions the corrupt cop why he is selling himself and there is no difference between her and corrupt official are good.., Manoj Bajpai, his character should have been much more in depth, but he did wonderful act with utmost conviction what he is given. Nagayya garu, even though he suites the character pretty well, a little care should have been taken how he utters his dialogues infront of camera. Cop Ravi Prakash, he did a wonderful job again.., Infact he acted very powerful, his character might have been shadowed by main leads but he contributed very well without over acting as cop.
Radhakrishna aka Krish, I was thinking first movie is always good just like any other director because he should be thinking for a long time to come up with this first movie. And from the second movie onwards its the same usual stuff.., I guess only Dev katta, and Krish proved otherwise. I did have the same expectations from the director Sanjay Suri (A film by aravind director), so I was thinking if Krish also falls in the same category.., No Sir, you did prove you have enough material to keep audience like me thinking and satisfied movie after movie. Thanks for the wonderful movie, people actually clapped at the end of the movie.., Did i say enough!! people actually clapped at the end of the movie my dear...,
Murthy Mollivenkata
mollivenkata at gmail dot com
More My Movie experiences:
Vedam by Kumar
Vedam by Santosh
Vedam by Sreekanth D
Prasthanam by Ravi
Prasthanam by Suresh
Prasthanam by Amarnath
Prasthanam by Krishna Chaitanya
Prasthanam by Che
Prasthanam by Purnesh
Prasthanam by Kumar
YMC by Kumar
YMC by Mallik
YMC by Satya
YMC by Anurag Reddy
YMC by Ramskott
YMC by Dellcom
YMC by Ashok
YMC by Ramya
YMC by Sudheer
YMC by Laya
YMC by Survi
YMC by Rajeev
YMC by Pavan
YMC by Rohit
Inkosaari by Avanthi
Inkosaari by Sneha
YMC by Praveen
YMC by Rajani
YMC by Sujith
Inkosaari by Ganesh
Leader by Sreekanth D
Maya Bazar by Gopal
Mahatma by Kishore
Baanam by Stanley
Josh by Nathan
Magadheera by Ashok
Magadheera by Wannabe Director
Magadheera by Shanti
Magadheera by Anitha
Magadheera by SS
Oy by Prathna
99 by Bala Thirumalasetty
Veedokkade by Srinivas
Delhi 6 by Vamsi
KIKK by Sweta
Luck by Chance by Srini
KIKK by Lalitha Spoorthi
Arundhati by Naveen
Arundhati by Srini
Arundhati by Bharat
Sasirekha Parinayam by Santhi Venkat
Sasirekha Parinayam by Vamshi Muthapu
Sasirekha Parinayam by Niharika Reddy
Nachavule by Vamsi Krishna
Neninthe by movie lover
Avakai Biryani by Vamsi Krishna
Kotha Bangaru Lokam by Vamsi Krishna
Kotha Bangaru Lokam by S
Ashta Chemma by Deepthi
Ashta Chemma by Lalitha Spoorthi
Sarkar Raj by Pradeep
Jalsa by Lalitha Spoorthi
Gamyam by Sridhar
Gamyam by Sreekanth D
Gamyam by Sanjay
Halla Bol by Purnesh
Taare Zameen Par by Ashok Varma
Taare Zameen Par by Raja Simha
Happy Days by Krishna Sastry
Chirutha by Phani Kumar
Chak De India by Ravi
Yamadonga by Lalitha
Chak De India by Shyam
AMAV by Darsakudu
5 in March by Sashidhar
Okkadunnadu by Anand
Black Friday by Ratnakar
Desamuduru by Krishna Prasad
Guru by It's opinion
Dhoom 2 by Lalitha Spoorthi
Dhoom 2 by ASK
Don - Syam
Boss - Anand
Boss - Hrithik
Stalin - Bala
Bommarillu - Nandini
Bommarillu - Darsakudu
Bommarillu - Vasu
Bommarillu - Harsha Prakash
Bommarillu - Lalitha Spoorthi
LRMB - Shravan
Bommarillu - Anirudh
LRMB - Srinivas
LRMB - Darsakudu
LRMB - S Sridhar
Bommarillu - Shridevi
Bommarillu - Vasudev
Bommarillu - Roopa
Sriram - Godavari
Sarath - Bangaram
Bala - Pokiri
Srinadh - Allari Pidugu
Sudheer Allari Pidugu
Anu - Athadu
Shyam Krishna - Iqbal
Purnesh - Grahanam
Sudhindra - Super
Vijay - Aparichitudu
Madhav - Aparichitudu
Hazaraon Kwaishein Aisi
Swades
Shyam - Black
Sai - Anand
Rohit - Anand & Veer Zaara
Jaya Prakash - 7GBC
Raj - Anand
Purnesh - Anand
Purnesh - The Village
Sriram - Gudumba Shankar
Purnesh - Gharshana
Purnesh - Lakshya
Purnesh - Yuva
Leenesh - Yuva
Kis - Lakshmi Narasimha
Indian Pride - Tagore
Raj - Boys
Phani - Gangotri
Phani - Khadgam
Vikram - CKR
BKR - Indra (Singapore)
Ram - Indra (Dubai)
Ranjeet - Idiot
Rahul - Indra
King Koduri - Indra
Srilakshmi Katragadda - Mitr: My Friend