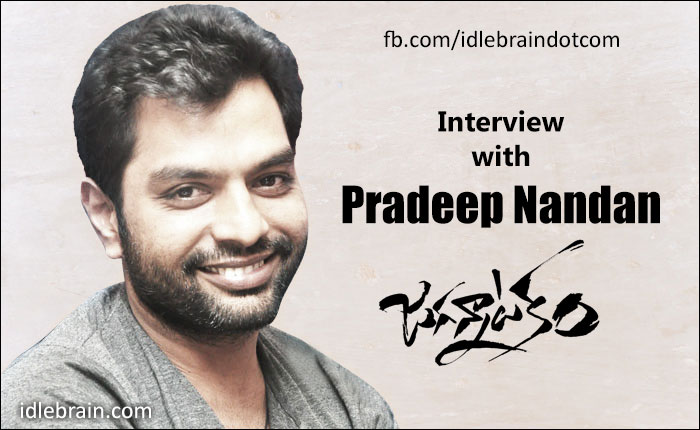 13 March 2015
Hyderabad
Pradeep Nandan wanted to become an actor. Six years after entering industry, his debut film as an actor, director and producer - Jagannatakam is releasing on 13 March 2015. Here is a quick interview -
Background:
I am basically from Nellore. I have complete Bio Technology from Vellore Institute of Technology (VIT). Then I have worked as a software engineer. It's been my dream to become an actor since childhood. Since I don't get offers as an actor right away, I have joined as an assistant to Chandra Sekhar Yeleti for Prayanam movie. After Prayanam film is completed, I got interested in direction as well and started working over stories. And finally I directed, produced and acted in Jagannatakam.
Tell us about Jagannatakam?
It's a revenge based thriller. The screenplay fluctuates between present - a thriller format and past - a love/family drama. Screenplay of the film is unique. The film has got an A certificate due to killings in the movie.
The jail trailer is interesting?
Jail trailer is released to tell the basic plot of the movie. The content of jail trailer will not be there in movie.
Are there any inspirations for this movie?
I have used the technique of a Hollywood film titled Vacancy for the thriller base of this movie. Other than that everything is original.
Tell us about the economics of the movie?
We have started off with an estimated budget of 1 crore. But it escalated to 3 crores by the time we finished it. We have shot the film in 90 working days. 60 days of this film was shot during night.
Its been more than six years since you came to industry and your first film is releasing today. How does it feel?
I feel content. I am very confident that the movie will work. Screenplay and the last 30 minutes of the movie are going to be the highlights.
What's your future plans?
I am waiting for the box office result to decide my next move. I hope to make more movies on my Chitrasoudham banner with other directors if I like the content.