Story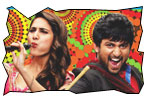 Shakti (Nani) is an youngster studying in Chennai. He is basically from a village where his father wants him to take care of farming. He is looking for an outlet to stay long in city after graduation. He happens to see a beautiful lady Sruthi (Vaani Kapoor) at a wedding. He wants to befriend her and comes to know that she wants to start a wedding planner business. He impresses her to become a partner. She puts a condition saying that one shouldn't mix business with pleasure (romance) and the inevitable pleasure (sex) happens. The rest of the story is all about how they breakup followed by an inevitable reunion.
Artists Performance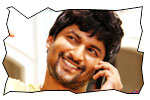 Actors: Nani is the backbone and connect to Telugu audiences for this movie. It just comes natural for him to improvise and entertain audiences. He has made sure that there is a rustic charm is his characterization and dialogue delivery. He delivers big time with his improvisation in the climax. Vaani Kapoor is beautiful and natural with her work. She looks so sweet that it's odd to look at her while she is crying on the screen. Simran played the role of a sophisticated wedding planner, but she didn't bring the sophistication to her high-profile role. All other actors are from Tamil and are aptly cast.
Technical departments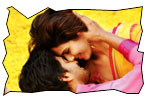 Story - screenplay - direction: This film is a faithful adaptation of it's Bollywood original Band Baaja Baarat. Hence almost entire film is similar. New director Gokul Krishna has partly succeeded in getting it alright. Nani compensated a lot with his dialogue improvisation during dubbing, but a film of this nature needs native actors to make it appeal to the Telugu audiences. A fast paced narration is needed in the second half.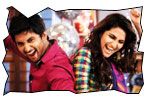 Other departments: The visuals in the beginning of the film are very slick and at par with the standards of Yashraj films. The cinematographer Loganadhan Srinivasan has done a nice job. Music by Dharan Kumar is decent. The title track and the punch dialogues song are winners. Dialogues written to Nani are witty. Art direction deserves a special mention. Editing by Sreenivasan is fine. Production values by Yashraj Films are efficient.
Analysis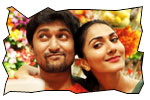 Aha Kalyanam is a Tamil remake of Bollywood film Band Baaja Baarat which is simultaneously dubbed in Telugu with the same name. I belong to the category of people who have already watched Hindi version. Since it's a faithful adaptation, I can only comment on the value that is added in Telugu version. Nani's dialogues and improvisation is something that differentiates from the original. The rest will depend on how the Telugu audiences lap up this romantic comedy where the conflict point arises out of lead pair having premarital sex!