Story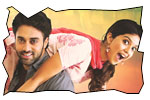 Bhanu (Swathi) works in a mall as a sales girl for an energy drink. Vamsi (Navadeep) works as a technician for the same mall. There is a 'win-gold-coins' scheme for the energy drink as a part of Sankranthi promotion. Bhanu gets hold of an inside information about how gold is being transported. She is in desperate need of money and she seeks the help of Vamsi in robbing the gold. Venu (Santosh) is a pizza delivery boy in film nagar whose goal is to become a film actor. Yerra Babu and Dora Babu (Ram Laxman) are twins in Bheemavaram who are not in good terms. The rest of the story is all about how these three stories gets entangled during the time of gold robbery.
Artists Performance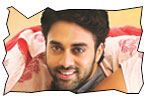 Actors: Navadeep is a fine actor who is not getting the right scripts. BKP film gives him ample scope to show his work. Swathi is pretty good as a girl who is desperate for a kill. She sets the ball rolling in the film. Santosh plays the role of a wannabe actor and he is nice. Ram Laxman are natural in the roles of rival siblings. Sanchalana is cute as Shruti. Harsha Vardhan plays a vital role has various shades and he plays it very convincingly.
Technical departments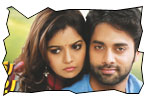 Story - screenplay - direction: Raj Pippalla excels in this film as a screenplay writer. He has written three stories and intertwined them with nice screenplay. The way each character enters during the heist phase is well written and executed. Though all the three stories converge well, I expect bonhomie and liveliness in presenting characters and establish them in the first half. His scenes of auditions and the concept of bheja fry didn't work well on screen. The lacklustre execution in first half lets us down. However, second half works due to situational strength. It's nice to see director coming up with moralistic ending despite having attractive theme of robbery.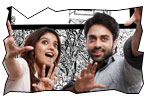 Other departments: Music by Mahesh Shankar is alright. All songs in this film are used for montage shots. Background music is fine. Cinematography by Shahir Raza is normal and we except glossy cinematography for a film of this nature. Dialogues by Prasad Varma Penmatsa go are okay. Editing by Dharmendra Kakarala and Chandrasekhar GV should have been crisp. The graphics (letters used for the dialogues uttered by Pizza delivery boy) are cool. Producer Sunitha Tati should be commended for choosing a new storyline and delivering it fresh.
Analysis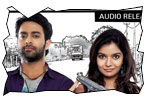 First half of the film is little boring. It's the second half that matters for any heist film. Second half of the film is nice and is well executed due to situational strength provided by good screenplay. We have a few anthology films (multiple story lines) in Telugu. Our Telugu audiences are yet to get used to these kind of films. Bangaru Kodi Petta is such attempt to make a good anthology film with the backdrop of heist. We have to wait and see how regular movie lovers embrace it.