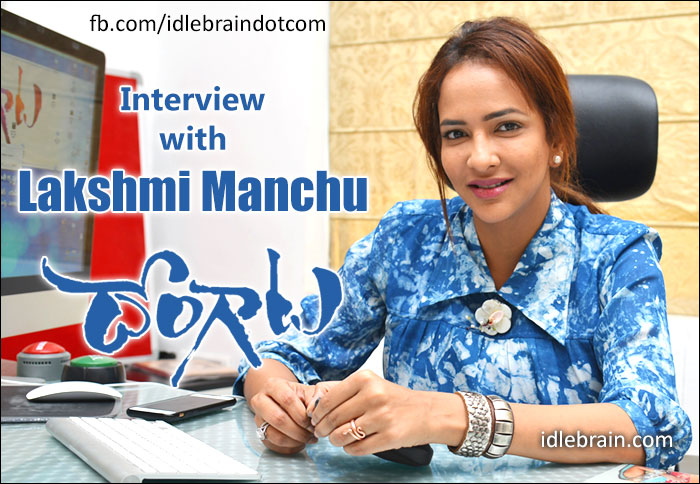 08 May 2015
Hyderabad
Lakshmi Manchu is a multi-talented actress and an achiever. She is passionate about fitness and a good hearted woman. Lakshmi Manchu talks about her latest comedy Dongaata which hits theaters on 8 May -


You have produced an art film like Gundello Godari in the past and now you are doing an entertainer Dongata. What made you change the genres?
When I came back from USA, I was extremely motivated to make films that show Telugu culture and Telugu essence. That's why I produced movies like Jhummandi Naadam and Gundello Godari. Making a movie was the easiest part. But media planning and releasing the movie are the difficult parts. Gundello Godari is a film that is made with heart. Dongats is a film that is made with mind. Despite being a different film, Gundello Godari turned out to be a profitable venture for us. But I feel that openings and box office draw is very important for the current scenario which is the reason why I have chosen an entertainment subject like Dongaata.
Box office is the reason why you roped in so many stars to do a song in Dongaata?
No. I play the role of an actress in the movie. In an occasion, stars do grace to my party. When I requested, many stars came and danced without taking any remuneration. That's just because of the love they have on me and the goodwill I have generated. I would like to thank them all. It's not a publicity gimmick.
Tell us about Dongata?
It's about an actress who gets kidnapped. It's a light hearted kidnap comedy with a deep reason for kidnap. Director Vamsi has worked with Gowtam Menon from Gharshana to Ye Maya Chesave. He is a close friend of Manoj Manchu and he is associated with our home banner for a long time (worked for Denikaina Ready too in production work).
Technicians:
Sai Madhav Burra who has written meaningful dialogues for films like Krishnam Vande Jagadgurum and Malli Malli Idi Rani Roju has penned funny and whacky dialogues in the movie. Bhaskar who handled cinematography for Krishna Vamsi's Sasirekha Parinayam has done photography for Dongata. Satya Mahaveer, Sai Karthik and Raghu Kunche provided music. Sai Karthik did background music.
Tell us about business part of Dongaata?
The distributors who bought Gundello Godari came forward and bought Dongaata. It's shows the kind of good will Gundello Godari has generated for distributors and exhibitors.
What's the reason for making a good connect with Telugu people though the number of movies you have done are less?
I didn't want to be famous. I wanted to be an actress. If I wanted to be famous, I would have become an actress in 90's. I wanted to become an actress from grossroot level. That's why I got trained in theater in USA and acted in numerous plays and did a few TV appearances. My life in USA gave me a new perspective. After returning to India, I started doing TV shows and they were a huge success. I made a connect with Telugu people because of TV shows and they granted me access to their living rooms. I make sure that I do one talk show each year on TV.
People are shocked with your fitness when we posted your fitness regime photos in Lights. Camera.. Fitness… article in idlebrain.com?
article: Lights. Camera.. FITNESS... Lakshmi Manchu
I want to be better than most of the people. Hence, I make sure that I excel whenever I find an aspect that suits my strengths. I am hardworking and I love it.
How do you take it when some people criticize you and troll you?
I would like to give you an example. I went for an audition for a role in theater in USA, the waiting room was bustling with so many girls who came for auditions. I appreciated others when they get selected instead of me. I feel that we must appreciate others for what they are good at. Then only light will shine on us. I groomed Tapsee and I feel happy for her success. I am a complete positive person and I don't let criticism kill the enthusiasm in me.
What are your future films and TV shows?
I am going to produce a film soon in the direction of Tarun Bhaskar who has done a hilarious short film titled Sainma. This will be a romantic comedy. I am not going to act in it. We will announce the cast very soon. I will do a talk show titled Malli Malli Idi Rani Roju in which guests talk about their memorable days.