8 June 2010
My Movie – Vedam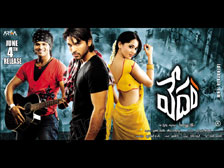 Dallas,Tx.
Go Hollywood theaters.
6/4/10 - 9:30 PM show.
With all the expectations raised for the movie Vedam....it was very exciting and thrilling to enter the movie hall which was sold out.
First time i wrote "My Movie" experience was for the movie Gamyam. My second "My Movie" experience is Vedam now because its true that there are very few movies that touch the human being inside you........
Having been watched all the movies related to multiple story formats like "Amoros Perros" "Crash" and our own desi versions like "Om shanti" and "Mumbai meri jaan".....i was little apprehensive about how could it be any different from all these above said movies......but i was taken aback once the movie started......i forgot that i watched all these movies and the comparison stopped immediately....
Vedam Vedam Vedam........what a cinema.....truly outstanding.......so many intense moments through out the movie......If i have to categorize this movie....then it would be "Tear jerker's" and "Heart touching"......
There is so much of sympathy you feel towards each character that shows how Krish has developed all the five stories with equal importance. All though i would say the man of the show was Allu Arjun. I personally felt it was bunny's best movie, what a comic timing. I have become a fan of Manoj.....simply for his selection of offbeat stories and his risks involving stunts.....
Vedam created a lot of hype from the day it roped in all the stars.....it is very exciting to see that Vedam - a Telugu cinema is no different than Hollywood or Bollywood when it comes to Multi starer.....no introduction songs......plain simple entry into the frame. I really liked it....
One thing which i was touched with vedam was it was "Characters movie" not that of "stars movie".....
Background score was like soul for the movie....keeravani's background vocals were the best.....
I think there was usage of Sepia colour in few scenes...it was awesome treat to eyes.....
Time again and again proved.....Script is the king....not a star cast.....way to go Krish.....
If i can say Gamyam showed a mere 20 to 25% of human value's then i would say Vedam is a blown up version of gamyam showing 100% of human values. Its quite an extension of gamyam.
One more thing what i liked of Vedam was the usage of nativity language like Urdu for Manoj bajpai, Amalapuram accent for Anushka's episode and Telangana accent for Sircilla Nagayya.....it shows the authenticity with which Krish has taken care to etch the dialogue's......
I was glued to the seat right from the start till end and i liked every inch of the movie......can't stop bragging about the movie.....
And what a climax....this was the least expected climax for me i would say.....How can a Telugu cinema show two hero's being killed in the end...... the best climax i would say......so good to see a realistic climax......it would have been utter disappointing if bunny and manoj came alive.....
All i would like to say at the end is that Vedam was way above my expectations.....I m sure this movie will have a repeat audience....and there will be no one or two reasons to choose for why someone would watch it again and again.....Its a great movie.......Its a REALISTIC movie.....
Krish.....thanks for giving us a great movie....and raising the bar of Telugu cinema one more time......
Cheers
Sridhar Aemalla.
sridharaemalla at gmail dot com
More My Movie experiences:
Vedam by Sarath Chandra
Vedam by Murthy
Vedam by Kumar
Vedam by Santosh
Vedam by Sreekanth D
Prasthanam by Ravi
Prasthanam by Suresh
Prasthanam by Amarnath
Prasthanam by Krishna Chaitanya
Prasthanam by Che
Prasthanam by Purnesh
Prasthanam by Kumar
YMC by Kumar
YMC by Mallik
YMC by Satya
YMC by Anurag Reddy
YMC by Ramskott
YMC by Dellcom
YMC by Ashok
YMC by Ramya
YMC by Sudheer
YMC by Laya
YMC by Survi
YMC by Rajeev
YMC by Pavan
YMC by Rohit
Inkosaari by Avanthi
Inkosaari by Sneha
YMC by Praveen
YMC by Rajani
YMC by Sujith
Inkosaari by Ganesh
Leader by Sreekanth D
Maya Bazar by Gopal
Mahatma by Kishore
Baanam by Stanley
Josh by Nathan
Magadheera by Ashok
Magadheera by Wannabe Director
Magadheera by Shanti
Magadheera by Anitha
Magadheera by SS
Oy by Prathna
99 by Bala Thirumalasetty
Veedokkade by Srinivas
Delhi 6 by Vamsi
KIKK by Sweta
Luck by Chance by Srini
KIKK by Lalitha Spoorthi
Arundhati by Naveen
Arundhati by Srini
Arundhati by Bharat
Sasirekha Parinayam by Santhi Venkat
Sasirekha Parinayam by Vamshi Muthapu
Sasirekha Parinayam by Niharika Reddy
Nachavule by Vamsi Krishna
Neninthe by movie lover
Avakai Biryani by Vamsi Krishna
Kotha Bangaru Lokam by Vamsi Krishna
Kotha Bangaru Lokam by S
Ashta Chemma by Deepthi
Ashta Chemma by Lalitha Spoorthi
Sarkar Raj by Pradeep
Jalsa by Lalitha Spoorthi
Gamyam by Sridhar
Gamyam by Sreekanth D
Gamyam by Sanjay
Halla Bol by Purnesh
Taare Zameen Par by Ashok Varma
Taare Zameen Par by Raja Simha
Happy Days by Krishna Sastry
Chirutha by Phani Kumar
Chak De India by Ravi
Yamadonga by Lalitha
Chak De India by Shyam
AMAV by Darsakudu
5 in March by Sashidhar
Okkadunnadu by Anand
Black Friday by Ratnakar
Desamuduru by Krishna Prasad
Guru by It's opinion
Dhoom 2 by Lalitha Spoorthi
Dhoom 2 by ASK
Don - Syam
Boss - Anand
Boss - Hrithik
Stalin - Bala
Bommarillu - Nandini
Bommarillu - Darsakudu
Bommarillu - Vasu
Bommarillu - Harsha Prakash
Bommarillu - Lalitha Spoorthi
LRMB - Shravan
Bommarillu - Anirudh
LRMB - Srinivas
LRMB - Darsakudu
LRMB - S Sridhar
Bommarillu - Shridevi
Bommarillu - Vasudev
Bommarillu - Roopa
Sriram - Godavari
Sarath - Bangaram
Bala - Pokiri
Srinadh - Allari Pidugu
Sudheer Allari Pidugu
Anu - Athadu
Shyam Krishna - Iqbal
Purnesh - Grahanam
Sudhindra - Super
Vijay - Aparichitudu
Madhav - Aparichitudu
Hazaraon Kwaishein Aisi
Swades
Shyam - Black
Sai - Anand
Rohit - Anand & Veer Zaara
Jaya Prakash - 7GBC
Raj - Anand
Purnesh - Anand
Purnesh - The Village
Sriram - Gudumba Shankar
Purnesh - Gharshana
Purnesh - Lakshya
Purnesh - Yuva
Leenesh - Yuva
Kis - Lakshmi Narasimha
Indian Pride - Tagore
Raj - Boys
Phani - Gangotri
Phani - Khadgam
Vikram - CKR
BKR - Indra (Singapore)
Ram - Indra (Dubai)
Ranjeet - Idiot
Rahul - Indra
King Koduri - Indra
Srilakshmi Katragadda - Mitr: My Friend