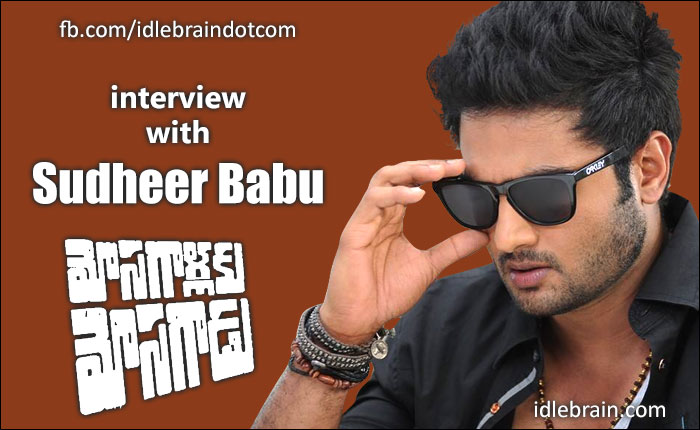 20 May 2015
Hyderabad
Sudheer Babu is a passionate actor and his producers like working with him because of the punctuality and the comfort level he provides. His latest film Mosagallaku Mosagadu is releasing on 22 May. Here are the excerpts of an exclusive interview -


Your last film Aadu Magadra Bujji was released in December of 2013. Next film is releasing in May 2015?
Yes. I have done two films in the gap. Krishnamma Kalipindi Iddarini and Mosagallaku Mosagadu. MM is releasing on 22 May and KKI will release in the month of June.
Tell us about Mosagallaku Mosagadu?
I am playing the role of a con man who makes living by cheating others. But there is more to it. It's not just a crime comedy. It has family orientation and devotional angle. As shown in the posters and promos, the basic plot revolves around the idol robbery.
The director has dealt with my character in a variety style. Though my character is a mass one, my dialogue delivery and body language is class (Like Mahesh Babu's character in Pokiri).
Tell us about technical aspects of the movie?
Director Bose Nelluri handled the film like a veteran. Cinematographer Sai Prakash will become big after this movie. Manikanth Kadri (Avakai Biryani fame) came up with nice songs. I liked the grandness and authenticity in his music compositions.
Chandra Mohan has done a vital character. Nandini did a nice role. Abhimanyu Singh plays baddie. This movie sports many comedians like JP, Saptagiri and Praveen.
Tell us about Krishnamma Kalipindi Iddarini?
It's an emotional love story which gave me excellent opportunity as an actor. It will be my best film as an actor. It's a remake of a Kannada blockbuster by the same director who has directed the original.
How are you planning your career?
I am doing my best at script selection after the failure of Aadu Magadra Bujji. I want to do good yet entertaining movies.
What are your future projects?
I am currently doing a film and 40% of the shoot is complete. An official announcement will release soon.