Story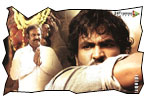 Anna garu (Mohan Babu) is a popular factionist in Rayalaseema. He is for the people. He has two sons Bhushan (Kishore) and Krishna (Vishnu Manchu). Bhushan is a bad-tempered and ill-mannered. Krishna is docile and dutiful. There is Nandavaram project which requires evicting a few villages and a corporate is going to gain big by doing so. Anna is the man that stands between the corporate and village eviction. The rest of the story is all about what the corporate gang has done and how Anna survives it all with the help of his righteous son Krishna.
Artists Performance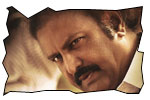 Actors: Mohan Babu comes up with natural performance and controlled dialogue delivery. This film will become a good addition to his portfolio. Mohan Babu shows his conviction as an actor and excels with natural performance. The way he pronounces respect as 'raspect' is superb. Vishnu did a role that has no heroism in first half, but rises to the occasion from interval. He impressed with controlled dialogue delivery and subtle performance. Shanvi has a limited role and does justice. Jayasudha is nice. Kishore is very good as a bad son. Paruchuri Venkateswara Rao did a vital role and he is satisfactory. Tanikella Bharani's vedantham dialogues and freezing expression after each of those dialogues didn't workout. Ravi Babu is excellent as cop. Gajendra Naidu (one of the producers of the film) did a role of hero's follower and he is pretty good.
Technical departments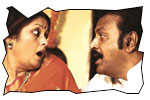 Story - screenplay - direction: The basic story and plot of remind us of RGV's Sarkar which is inspired by Godfather. The initial scene of hero helping a poor man and the hospital episodes remind us of Godfather. Ram Gopal Varma has concentrated on building family bonding at one end and has shown fights and violent attacks parallelly. The twist that comes towards end of the film is also good. However, the tempo in second half should have been more gripping.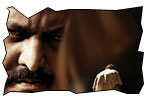 Other departments: Dialogues by Gangothri Vishwanadh are apt. Cinematography by Satish Muthyala is good. Ram Gopal Varma who started using weird angles/shots from Rann film has made sure that camera work is proper and traditional in Rowdy. Warm tone to the visuals added to the feel of the movie. Songs and background music by Sai Karthik is in Ram Gopal Varma's style. Stunts composed by Ram Sunkara are fiery though a lot of violent at times. New producers should be commended for making a film with a realistic tone to it.

Analysis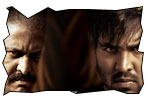 Mohan Babu is a superb actor. After M Dharmaraju MA and Rayalaseema Ramanna Chowdary, this is the most compelling character he has done in his career. It took a director of Ram Gopal Varma calibre to present Mohan Babu in natural avatar. Plus points of the film are Mohan Babu, Vishnu Manchu, and their characterizations. On the flipside a toned-down violence and a compelling second half would have made the movie more universal. On a whole, Rowdy is a special film that adds a feather to the cap of Mohan Babu.