21 June 2010
My Movie – Vedam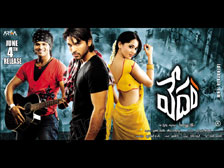 This is Manohar Babu Barla.
I really appreciate Idle brain website for many reasons of sharing good film news, reviews. I would also like to mention here about "My Movie" column, which I like most. Its the one which really differentiates Idle brain and other Film Websites.
Looking at this column, I also thought of sharing some of my thoughts on Vedam movie and I would like this article to publish under your "My Movie" column in your site. Looking forward to publish more and more good articles like this.
Here are my thoughts. Thanks in advance for providing a platform for writing such views from viewers. Hope to see more innovative ideas.
VEDAM is a story revolving around things namely
V - - Values
E - - Emotions
D - - Destination
A - - Aims
M - - Money
It shows the day to day struggle of a common man and his thoughts of a better tomorrow. I had seen this movie(not to be called as a movie) couple of days back and couldn't come out of the movie till now. It doesn't have actors/actresses, but it has characters. Kudos to Mr.Krish for getting 150% out of each character. The film has given an experience of watching a Hollywood film with gripping screenplay and five different stories that run simultaneously.
What's it about:
A cable operator, who lives in a slum in Hyderabad, aspires to lead rich life by marrying his rich girl friend.
A sex worker runs away from her brothel house in Amala Puram to lead her own life in Hyderabad.
A poor weaver in Sirisilla comes to Hyderabad along with his daughter-in-law to sell off her Kidney to clear the debts, in a way to fulfill his daughter-in-laws dream of sending her son to school.
Having humiliated by a police cop and losing his twins, a Muslim guy plans to head for Dubai.
Due to various circumstances, they all land up in a Hospital. What happens next is rest of the story.
I am pretty sure that these are all very common characters we come across in our daily lives. Each and every character in the movie makes an impact.
Director is the one who should be able to make his/her characters speak. He is the one behind the scenes and has to convey the message through characters. Krish has succeeded a lot in making his characters speak. We don't see actors, but Cable Raju and Vivek Chakravarthy. We see an old helpless weaver from Sirsilla but not Nagayya. Likewise, we don't see Manoj Bajpai but a muslim who feels vulnerable at every juncture.
All the characters in the film have equal importance.
I would like to make a special note of some ultimate dialogues written by Krish here.
Ramulu's dialogue: "Illu katte vani daggara illu untunda, cheppulu kutte vani daggara cheppulu untaya... maa bathukulu inthe saaru"
Saroja's dialogue to a police: "memu battalu ippi vyaparam chestam.... meeru uniform vesu koni vyaparam chestunnaru"..... are some of my favorite dialogues.
Scene in which cable Raju repents himself and give away the stolen money from Ramulu is the best scene I like...
This is the change that we are looking for in our films, and its a welcome change. I would congratulate Krish for giving us a wonderful movie and hope to see this movie as a beginning of new trend in films. He is an intelligent filmmaker who does sensible, intelligent movies rather than following other intelligent filmmakers who doesn't do justice to their intelligence uncovincingly due to some reasons.
Last but not least, I would like to congratulate whole team of VEDAM who involved in the movie and gave us a Master Piece... Vedam is a very good movie. Pls watch it and encourage these kind of heart touching and meaningful movies.
Manohar Babu Barla
manu.barla at gmail dot com
More My Movie experiences:
Vedam by Sridhar A
Vedam by Sarath Chandra
Vedam by Murthy
Vedam by Kumar
Vedam by Santosh
Vedam by Sreekanth D
Prasthanam by Ravi
Prasthanam by Suresh
Prasthanam by Amarnath
Prasthanam by Krishna Chaitanya
Prasthanam by Che
Prasthanam by Purnesh
Prasthanam by Kumar
YMC by Kumar
YMC by Mallik
YMC by Satya
YMC by Anurag Reddy
YMC by Ramskott
YMC by Dellcom
YMC by Ashok
YMC by Ramya
YMC by Sudheer
YMC by Laya
YMC by Survi
YMC by Rajeev
YMC by Pavan
YMC by Rohit
Inkosaari by Avanthi
Inkosaari by Sneha
YMC by Praveen
YMC by Rajani
YMC by Sujith
Inkosaari by Ganesh
Leader by Sreekanth D
Maya Bazar by Gopal
Mahatma by Kishore
Baanam by Stanley
Josh by Nathan
Magadheera by Ashok
Magadheera by Wannabe Director
Magadheera by Shanti
Magadheera by Anitha
Magadheera by SS
Oy by Prathna
99 by Bala Thirumalasetty
Veedokkade by Srinivas
Delhi 6 by Vamsi
KIKK by Sweta
Luck by Chance by Srini
KIKK by Lalitha Spoorthi
Arundhati by Naveen
Arundhati by Srini
Arundhati by Bharat
Sasirekha Parinayam by Santhi Venkat
Sasirekha Parinayam by Vamshi Muthapu
Sasirekha Parinayam by Niharika Reddy
Nachavule by Vamsi Krishna
Neninthe by movie lover
Avakai Biryani by Vamsi Krishna
Kotha Bangaru Lokam by Vamsi Krishna
Kotha Bangaru Lokam by S
Ashta Chemma by Deepthi
Ashta Chemma by Lalitha Spoorthi
Sarkar Raj by Pradeep
Jalsa by Lalitha Spoorthi
Gamyam by Sridhar
Gamyam by Sreekanth D
Gamyam by Sanjay
Halla Bol by Purnesh
Taare Zameen Par by Ashok Varma
Taare Zameen Par by Raja Simha
Happy Days by Krishna Sastry
Chirutha by Phani Kumar
Chak De India by Ravi
Yamadonga by Lalitha
Chak De India by Shyam
AMAV by Darsakudu
5 in March by Sashidhar
Okkadunnadu by Anand
Black Friday by Ratnakar
Desamuduru by Krishna Prasad
Guru by It's opinion
Dhoom 2 by Lalitha Spoorthi
Dhoom 2 by ASK
Don - Syam
Boss - Anand
Boss - Hrithik
Stalin - Bala
Bommarillu - Nandini
Bommarillu - Darsakudu
Bommarillu - Vasu
Bommarillu - Harsha Prakash
Bommarillu - Lalitha Spoorthi
LRMB - Shravan
Bommarillu - Anirudh
LRMB - Srinivas
LRMB - Darsakudu
LRMB - S Sridhar
Bommarillu - Shridevi
Bommarillu - Vasudev
Bommarillu - Roopa
Sriram - Godavari
Sarath - Bangaram
Bala - Pokiri
Srinadh - Allari Pidugu
Sudheer Allari Pidugu
Anu - Athadu
Shyam Krishna - Iqbal
Purnesh - Grahanam
Sudhindra - Super
Vijay - Aparichitudu
Madhav - Aparichitudu
Hazaraon Kwaishein Aisi
Swades
Shyam - Black
Sai - Anand
Rohit - Anand & Veer Zaara
Jaya Prakash - 7GBC
Raj - Anand
Purnesh - Anand
Purnesh - The Village
Sriram - Gudumba Shankar
Purnesh - Gharshana
Purnesh - Lakshya
Purnesh - Yuva
Leenesh - Yuva
Kis - Lakshmi Narasimha
Indian Pride - Tagore
Raj - Boys
Phani - Gangotri
Phani - Khadgam
Vikram - CKR
BKR - Indra (Singapore)
Ram - Indra (Dubai)
Ranjeet - Idiot
Rahul - Indra
King Koduri - Indra
Srilakshmi Katragadda - Mitr: My Friend