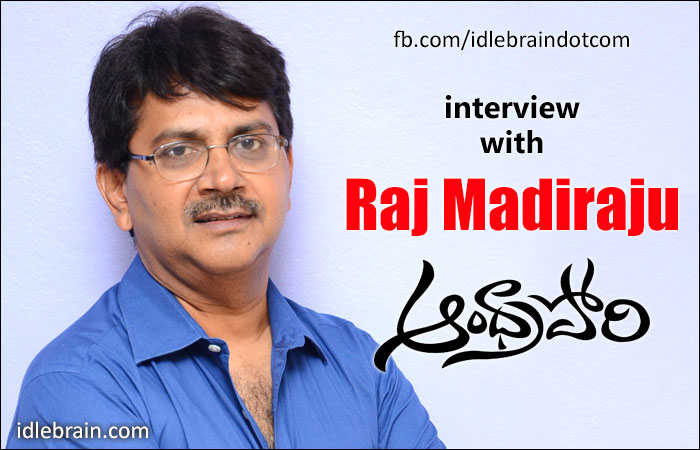 04 June 2015
Hyderabad
Raj Madiraju is an ad film maker who is on the quest to understand box office. His 3rd film - Andhra Pori is a remake of a hugely successful Marathi film titled Time Pass. He is confident that he will win box office with Andhra Pori movie. Here are the excerpts of an exclusive interview with Raj Madiraju -
Background:
I am brought up in Kothagudem as my father was an engineer in thermal power station (KTPS). I have completed my MBA. I started doing ad commercials and corporate films. I am inclined towards movies since childhood. I am also a singer and performed in over 600 stage shows as a singer. I have joined Dasari as an assistant for Osey Ramulamma film and worked for over 7 films. I was also the 2nd assistant director for Chiranjeevi's Hollywood film - Thief of Bhagdad. Though it was stalled, I had the fortune of working with Hollywood technicians, some of whom won Oscar awards. In 2000, I had the opportunity to make my debut as a feature film director with AVS produced Uncle film. In 2012, I directed Rushi film for Prasad Productions who re-entered into film production after a huge gap. I am lucky to be given another opportunity by Ramesh Prasad garu for Andhra Pori film.
Rushi didn't do well at box office. What's the reason for Ramesh Prasad to chose you again as director?
I think he was feeling apologetic that Rushi didn't do well despite having the right content. He believes that I have it in me to do a successful film.
Why a remake?
I was preparing a romantic comedy script. That's when I happened to see a Marathi film titled Time Pass. It's a simple film with wonderful moments. It has three principal characters (boy, girl and girl's father played by SKI).
Did you make any changes to original?
Yes. I have modified the script to appeal to Telugu movie lovers. We have also called 70 random people from Facebook and screened Time Pass. After screening, I have explained them the changes I made to Telugu version. 92% of the people have given a thumbs up for the film.
What's the reason for casting Puri Jagan's son?
Akash Puri is not our first choice. We stumbled upon his profile accidentally. Then I went to Puri Jagan to ask for dates of Akash. He was reluctant after watching Time Pass, but was convinced when we explained him changes. Akash wasn't forthcoming to act in the movie as it's a Telangana guy character. Puri Jagan encouraged him to do this movie.
How is Akash Puri?
He is grounded guy with good acting potential. I had my reservations about his Telangana accent. When I went to discuss about this aspect with Puri Jagan, he told me that Akash has been practicing Telangana dialect with the help of Uttej for the past two weeks. Such is the commitment of Akash.
Tell us about the team?

Ramesh Prasad: I would like to thank Ramesh Prasad for trusting me again and giving me the project of Andhra Pori. He has also overseen project by involving himself in creative discussions and production at regular intervals.
Praveen Vanamali: Praveen Vanamali has relevant academic background. He has good knowledge about lenses and is an expert in ambient lighting. He has used LED lights very effectively. Locations also play a character in the movie and he is instrumental in making sure that locations play vital role on the screen.
Dr. Josyabhatla Sarma: He has a great depth in music. He has done music with semi classical touch in this movie. Since the movie has a period backdrop (story happens in early 90's), he has given background music that belongs to 90's era.
Mahesh has done production design and Rajiv Nair has done art direction. I have made sure that I have discussed the script with entire team before going to the sets.
You have seen the final version. What's your gut feel?
When you go with a group, you enjoy most of the movies. When you go alone, you tend to become more critical. I feel that Andhra Pori is a kind of film which you enjoy even when you go alone. It makes you travel to your youth days and makes you nostalgic.