Story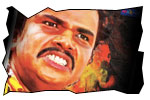 Sampoornesh Babu (Sampoornesh Babu) is a thief who steals various items from electronic shops and provisional stores. A battalion of cops headed by Bhairav Rathore (Mahesh Kathi) are searching for this mysterious thief who leaves no clues. A dangerous looking Black Mamba is frantically searching for Sampoornesh Babu. The rest of the story is all about why Sampoornesh Babu is stealing and what happens when cops catches him.
Artists Performance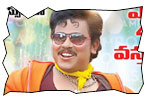 Actors: Sampoornesh Babu has funny looks. But those funny looks are not enough. He needs a good characterization and a director who can project him well. The image and following created for Sampoornesh Babu in social media has so much influenced the viewers that whatever he does on screen turned out into a great performance. This film will create a new genre and Sampoornesh Babu should nurture his career by acting selectively in films where the director can produce magic with him. If he accepts a couple of mediocre projects, he will be forgotten as hero. He has the special talent of dancing in a funny way as well as in a professional style as well.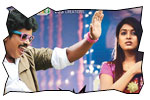 Others: New actress Kavya Kumar has a bit of features of actress Roja (pouting lips and similar eye/eyebrows). She does a decent job and her dubbing is cute. Kathi Mahesh is impressive as a short and funny police commissioner Bhairav who has a thing for smelling. Guru Charan played the role of doctor. Most of the actors in the film are new. Ishika Singh did a glamorous role.
Technical departments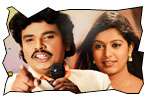 Story - screenplay - direction: Most of the writers for commercial films write with a purpose of making a great film and they end up delivering illogical film. This story takes a potshot at those serious shot films. Hence the writer has deliberately has written illogical scenes and silly dialogues. And they worked amazingly on the screen with right characterization and with the casting of Sampoornesh Babu. Writing such deliberate illogical story and convincing it is very difficult for any director. First timer Sai Rajesh (Steven Shankar) succeeds as a writer first and then as a director. There are timely and well intended references to films like Samarasimha Reddy (cop saluting hero), Daddy (hero's profession in flashback), Bommarillu (love episodes), Black Mamba (Kill Bill) etc. The pre-climax episodes appear bizarre, but is followed up with a nice climax. The director has also given right explanation why this movie is titled 'Hrudaya Kaleyam' and why Sampoornesh Babu is called 'burning star'. The statutory warnings that come at bottom of screen are creative.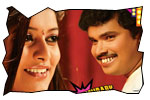 Other departments: The major asset of the film fun dialogues written by the director himself. There are several witty liners like 'Thalam Thailand vaadu cheste, danni baddhalu kotte brain bharateeyudidi", "Aakarshana bed room ki velte teeripotundi, kaani prema smasanam varaku venta vuntundi', "Snehithudante evaru? Snehitudu kathi tho podisthe, Naa snehithudu naa pottalo katthi dachukunnadu ani cheptharaa" etc. Music and background score by RK is good. Most of the songs have ample scope for Sampoo dances. Cinematography by Chiranjeevi is decent compared to the limited resources budget allows. The effects used for hero introduction and build-up shots are good. Stunts composed by Stunt Joshua are effective. Editing by Karthika Srinivas is fine. Producer and director Sai Rajesh should explore making this a franchize series as it's a new genre and will become a popular genre in years to come.

Analysis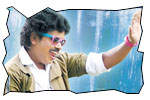 Hrudaya Kaleyam is first straight film in Telugu in this genre (Sudigaadu was little similar, but was a remake). One has to be tuned to Sampoornesh Babu and Hrudaya Kaleyam teasers in order to enjoy the film to fullest. The theater I have seen (INOX, GVK) is full with people who came to theaters after getting impressed with trailers. They started chanting Sampoo name and going through the motions of hero throughout. Few of them dances in the songs and a few of them jumped out of chairs in the climax. Hrudaya Kaleyam is a film that should be watched in theater to enjoy it because the shouts and chants of fellow moviegoers are as entertaining as the content on the screen. Watch it on a big screen and watch it with crowds. If you liked the trailers of Hrudaya Kaleyam, it's a must watch film for you in theater!