21 June 2010
My Movie – Vedam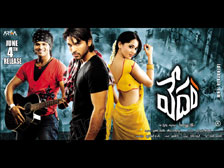 A new trend in the conventional stream of Telugu movies. A new dimension added to the very orthodox film making style in tollywood. A new ray of hope has started to lighten up in the minds of the audience who have made up their minds with what a telugu movie can give to them. The reason for all these is one movie "Vedam". An honest and sincere attempt by the director "Krish".
This movie has five stories amalgamated into one story. Five stories of five characters, where every character is a protagonist in its own way. The five characters in this movie represents the five elements of the nature.
Vivek (Manoj Manchu) - The Rock star. Aiming for "The sky". He wants to meet the highest standards but in his own way, not in the tradition followed by his family.
Saroja (Anushka) - The Prostitute. "The fire" within. She has the fire, can attract anyone and wants to lead her own life in her own way, not under the remote control of anyone.
Ramulu (Nagayya) - The poor man. He has the patience of "The earth". Still and calm. He wants to give his grandkid the education which he and his family was deprived off. In that process he bears all the "pains" with patience.
Raheem Khureshi (Manoj Bajpai) - The non terrorist Muslim branded as terrorist. As calm and as serene as "The water". But when situation arises he can erupt as a flood or even a tsunami.
Cable Raju (Allu Arjun) - The floater. His attitude is as flexible and as inconsistent as "The air". He wants to become rich in a easy way but cannot shed off his real attitude when the clock strikes.
The life style of all these five characters, how they deal with the situations they face, how they want to overcome their difficulties was dealt in a near perfect way in Vedam. Kudos to the director for handling them very well.
The performances were equally good by all the artistes. Allu Arjun, Manoj Manchu, Manoj Bajpai, Anushka and the old man Ramulu have to be commended for their impeccable performances. The best scene in the movie was the smile on Allu Arjun's face when he comes back after returning the money to the old man. It shows how happy can a person be when he realises what his heart wants and he does that.
The only glitches in the movie being the handling of the screenplay in some parts of the movie. This type of movie needs a perfect screenplay to bring all the characters in one line at a point of time in the story. Here, in Vedam it somehow appears that the characters Saroja and Vivek have been forced to join with the rest of the crew. But keeping in view of the time line of the movie this can be overlooked.
Nevertheless, an honest and sincere attempt which needs to be appreciated.
deepak kumar thimmaraju
deepakkumart at gmail dot com
More My Movie experiences:
Vedam by Manohar
Vedam by Sridhar A
Vedam by Sarath Chandra
Vedam by Murthy
Vedam by Kumar
Vedam by Santosh
Vedam by Sreekanth D
Prasthanam by Ravi
Prasthanam by Suresh
Prasthanam by Amarnath
Prasthanam by Krishna Chaitanya
Prasthanam by Che
Prasthanam by Purnesh
Prasthanam by Kumar
YMC by Kumar
YMC by Mallik
YMC by Satya
YMC by Anurag Reddy
YMC by Ramskott
YMC by Dellcom
YMC by Ashok
YMC by Ramya
YMC by Sudheer
YMC by Laya
YMC by Survi
YMC by Rajeev
YMC by Pavan
YMC by Rohit
Inkosaari by Avanthi
Inkosaari by Sneha
YMC by Praveen
YMC by Rajani
YMC by Sujith
Inkosaari by Ganesh
Leader by Sreekanth D
Maya Bazar by Gopal
Mahatma by Kishore
Baanam by Stanley
Josh by Nathan
Magadheera by Ashok
Magadheera by Wannabe Director
Magadheera by Shanti
Magadheera by Anitha
Magadheera by SS
Oy by Prathna
99 by Bala Thirumalasetty
Veedokkade by Srinivas
Delhi 6 by Vamsi
KIKK by Sweta
Luck by Chance by Srini
KIKK by Lalitha Spoorthi
Arundhati by Naveen
Arundhati by Srini
Arundhati by Bharat
Sasirekha Parinayam by Santhi Venkat
Sasirekha Parinayam by Vamshi Muthapu
Sasirekha Parinayam by Niharika Reddy
Nachavule by Vamsi Krishna
Neninthe by movie lover
Avakai Biryani by Vamsi Krishna
Kotha Bangaru Lokam by Vamsi Krishna
Kotha Bangaru Lokam by S
Ashta Chemma by Deepthi
Ashta Chemma by Lalitha Spoorthi
Sarkar Raj by Pradeep
Jalsa by Lalitha Spoorthi
Gamyam by Sridhar
Gamyam by Sreekanth D
Gamyam by Sanjay
Halla Bol by Purnesh
Taare Zameen Par by Ashok Varma
Taare Zameen Par by Raja Simha
Happy Days by Krishna Sastry
Chirutha by Phani Kumar
Chak De India by Ravi
Yamadonga by Lalitha
Chak De India by Shyam
AMAV by Darsakudu
5 in March by Sashidhar
Okkadunnadu by Anand
Black Friday by Ratnakar
Desamuduru by Krishna Prasad
Guru by It's opinion
Dhoom 2 by Lalitha Spoorthi
Dhoom 2 by ASK
Don - Syam
Boss - Anand
Boss - Hrithik
Stalin - Bala
Bommarillu - Nandini
Bommarillu - Darsakudu
Bommarillu - Vasu
Bommarillu - Harsha Prakash
Bommarillu - Lalitha Spoorthi
LRMB - Shravan
Bommarillu - Anirudh
LRMB - Srinivas
LRMB - Darsakudu
LRMB - S Sridhar
Bommarillu - Shridevi
Bommarillu - Vasudev
Bommarillu - Roopa
Sriram - Godavari
Sarath - Bangaram
Bala - Pokiri
Srinadh - Allari Pidugu
Sudheer Allari Pidugu
Anu - Athadu
Shyam Krishna - Iqbal
Purnesh - Grahanam
Sudhindra - Super
Vijay - Aparichitudu
Madhav - Aparichitudu
Hazaraon Kwaishein Aisi
Swades
Shyam - Black
Sai - Anand
Rohit - Anand & Veer Zaara
Jaya Prakash - 7GBC
Raj - Anand
Purnesh - Anand
Purnesh - The Village
Sriram - Gudumba Shankar
Purnesh - Gharshana
Purnesh - Lakshya
Purnesh - Yuva
Leenesh - Yuva
Kis - Lakshmi Narasimha
Indian Pride - Tagore
Raj - Boys
Phani - Gangotri
Phani - Khadgam
Vikram - CKR
BKR - Indra (Singapore)
Ram - Indra (Dubai)
Ranjeet - Idiot
Rahul - Indra
King Koduri - Indra
Srilakshmi Katragadda - Mitr: My Friend