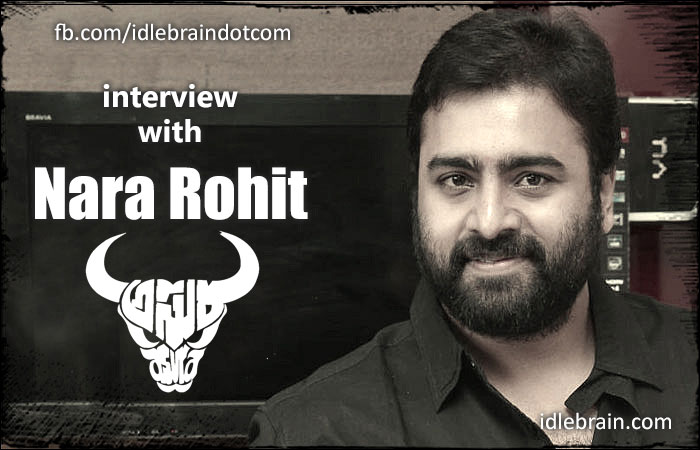 04 June 2015
Hyderabad
It's easy to get tempted and fall in commercial entertainment trap. But Nara Rohit is one of very rare contemporary Telugu heroes who refuse to do a routine film and always prefer doing different films. Here is an exclusive interview with Nara Rohit whose Asura is releasing on 5 June 2015 -

Your film Prathinidhi has good content. But it didn't do well at box office?
Pratinidhi was released on 25 April 2014 and had good run in the first 3 days and then Telangana elections happened. Audiences were glued to election drama that was unfolding on TV. Pratinidhi was rich in content and poor in production values. It recovered the budget.
Tell us about your last movie Rowdy Fellow?
I expected it to commercially well. But wrong release and lack of promotion hampered the box office performance. It's a decent film.
How did Asura project happen?
I have traveled with Krishna Vijay for 6 years. We started a film titled Madarasi, but stalled it due to production problems. Krishna Vijay initially approached me to be a production partner, but not to cast me as hero for Asura. When Krishna Vijay narrated this story, Asura's character is a villain character and I suggested to modify Asura character to hero. That's how the entire color of the film is changed.
I play a jailor character called Dharma. It's an action thriller. It's a screenplay based movie with unexpected events unfolding as the narration progresses. It's a crisp two hour film that is shot in 50 working days.
Asura is the best commercial film I had worked so far. It is a different script, but has all the commercial elements. When did we have a film last time when hero played the full-length role of a jailor? NTR and Krishnam Raju did those roles decades back, even before I was born.
Tell us about director Krishna Vijay?
He is a media shy guy. He is a director and writer with 100% conviction. I have always worked with debutants or directors with a film experience. Krishna Vijay is the best director I had worked so far.
Trailers of your movies are always highlighted by dialogues?
Except for Solo and Okkadine films, all my films have hero playing a tough character. Dialogue delivery has always been my strength. But I am also trying to do universal films with a bit of difference. My forthcoming film Pandagala Vachavu is going to be an entertainer. I had used East Godavari slang in that movie.
Tell us about the technicians of Asura?
Sai Karthik has done music to the movie. He has worked my films Pratinidhi and Sankara (unreleased). He has also overseen DTS mixing of the movie. Visweswar's photography is of top notch quality. Dharmendra Kakarala did fine work as an editor. Director Krishna Vijay extracted good work from all the technicians.
It's been 6 years since you made debut as an actor. How do you analyze your journey so far?
I have had 6 releases so far. All these films are different from each other and different from the regular Telugu films. It's tough to do different films. I don't mind giving a flop while doing a different film than attempting a regular masala film. I get motivated when people appreciate my selection of films and my work in those films.
You have seen Asura movie. Summarize in one sentence?
Asura is a film that is written, shot and edited well.
Tell us about your future projects?
Sankara: First copy of Shankara is ready. It's a Telugu remake of Tamil film Mouna Guru. Murugadoss is currently remaking it in Hindi as Akira with Poonam Sinha by changing the hero character to heroine. Shankara will release in July.
Pandagala Vachavu: This is the first commercial entertainer in my career. Shooting of the film is complete except for a 3-day work.
A remake: I have signed the remake of a Tamil film titled Maan Karate. Story of this film is written by Muruga Doss
Appatlo Okadunde Vaadu: This is a period film set in the backdrop of old city. I will be doing a role of a muslim. Sree Vishnu will also star in this movie.
Savithri: I will be doing a film that is titled after heroine role. This film will be directed by Pavan Sadineni who has directed a different film titled Prema Ishq Kaadhal as his debut.