Story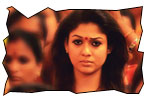 NRI Anaamika (Nayantara) comes to Hyderabad in search of her missing husband Ajay Sasthri (Harshavardhan Rane). She lodges complaint in a police station of old city and starts staying in the same hotel where her husband stayed. She starts searching for her husband with the help of a cop Pardha Saradhi (Vaibhav). There is a minister (Naresh) who gets restless with Anaamika's movements ands a couple of people whom Anaamika met during her search gets killed. The rest of the story is all about how Nayantara gets her mission fulfilled.
Artists Performance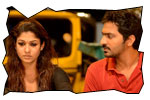 Actors performance: Nayantara is very good as the main lead in search of her husband. Vaibhav is natural as a cop who is willing to go out of his way to help a woman out. Harshavardhan Rane who did mostly chocolate hero kind of roles looks raw in this movie. He is highly convincing. Pasupathi is good with his work, but the characterization and body language would have been better. Naresh is good as a bad politician. Vinay Varma is nice as a bad cop who wants to bed heroine. Dheer Charan Sreevasthav is very authentic has Hotel Galaxy's owner. The actors who did the role of writer in police station, serial killer and imam are excellently cast.
Technical departments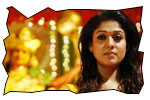 Story - screenplay - direction: I have seen the original - Kahaani. Hence my observation and analysis will be biased and in reference with Kahaani. There are a few things that worked really well with Kahaani. Director Sekhar Kammula seems to have avoided such wow-factor scenes to create his own content.
1. Pregnancy: The pregnancy factor helps in audiences travelling with heroine character throughout the movie. The final shot of taking pillow out to kill villain is the wow scene of the film and it's not there in Anaamika.
2. Introduction of serial killer: Another fascinating introduction is the one of the an insurance agent who later turns out to be a serial killer. There is no introduction to him in this movie, but used as serial killer nevertheless.
Lets talk about other changes that have been made. The entire bio-weapon in Kahaani is replaced by bomb blasts in Anaamika. The husband's backstory has been changed. IB (Intelligence Bureau) chief is replaced by home minister character. Kahaani has won national award for best original screenplay and it's screenplay has been changed in Anaamika. Sekhar Kammula excels in extracting fine performance from artists and excellent technical output from technicians. Some of the additions like honeycomb and pen are good. Heroine's conversations with Imam and special cop are good. The spirit of old city is reflected on screen. One good thing about adaptation is that the modified story is simple compared to original which is little complex to understand..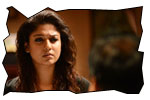 Other departments: Cinematography by Vijay Kumar C is outstanding. It's slick. I liked the way Durga's statue is shown in a long shot from the window of heroine's room. Background music by MM Keeravani is exceptional and chilling at times (used Psycho style bgm in few shots). Art direction by Chinna is excellent. Old city set is very genuine. Visual effects of the film seamlessly blend with visuals of cinematographer. Editor Marthand K Venkatesh has done a fine job.

Analysis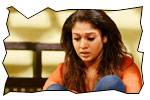 First half of the film is little slow and second half has the main content. The audiences of this film can be categorized into two groups - people who have seen Kahaani and people who haven't seen Kahaani. As a person who has seen Kahaani, I find the changes to be little disappointing though Sekhar Kammula has honestly tried to make it as a film with fresh treatment and modified screenplay. Thriller has it's disadvantages when remade as most of the people would be aware of the climax. Anaamika might be liked by those who haven't watched the original.