21 June 2010
My Movie – Vedam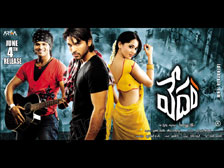 When was the last time you would have come out of a theatre watching a telugu cinema saying that 'this is a kind of cinema that we can show case to the world'.Vedam is one such unique cinema that any telugu cinema goer can be proud of. There used to be a period of K.Viswanath films which are a perfect blend of art and commerce film making and most of his films are always looks like so pure and divinity personified. His films may not have quite broke the box-office records that many other commercial films did, but in a Telugu cinema text book, there will always be a separate chapter mentioned for his films. The respect that he possessed through his films cannot be measured with any box-office success. Vedam is one film which reminded of K.V's gaari cinema with its honesty.
I am not against to the commercialization of the films with a '6-song,5-fight' formula provided if it blends with the story and treatment well. All the blockbusters we have seen in the last decade are the films in my opinion that somewhere or the other stroked this fine balance quite effectively. The flip side of it though is that the stories are built in the process to fit in certain aspects (say fights, songs etc.,) and the result is the most of the mediocre films that we are seeing. It's became so poisonous over a period of time that most of the film makers found it really tough to come out vicious 'so-called formula' circle that Telugu cinema is revolving over quite some time now.
Vedam is one such film which is perfect blend of art and commerce with a old formula. The formula here is very simple, a good story, treatment and 5 well written characters. Sound very simple isn't it? To get that on board without compromising on the story line, and with three leading stars in the market (Bunny, Manoj and Anushka) AND in Telugu cinema is quite tough. To manage the egos of the stars and fans these days are quite difficult and the credit needs to be given to Bunny, Manoj and Anushka for accepting the roles as it is and blindly following what the story demanded. Krish's work is commendable and the producer needs to be appreciated for daring to attempt this kind of cinema in this formula-oriented filmy culture. The performances are top notch and realistic to an extent what the character desires. It feels really great to come out theatre and say that this character has done really well. The stars has finally acted in a movie and is so refreshing and touching to see such honest performances. The characters will be remembered for a long time to come. Personally, my favourite scene is where where cable raju steals money from Nagayya, realises the human inside him and returns the money is one of the beauty of scenes and the best from Bunny till date.
I think I don't deserve to comment anything negative on this film as a viewer because honestly all the little negatives are overshadowed by the writing, performances, music and other aspects and my human inside me does not allowing me to analyse this movie from critic point. The only one sentence I can say if you have not seen the film yet, "Watch it and discover the human inside YOU".
Final word: I consider this year as a path breaking for Telugu film indsutry, as within a six months span I have seen four films which I can be proud of as a viewer, One is YMC, Second is Leader, Third is Prasthanam and Fourth one is Vedam. Hope we will have many such films to refer at the end of year as we go to the second half of the year. One little hope that is pondering over my head , Has the change for Telugu cinema finally come?
Pavan Jakka
contact me at pavanjakka at gmail dot com
More My Movie experiences:
Vedam by Deepak
Vedam by Manohar
Vedam by Sridhar A
Vedam by Sarath Chandra
Vedam by Murthy
Vedam by Kumar
Vedam by Santosh
Vedam by Sreekanth D
Prasthanam by Ravi
Prasthanam by Suresh
Prasthanam by Amarnath
Prasthanam by Krishna Chaitanya
Prasthanam by Che
Prasthanam by Purnesh
Prasthanam by Kumar
YMC by Kumar
YMC by Mallik
YMC by Satya
YMC by Anurag Reddy
YMC by Ramskott
YMC by Dellcom
YMC by Ashok
YMC by Ramya
YMC by Sudheer
YMC by Laya
YMC by Survi
YMC by Rajeev
YMC by Pavan
YMC by Rohit
Inkosaari by Avanthi
Inkosaari by Sneha
YMC by Praveen
YMC by Rajani
YMC by Sujith
Inkosaari by Ganesh
Leader by Sreekanth D
Maya Bazar by Gopal
Mahatma by Kishore
Baanam by Stanley
Josh by Nathan
Magadheera by Ashok
Magadheera by Wannabe Director
Magadheera by Shanti
Magadheera by Anitha
Magadheera by SS
Oy by Prathna
99 by Bala Thirumalasetty
Veedokkade by Srinivas
Delhi 6 by Vamsi
KIKK by Sweta
Luck by Chance by Srini
KIKK by Lalitha Spoorthi
Arundhati by Naveen
Arundhati by Srini
Arundhati by Bharat
Sasirekha Parinayam by Santhi Venkat
Sasirekha Parinayam by Vamshi Muthapu
Sasirekha Parinayam by Niharika Reddy
Nachavule by Vamsi Krishna
Neninthe by movie lover
Avakai Biryani by Vamsi Krishna
Kotha Bangaru Lokam by Vamsi Krishna
Kotha Bangaru Lokam by S
Ashta Chemma by Deepthi
Ashta Chemma by Lalitha Spoorthi
Sarkar Raj by Pradeep
Jalsa by Lalitha Spoorthi
Gamyam by Sridhar
Gamyam by Sreekanth D
Gamyam by Sanjay
Halla Bol by Purnesh
Taare Zameen Par by Ashok Varma
Taare Zameen Par by Raja Simha
Happy Days by Krishna Sastry
Chirutha by Phani Kumar
Chak De India by Ravi
Yamadonga by Lalitha
Chak De India by Shyam
AMAV by Darsakudu
5 in March by Sashidhar
Okkadunnadu by Anand
Black Friday by Ratnakar
Desamuduru by Krishna Prasad
Guru by It's opinion
Dhoom 2 by Lalitha Spoorthi
Dhoom 2 by ASK
Don - Syam
Boss - Anand
Boss - Hrithik
Stalin - Bala
Bommarillu - Nandini
Bommarillu - Darsakudu
Bommarillu - Vasu
Bommarillu - Harsha Prakash
Bommarillu - Lalitha Spoorthi
LRMB - Shravan
Bommarillu - Anirudh
LRMB - Srinivas
LRMB - Darsakudu
LRMB - S Sridhar
Bommarillu - Shridevi
Bommarillu - Vasudev
Bommarillu - Roopa
Sriram - Godavari
Sarath - Bangaram
Bala - Pokiri
Srinadh - Allari Pidugu
Sudheer Allari Pidugu
Anu - Athadu
Shyam Krishna - Iqbal
Purnesh - Grahanam
Sudhindra - Super
Vijay - Aparichitudu
Madhav - Aparichitudu
Hazaraon Kwaishein Aisi
Swades
Shyam - Black
Sai - Anand
Rohit - Anand & Veer Zaara
Jaya Prakash - 7GBC
Raj - Anand
Purnesh - Anand
Purnesh - The Village
Sriram - Gudumba Shankar
Purnesh - Gharshana
Purnesh - Lakshya
Purnesh - Yuva
Leenesh - Yuva
Kis - Lakshmi Narasimha
Indian Pride - Tagore
Raj - Boys
Phani - Gangotri
Phani - Khadgam
Vikram - CKR
BKR - Indra (Singapore)
Ram - Indra (Dubai)
Ranjeet - Idiot
Rahul - Indra
King Koduri - Indra
Srilakshmi Katragadda - Mitr: My Friend