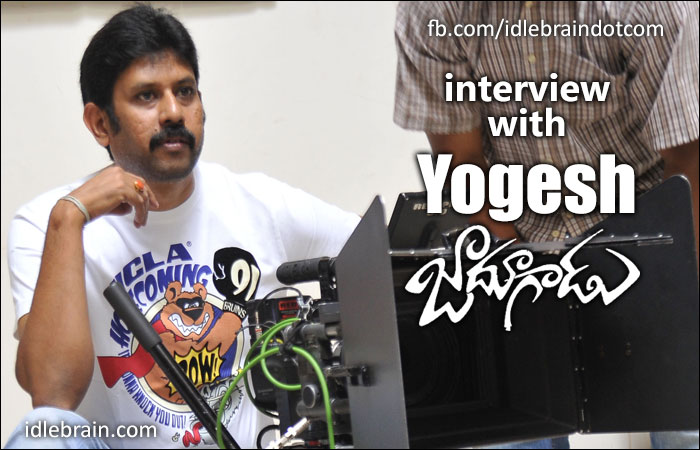 25 June 2015
Hyderabad
Yogesh is one of the few educated and qualified directors in Telugu film industry. His latest film Jadoogadu is releasing after a long gap. Here is an exclusive interview -
Why so much of gap between Chintakayala Ravi (2008) and Jadoogadu (2015)?
Happened like that. Can't explain why.
Tell us about Jadoogadu?
Writer Madhusudhan has narrated his real life incident which inspired me to go for Jadoogadu subject. A murder happened at the job place on the day when the writer joined his job. It was a terrifying experience for him. Most of the scenes in Jadoogadu are real life incidents. I had always wanted to make a street film.
We have titled movie as Jadoogadu because of the street-smart characterization of hero. He is from a village and work for a gangster in Hyderabad. There is naivety of village in him as well as an ambition to climb up the ladder. His character graph will show you how he manoeuvres in city conditions.
What are the reason for casting the lead pair?

Naga Shourya: I wanted the hero with neutral image without any excess baggage. I liked the intensity of Nagashourya in a heroine-confrontation scene from Dikkulu Choodaku Ramayya. I have revisited his earlier movies Oohalu Gusa Gusa Lade and Chandamama Kathalu. He is the right guy to play title role.
Sonarika: Sonarika Bhadoria has acted as 1st Parvathi in tele serial Devon Ke Dev - Mahadev (Harahara Mahadev in Telugu). She is glamorous in the movie as well.
We have other important actors as well. Zakir Hussain (Sarkar fame) plays the main villain. You can see vintage Kota Srinivasa Rao in this movie. Ajay had a terrific role in the movie and he is more powerful than the villain. Ravi Kale played a vital character.
Tell us about technicians:
1. Sagar Mahathi (music director): He is son of famous music director Mani Sharma and worked as a keyboard player for Mani Sharma. There are six to seven scenes in this movie with just a dialogue or two. Sagar Mahathi has given terrific background music and that bgm conveys the emotion to audiences. There is no influence of Mani Sharma on Sagar. I personally liked Gola Cheddame and Katha Mudirega. There are only four songs in the movie.

2. Madhusudhan (dialogue writer): He has worked with Surender Reddy in the past. He is inspired by many real life incidents to pen story. He is a future prospect for Telugu film industry. I liked the depth in his dialogues (like Kasta padatam ante burra vaadatam). He can think out of box and he will go places in the future.

3. Sai Sriram (cinematographer): I loved a graphic novel titled '100 bullets'. I wanted such kind of texture to the visuals. It's possible to get such look if we use Super 35mm camera. But Sai Sriram has succeeded in giving that look by using Red Epic digital camera without having any generation loss. We shot the entire film in 30 working days by using two cameras simultaneously.

4. MR Varma (Editor): He is the best thing to happen for Jadoogadu. He understood what I want and delivered it. There are many suggestive shots in the movie which need to be cut precisely.

5. Venkat (Action choreography): Venkat has done a phenomenal job. A climax of this nature needs at least 13 days to shoot. Thanks to the efficiency and acumen of Venkat. We shot the climax in 5 and half days.
Tell us about the producer VVN Prasad?
We share good friendship since we joined Ram Gopal Varma around 20 years back. He has asked me to use whatever is necessary to get the best product. He has rich experience in dealing with shooting related equipment and logistics. He has let me use 2 cameras and 12 lenses all the time though a film of this budget can't afford it. We needed an airstrip and a private jet. We have taken permission from DGCA for 5 hours to shoot in Begumpet airport. We ended up completing the airstrip work in one and half hour. Such is the efficiency of VVN Prasad. Production guy Ramesh is also instrumental in cutting down the costs without compromising on quality.
What will work in the movie?
Hero characterization, dialogues and screenplay. Jadoogadu is a blend of commerce with an out of box thinking.