Story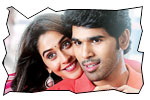 Sirish (Allu Sirish) is a selfish guy and does anything for money. Suvarna (Regina Cassandra) is a practical girl who is fond of making money. Both of them are summoned to work together in a TV channel in Hyderabad. Their target is to take that sinking channel to the top. They start a new program called Kotha Janta where they marry off couples who are caught in strange situations. After marrying off the first couple, they realise that the girl belongs to a powerful politician's family. Sirish and Suvarna start having differences as the politician chase them. The rest of the story is all about how they realize that they are made for eachother.
Artists Performance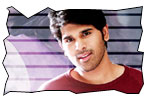 Actors: Sirish who has done a righteous character in his debut passes with flying colors in Kotha Janta. He looks good, acts well and his casual dialogue delivery is nice. But, he should improve in dances and fights. Director Maruthi has designed his characterization very well. Regina Cassandra is an effortless actress and she is at her best. After entertaining roles in Prema Katha Chithram and Venkatadri Express, budding actor Saptagiri does another entertaining role in this movie. Madhurima Benerjee plays a glamorous role. Posani Krishna Murali has done the role of a multi-millionaire who falls for heroine. Josh Ravi is involved in another gay characterization for this movie.
Technical departments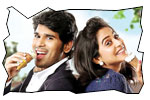 Story - screenplay - direction: The concept of this film is good. It's about the love story of two people who tend to scheme on each other. The director has introduced the characters well and set up the conflict point in the right way. But the break-up scene and the second half which involves the patch up episodes should have been more interestingly handled. The episodes involving Saptagiri and Sruti (Bebakka) are the highlight of the movie. But the characterization of hero and heroine gets into confusion mode from the interval onwards. There is too much simplification about how a TV survives and how TV programs are done. The screenplay has to be watertight in films where the story runs of ego issues and confusion. Maruthi who has done a pretty interesting screenplay in Prema Katha Chithram couldn't come up with a nice second half screenplay for this movie.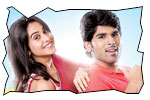 Other departments: Cinematography by Richards Prasad is slick and colorful. JB who scored for low budget films so far has upped his quality for this film. Background music and songs are very good. Dialogues by Maruthi are good. Uddhav's editing is okay. Art direction by Ramana Vanka is colorful. Production values of Geetha Arts banner are sleek.

Analysis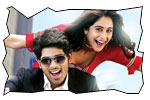 The first 20 minutes of the film is really good with novel character introductions. The character-play between Saptagiri and Shruti is excellent in first half. That thread should have been continued in the second half. Director couldn't handle the second half well. First half is aimed at multiplexes and second half is aimed at single screens. Allu Sirish surprises you with his good work in this film. We have to wait and see how crowds embrace it.