21 June 2010
My Movie – Vedam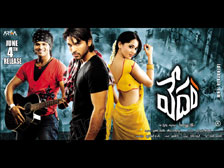 Deenamma Jeevitham, yem cinema theesarandi. I never, not once, in my life cried watching a movie. I think its completely stupid and silly to cry over a movie when obviously it is all acting. Nobody is going through it for real. Right? I broke my own rule this time. I cried like a baby in the scene where ramulu gets his money back. Never happened before and I am not too proud of it but the fact is, I sobbed. Human emotions were never dealt more realistically in a telugu movie. Characters were very real. Especially Ramulu, I could relate him to a thatha who used to work for us when I was a kid.
A similar kind of movie that I saw and loved was crash. It is a great movie, but I personally did not relate to it, because those life's are not familiar to me. In this movie, I could relate almost every character to some one I have met or came across growing up in Hyderabad. For example, The cable guy that we see once in a month is usually a youngster of Allu Arjuns age and are usually flirting too.:),,, It got me thinking, Krish must have been a very keen observer of people for a long time. In order to create such real characters, he should have really had a good understanding of how each of these characters would live in reality. One other such character is Karpuram, I don't want to address the character in any other way. I always judged people like Karpuram just by the looks and absolutely hated their very existence. But the character was so well portrayed that all I could feel was sympathy.
Allu Arjun and Manoj gave the best performances so far in this movie. Manoj is very believable as a rock star. His introduction song was very nice. Allu Arjun gave a very good performance in emotional scenes. Anushka was brilliant in her character. The audacity that comes from the profession and the innocence that she has were so well depicted in every scene. The comparison that she makes of her profession to others is brutal yet so true. Ramulu's daughter in law is amazing in her role. She is a perfect selection for the ignorance and innocence that the character needed. The lady who played Allu Arjun's ammamma is an amazing actor. I am sure I have seen her before but she stood out in this movie. I also like Manoj's girl, Lekha Washington. She suited her role very well.
Movies like Vedam, Prasthanam are a beginning of a great trend. More and more people are appreciating these movies. Staying away from so called commercial elements and routine movie stories and still coming up with 3 hours of amazing entertainment is a feat in itself. Krish pulled it off amazingly. I hope to see more such movies. Telugu industry is definitely moving towards treating movie as a art and not just as a business and I am liking the trend. Of course, The change has to come from us too. The audience are the key for success of any movie. Please watch this movie, You will love it.
Laya
Layamails at gmail dot com
More My Movie experiences:
Vedam by Naveen Soma
Vedam by Pavan
Vedam by Deepak
Vedam by Manohar
Vedam by Sridhar A
Vedam by Sarath Chandra
Vedam by Murthy
Vedam by Kumar
Vedam by Santosh
Vedam by Sreekanth D
Prasthanam by Ravi
Prasthanam by Suresh
Prasthanam by Amarnath
Prasthanam by Krishna Chaitanya
Prasthanam by Che
Prasthanam by Purnesh
Prasthanam by Kumar
YMC by Kumar
YMC by Mallik
YMC by Satya
YMC by Anurag Reddy
YMC by Ramskott
YMC by Dellcom
YMC by Ashok
YMC by Ramya
YMC by Sudheer
YMC by Laya
YMC by Survi
YMC by Rajeev
YMC by Pavan
YMC by Rohit
Inkosaari by Avanthi
Inkosaari by Sneha
YMC by Praveen
YMC by Rajani
YMC by Sujith
Inkosaari by Ganesh
Leader by Sreekanth D
Maya Bazar by Gopal
Mahatma by Kishore
Baanam by Stanley
Josh by Nathan
Magadheera by Ashok
Magadheera by Wannabe Director
Magadheera by Shanti
Magadheera by Anitha
Magadheera by SS
Oy by Prathna
99 by Bala Thirumalasetty
Veedokkade by Srinivas
Delhi 6 by Vamsi
KIKK by Sweta
Luck by Chance by Srini
KIKK by Lalitha Spoorthi
Arundhati by Naveen
Arundhati by Srini
Arundhati by Bharat
Sasirekha Parinayam by Santhi Venkat
Sasirekha Parinayam by Vamshi Muthapu
Sasirekha Parinayam by Niharika Reddy
Nachavule by Vamsi Krishna
Neninthe by movie lover
Avakai Biryani by Vamsi Krishna
Kotha Bangaru Lokam by Vamsi Krishna
Kotha Bangaru Lokam by S
Ashta Chemma by Deepthi
Ashta Chemma by Lalitha Spoorthi
Sarkar Raj by Pradeep
Jalsa by Lalitha Spoorthi
Gamyam by Sridhar
Gamyam by Sreekanth D
Gamyam by Sanjay
Halla Bol by Purnesh
Taare Zameen Par by Ashok Varma
Taare Zameen Par by Raja Simha
Happy Days by Krishna Sastry
Chirutha by Phani Kumar
Chak De India by Ravi
Yamadonga by Lalitha
Chak De India by Shyam
AMAV by Darsakudu
5 in March by Sashidhar
Okkadunnadu by Anand
Black Friday by Ratnakar
Desamuduru by Krishna Prasad
Guru by It's opinion
Dhoom 2 by Lalitha Spoorthi
Dhoom 2 by ASK
Don - Syam
Boss - Anand
Boss - Hrithik
Stalin - Bala
Bommarillu - Nandini
Bommarillu - Darsakudu
Bommarillu - Vasu
Bommarillu - Harsha Prakash
Bommarillu - Lalitha Spoorthi
LRMB - Shravan
Bommarillu - Anirudh
LRMB - Srinivas
LRMB - Darsakudu
LRMB - S Sridhar
Bommarillu - Shridevi
Bommarillu - Vasudev
Bommarillu - Roopa
Sriram - Godavari
Sarath - Bangaram
Bala - Pokiri
Srinadh - Allari Pidugu
Sudheer Allari Pidugu
Anu - Athadu
Shyam Krishna - Iqbal
Purnesh - Grahanam
Sudhindra - Super
Vijay - Aparichitudu
Madhav - Aparichitudu
Hazaraon Kwaishein Aisi
Swades
Shyam - Black
Sai - Anand
Rohit - Anand & Veer Zaara
Jaya Prakash - 7GBC
Raj - Anand
Purnesh - Anand
Purnesh - The Village
Sriram - Gudumba Shankar
Purnesh - Gharshana
Purnesh - Lakshya
Purnesh - Yuva
Leenesh - Yuva
Kis - Lakshmi Narasimha
Indian Pride - Tagore
Raj - Boys
Phani - Gangotri
Phani - Khadgam
Vikram - CKR
BKR - Indra (Singapore)
Ram - Indra (Dubai)
Ranjeet - Idiot
Rahul - Indra
King Koduri - Indra
Srilakshmi Katragadda - Mitr: My Friend