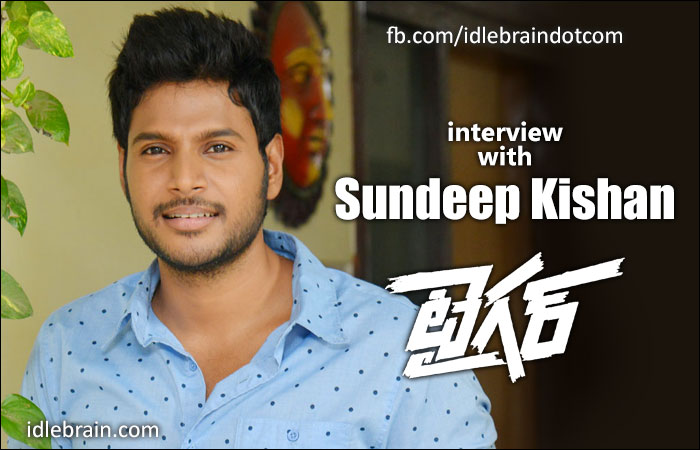 25 June 2015
Hyderabad
Sundeep Kishan is an actor who strives to have a long term career. That's the reason why he has chosen a film where he has no heroine and he enters the movie after 21 minutes. Here is an exclusive interview with Sundeep Kishan regarding 26 June release Tiger - -
Tell us about the result of your previous film Beeruva?
It gave me a scare of the first day due to mixed talk. The collections went up from the evening show on Saturday. Family crowds loved the movie and the movie is a hit. All the buyers made marginal profits except for the overseas distributor.
How did Tiger happen?
Murugadoss wanted to produce this as bilingual in association with Fox Star in the direction of his protege Anand. But, he started a film with Vikram as producer first. He wanted to start this movie after Vikram's movie is complete. I brought it to Tagore Madhu. The shooting of the film was started in December 2014 and we wrapped it up by April 2015.
This story is inspired by an incident happened in Varanasi. We kept Varanasi as the backdrop for film as well. Varanasi is also a less exploited location for Telugu films. It's about how far a guy can go to protect his friend.
Will Rahul have more screen time?
Yes. I enter the film in 21st minute. Rahul's character has more footage and my character has more weightage. Rahul play the role of an urbane and sophisticated youngster and I play the role of town guy with rustic charm. I don't have a heroine in this movie.
What's the reason for accepting a film with no on-screen lady for you?
It's a realistic plot with high commercial points. This is probably my best performance after Prasthanam.
Is Tiger an experiment?
It's a film that breaks the regular commercial patterns, but will be intelligent yet commercial, just like Murugadoss films. All his films center around unconventional plot, but narration is pretty commercial.
Why Tiger for your name?
Tiger is intended to be more of a sarcastic and quirky. Tiger is more fun like Kung Fu Panda and less serious less Avengers. However, he rises to occasion whenever he needs to fight. It's about how an ordinary guy reacted when he is put in an extraordinary situation.
Tell us about your association with Chota K Naidu?
Chota mama has been kind enough to be associated with most of my films though he is a high-budget cinematographer. Tiger is our best creative collaboration so far. He has given mood-based lighting for this movie. Visuals drive narrative around.
Is Rahul your real life friend?
Yes. I have a very few close friends in the industry and Rahul is one among them. Our real life friendship got extended to screen as well.
The directorial debut of VI Anand was a disappointment. What made you to go with him as a director?
There could be many reasons for the failure of his debut film. Script is the reason why I have chosen VI Anand. He has delivered what he promised.
Tell us about production of this movie?
The runtime of the movie is around 1 hours and 58 minutes. There are only 3 songs in the movie. We shot the film in 45 working days. It has obtained U/A certificate.
Sum up Tiger in one sentence?
Tiger is a Murugadoss kind of intelligent commercial film.