21 June 2010
My Movie – Vedam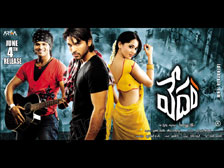 This is more a brief take of mine on the movie. Honestly speaking it has been ages since i wrote a review of a recent Telugu movie. No i am no snob, and love the masala stuff, but honestly speaking most of the recent movies, did not really motivate me to write something. Majority of them were the "Watch It-Enjoy It-Forget It" sorts, of course there were the exceptional "Watch It-Bear It- Come out in a Daze" kind of movies. Thankfully there are directors like Neelkantha, Shekar Kammula, Chandrasekhar Yeleti and now Krish, who have shown that one can make movies without bowing down to commercial desires.
Vedam breaks a whole lot of rules in Tollywood. One is the dreaded second cinema syndrome , where quite too often a director comes up with a winner in his first movie, but fails badly in his second one, and more often than not, his career goes for a toss.
Vedam also proved that you don't need singing-dancing families, seema pourusham dialogues, thigh slapping, sleazy item numbers, lame comedy tracks and songs shot in exotic locations to make a movie engage the audience. It also proves what i have stated from long, we don't need to copy from foreign DVD's, every person in India has a story behind him or her, waiting to be narrated, and kudos to Krish, for picking it up.
But most importantly, full marks to Krish, for not allowing the "star" status of Allu Arjun or Manchu Manoj to dominate their characters. Even the party song is integrated well into the plot, so does not stand out as too odd. This has to be Allu Arjun's best performance in his career. As Cable Raju, the smooth talking, cunning cable TV operator, who dreams of becoming an "Ambani alludu", he was just first rate. In fact his segment actually provides the comic relief, and ensures the movie does not get too heavy. His performance in the scenes, showing his desperation is brilliant.
Among the 5 stories though, the best of the lot IMO, is the one involving the weaver Ramulu. The way in which the brokers take advantage of their poverty, and the scenes depicting the kidney racket, are brilliant. The old man who plays Ramulu, i believe was picked straight off from the streets by Krish, and while the rawness shows, his performance is heartfelt, especially in the scene where he loses his money. Anushka's track is good enough, with subtle satirical digs at the world's oldest profession, loved the scene, where she cuts a deal with the cop, out of sheer desperation, not to go back to her brothel madame. The track involving Manoj Bajpayee, however was not too strong, pretty much predictable, and even the Muslim hating cop, looked quite a caricature to me. Manoj's track was good enough, though again not too strong.
Characterization and human relationships has been Krish's forte, something he showcased to good extent in Gamyam. And it is no different here, it is not just the main characters, but even the side characters be it Anushka's eunuch associate and friend, or the Muslim hating cop, or Cable Raju's sidekick which have been equally well developed too. On the other hand too, the character of Pooja is again pretty much superficial and shallow, really made me wonder why some one would want to put his neck on the line for such a girl. The relationships again have been wonderfully etched out, be it between Anushka and her eunuch friend, or Allu Arjun and Satyam Rajesh, or Manoj and his girlfriend plus conscience keeper Laasya or the one between Ramulu and his widowed daughter in law Padma.
The first act of Vedam where all the characters are introduced, and their stories built up is done well. The second act to me was the best part of the movie, where all the characters seem to be hurtling down a dark tunnel, with nary the end in sight, as despair, hopelessness takes over. Somehow the climax, though looked pretty much overdrawn and contrived to me. It could have ended much earlier, and most of it was not really necessary.
Vedam also has some wonderful performances, by all the cast, be it Allu Arjun, Manoj, Anushka, Manoj Bajpayee, Saranya, the old man Nagayya, every one pitches in well. All in all, a movie i would recommend, it has it's own flaws, but worth a watch, and stands heads and shoulders above the normal Telugu cinema. Well done Krish, and here is hoping to see more from you.
Ratnakar
ratnakar.techie at gmail dot com
More My Movie experiences:
Vedam by Laya
Vedam by Naveen Soma
Vedam by Pavan
Vedam by Deepak
Vedam by Manohar
Vedam by Sridhar A
Vedam by Sarath Chandra
Vedam by Murthy
Vedam by Kumar
Vedam by Santosh
Vedam by Sreekanth D
Prasthanam by Ravi
Prasthanam by Suresh
Prasthanam by Amarnath
Prasthanam by Krishna Chaitanya
Prasthanam by Che
Prasthanam by Purnesh
Prasthanam by Kumar
YMC by Kumar
YMC by Mallik
YMC by Satya
YMC by Anurag Reddy
YMC by Ramskott
YMC by Dellcom
YMC by Ashok
YMC by Ramya
YMC by Sudheer
YMC by Laya
YMC by Survi
YMC by Rajeev
YMC by Pavan
YMC by Rohit
Inkosaari by Avanthi
Inkosaari by Sneha
YMC by Praveen
YMC by Rajani
YMC by Sujith
Inkosaari by Ganesh
Leader by Sreekanth D
Maya Bazar by Gopal
Mahatma by Kishore
Baanam by Stanley
Josh by Nathan
Magadheera by Ashok
Magadheera by Wannabe Director
Magadheera by Shanti
Magadheera by Anitha
Magadheera by SS
Oy by Prathna
99 by Bala Thirumalasetty
Veedokkade by Srinivas
Delhi 6 by Vamsi
KIKK by Sweta
Luck by Chance by Srini
KIKK by Lalitha Spoorthi
Arundhati by Naveen
Arundhati by Srini
Arundhati by Bharat
Sasirekha Parinayam by Santhi Venkat
Sasirekha Parinayam by Vamshi Muthapu
Sasirekha Parinayam by Niharika Reddy
Nachavule by Vamsi Krishna
Neninthe by movie lover
Avakai Biryani by Vamsi Krishna
Kotha Bangaru Lokam by Vamsi Krishna
Kotha Bangaru Lokam by S
Ashta Chemma by Deepthi
Ashta Chemma by Lalitha Spoorthi
Sarkar Raj by Pradeep
Jalsa by Lalitha Spoorthi
Gamyam by Sridhar
Gamyam by Sreekanth D
Gamyam by Sanjay
Halla Bol by Purnesh
Taare Zameen Par by Ashok Varma
Taare Zameen Par by Raja Simha
Happy Days by Krishna Sastry
Chirutha by Phani Kumar
Chak De India by Ravi
Yamadonga by Lalitha
Chak De India by Shyam
AMAV by Darsakudu
5 in March by Sashidhar
Okkadunnadu by Anand
Black Friday by Ratnakar
Desamuduru by Krishna Prasad
Guru by It's opinion
Dhoom 2 by Lalitha Spoorthi
Dhoom 2 by ASK
Don - Syam
Boss - Anand
Boss - Hrithik
Stalin - Bala
Bommarillu - Nandini
Bommarillu - Darsakudu
Bommarillu - Vasu
Bommarillu - Harsha Prakash
Bommarillu - Lalitha Spoorthi
LRMB - Shravan
Bommarillu - Anirudh
LRMB - Srinivas
LRMB - Darsakudu
LRMB - S Sridhar
Bommarillu - Shridevi
Bommarillu - Vasudev
Bommarillu - Roopa
Sriram - Godavari
Sarath - Bangaram
Bala - Pokiri
Srinadh - Allari Pidugu
Sudheer Allari Pidugu
Anu - Athadu
Shyam Krishna - Iqbal
Purnesh - Grahanam
Sudhindra - Super
Vijay - Aparichitudu
Madhav - Aparichitudu
Hazaraon Kwaishein Aisi
Swades
Shyam - Black
Sai - Anand
Rohit - Anand & Veer Zaara
Jaya Prakash - 7GBC
Raj - Anand
Purnesh - Anand
Purnesh - The Village
Sriram - Gudumba Shankar
Purnesh - Gharshana
Purnesh - Lakshya
Purnesh - Yuva
Leenesh - Yuva
Kis - Lakshmi Narasimha
Indian Pride - Tagore
Raj - Boys
Phani - Gangotri
Phani - Khadgam
Vikram - CKR
BKR - Indra (Singapore)
Ram - Indra (Dubai)
Ranjeet - Idiot
Rahul - Indra
King Koduri - Indra
Srilakshmi Katragadda - Mitr: My Friend