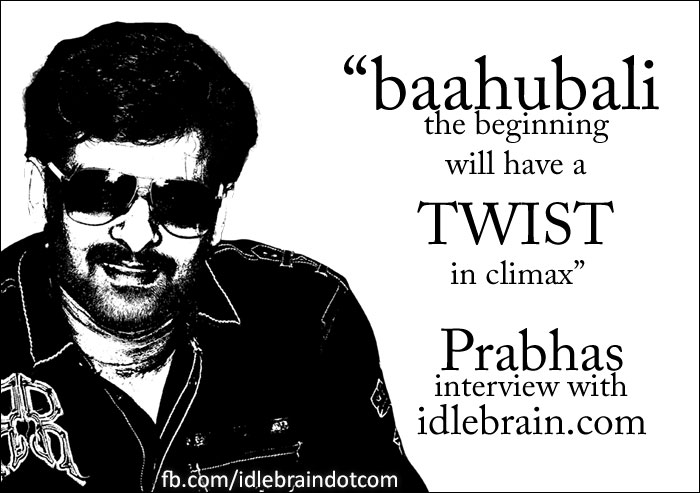 06 July 2015
Hyderabad
Prabhas's Mirchi was released on February 8 of 2013. His next movie "Baahubali - the beginning" is releasing on 10 July 2015. Prabhas talks about this lifetime opportunity in this interview -
What's your current weight?
I started eating without restrictions after the completion of Baahubali shoot. I must be around 94 kg now. I was around 100 kg while doing Amarendra Baahubali character and I was around 87 while doing Sivudu character.
What's your feeling after doing Baahubali?
My dream was to act in a period war film. My dream was a very small one compared to the magnitude of Baahubali, which is the biggest ever motion picture on Indian screen which has so many firsts to it. It's once in a lifetime opportunity and I am lucky to be a part of it.
Did you know that you end up spending so many years on this film?
When Rajamouli told me about Baahubali project, he said that it would take 1 and half years of time. I told him that it would take much more time as I knew his passion for precision and perfection. If you include pre-production, the total time is 3 and half years.
My only contribution to this film is my time while all others have kept their careers at risk.
Is Baahubali a commercial film or a classic?
Baahubali is a commercial film with a classic touch.
What is the specialty of Baahubali which most of the movie lovers doesn't know?
Though the film is titled after a man, Baahubali is driven by strong women characters. Ramya Krishna, Avantika and Deva Sena play mother, lover and wife characters respectively. Rajamouli has given them a lot of importance and you will realise once you watch the film. There will be shocking elements in the film regarding these characters. For example, you might find Tamanna character to be very glamorous by watching visuals in trailer. But she looks tanned in all the scenes.
Satyaraj's Kattappa character is very crucial. He has shot for 100 working days. There is a lot of depth in the character. I am amazed by Satyaraj's professionalism and his respect towards director. Nassar has done another pivotal character.
Baahubali film also discusses the caste issue. This issue is touched lightly in part 1, but explored more in the part 2.
You are getting a pan-India release. Did you ever predict it?
It's a shock for me. I had been wanting to get into Tamil film industry for a long time. But getting into other languages is something I had never expected.
Why two parts?
The content and characters needed completeness. 2 and half hours is not enough to narrate the story. Hence, Rajamouli has made it in two parts.
Will audiences get pleasure of watching a satisfactory climax after watching part 1 as there will be lot of unfinished threads?
Yes. People will walk out of theaters with a happy feeling. And there is a twist in climax to make audiences look forward to part 2.
How many wars will be there in the movie?
There is one war in part 1. We can't reveal about content of part 2 yet.
Is it difficult to act in graphics oriented films?
No. It's difficult to make graphic oriented films for technicians. For actors, it's the camera that matters. But it's physically exhausting as more than half of my 300 day shoot involves action episodes.
Which location did you like while shooting for Baahubali?
I love greenery in Mahabaleswaram. I love forests and it was a wonderful experience shooting in Kerala forests.
Tell us about importance of two characters you played in 2 parts?
I play two characters. Amarendra Baahubali and Mahendra Baahubali. One is a prince. The other one is raised in tribal area and he is a destined child. Both these characters will be prominently showcased in both parts.
Don't you think you need a holiday?
I badly need a holiday, especially during the release of my films. I am not the kind of guy who is not tensed during the release. I have also worked hard and looking for a break in the form of a vacation. Will do it as soon as the film releases.
When will your next movie starts?
Shooting of Baahubali (part 2) resumes in September. I will shoot for other films after completing Baahubali part 2.
The premiere ticket is sold in white in Hyderabad for Rs. 3000/-. How do you feel about it?
We did our best while making Baahubali. The hype is generated from movie lovers. Lets hope for the best.