21 June 2010
My Movie – Vedam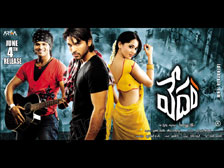 There were times when cinema was all about entertainment.
Entertainment guaranteed with song n dance, Romantic sequences.. Rich Girl - Poor Guy Stories, Teenage love stories and family entertainments.
Audience loved them so much and even marriage videos made on big screen with big stars became a rage, drawing crowds repetitively to the theatres (Hum Aapke hai Kaun in Hindi and Premalayam, the dubbed version in telugu is one such example)
Such movies which are major crowd pullers are termed as Mainstream cinema.
Then came an inflow of films, called as Parallel cinema , with Gen-X directors who made movies with social relevance, cutting out stereotypical emotions n melodramatic pathos scenes and replaced them with meaningful, genuine and natural emotions..
In the beginning of this decade, these lines between parallel cinema and mainstream cinema slowly started to wipe off with mainstream directors attempting brave and bold scripts paving a way for the transition of the face of indian cinema.
Telugucinema had always the legacy of great and maverick directors for their naturalistic potrayal of lives and the inculcation of values from their movies:
Be it Viswanath for his "Sankarabharanam", "Saptapadi", "Siri Siri Muvva",
Be it Bapu for his "MutyalaMuggu" or
Be it T.Krishna, the director who always made wonderful movies on social relevant issues like "Prathi ghatana" and "Vandemataram"
Krishnavamsi carried forward some of their legacy before Krish could join him with Vedam.
There are slick film makers and different film makers but none touched scripts on social issues (exception is Leader by Sekhar Kammula)
When Krish made Gamyam, i was impressed with the way the movie unfolds and the way he teaches values in life in a convinient manner through Gaali Seenu character, knowing the audience pulse..
I was eagerly waiting for his Vedam, given a lot of facts like being the first true multi starrer after a long time, Anushka's dare bare attempt to play the role of a prostitute, The comments on the film by fellow directors and actors in the industry.
It was really worth the wait.
Krish took the standards of telugu cinema to a new level with this attempt.
First things first,
This movie does not have factors that are large crowd pullers like huge sets, sleek visuals (barring few scenes and a song), large canvas, big stars (i dont think allu arjun is one yet) and normal formula script for commercial success..
Indeed it has real locations, actors playing their characters to perfection and one of its kind script justifying each and every role in the movie.
The Story and Screenplay are the most toughest departments in the movie.
It's the first time such an attempt is made in telugu cinema.
It's about redemption and the way each individual character in the movie attains that.
It depicts many relevant themes like poverty, sensitiveness of the topics like religion and many other under current themes etc...
It's the new way, the age old values and truths of life are re-told..
This Sort of running parallel stories is predominent in Western and European Cinema but in India its very rare with some recent examples like
Yuva by Mani Ratnam,
Yun Hota toh Kya Hota by Naseeruddin Shah and
Kaminey by Vishal Bharadwaj
The fact that there are parallel stories is the only similar point in them and nothing else..
Same for Vedam too, that there are only parallel stories, converging in the end, but none of them inspired from some other works.
Coming to the actors,
Allu Arjun is fabulous in every scene and he is spellbinding towards the end of the movie. I never liked Allu Arjun so much as i did like him in this movie.
The first half scenes between him and Satyam Rajesh provide the necessary memorable entertainment for the audience.
Manoj is a revelation in some of the scenes in the movie. After watching Manoj in his usual crackpot antics, here is one film after nenu meeku telusa that brought out the actor in him.
Anushka is awesome. She made the character of Saroja look so raw and yet gave the necessary finesse for it. Her performance is heart touching and her expressions are superb in every scene she is a part of. Jejamma was one role where she looked dignified and respectable with the designer wear sarees draping her structure.. But Personally,i feel its the career best performance of Anushka..
Manoj Bajpai's role is a meaty one too and he shines as usual.. There are somewhere down the line similarities of some of the sequences involving manoj bajpai to the one's of prakash raj in khadgam. But it's just the feel and not the characterization of the role...
Nagayya, the Old man who did the fifth role in the movie is natural. You feel like you are watching an old man in your native village when you see him. His dialogues and diction are left raw to get the feel of his character.
Saranya as the Daughter-in-Law of Nagayya is natural and oozing out all the free flow of natural expressions evoking genuine feel of poverty.
Lekha Washington as the 'Friend' of Manoj is hot in her trendy rock band outfits.. Her expressions are decent.
Deeksha as the love interest to Allu Arjun is cute and her action is strictly Ok..
Siya as the wife of Manoj Bajpai is good in her role.
Posani Krishna Murali is usual in his guest appearance.
Brahmanandam leaves you in splits with his cameo.
Rest all the cast in the supporting roles like Raghu Babu, Satyam Rajesh, Ravi prakash and others are good.
The director Krish too appears in a cameo.
Coming to the core technical team,
Camerawork is Exemplary and Editing is very good.
Fight choreography is strikingly natural and Ram Lakshman should be appreciated thoroughly for it.
Music by Keeravani sounds mediocre when you hear it on stereo but the way the songs are placed, picturised makes them very meaningful. After watching the movie you are sure to hum some of the tunes, which did not appeal to you on stereo, trust me. Back Ground score is terrific. It gels so much with the movie that it gives you the right feel and supports the gripping narration.Keeravani Sir, take a bow for this, your vast experience is always a blessing in disguise for any film.
None of the above mentioned departments would have worked and given the output they did without such a gripping script and command on the same by Krish .He has done a lot of work on the script level and it is evident on the screen. Story and well knit screenplay deserve a big round of applause. Dialogues are raw and natural. Direction is very good. There are a couple of scenes or songs which you feel are like speed brakers for narration but krish comes up with a fine end to such things making them meaningful too. The Movie deserves all the hype and attention its been getting all these days..
I really loved the apt title of Vedam so much, since its truely signifies and elevates the movie. Kudos to you Krish for making such a movie and giving such a meaningful and apt title like Vedam to it.Writing this review was so joyful since it was a free flow of words for the exemplary piece of cinema i have witnessed.I really did not know Where should i start and what should i begin with for this review .. since it was the most toughest question that was in my mind before attempting it..
I am really overwhelmed to be an audience to such an emotional and most meaningful piece of telugu cinema.
Coming out of the theatre, my heart was thumping hard and my eyes were moist after watching Vedam.
Being an ardent lover of some magnum opus of cinema, be it any language, i was always interested in the movies when directors tried something different and i am elated to watch Vedam and write you all this review...
Its the most intelligent way of handling 5 stories in parallel and converging them brilliantly all under one roof.
Its like a quick sand slowly sucking you into it and making you feel completely immersed.
It's a real Nasha for the lovers of cinema which affects you in a slow steady way initially, but makes you feel heavy in its finale, leaving the hangover on you totally and completely.
You dont see stars but characters, free flow of scenes on screen without any bumps or unnecessary stuff.
Go watch Vedam and feel the power of meaningful cinema.
praveen mylavarapu
praveen.mvn at gmail dot com
More My Movie experiences:
Vedam by Ratnakar
Vedam by Laya
Vedam by Naveen Soma
Vedam by Pavan
Vedam by Deepak
Vedam by Manohar
Vedam by Sridhar A
Vedam by Sarath Chandra
Vedam by Murthy
Vedam by Kumar
Vedam by Santosh
Vedam by Sreekanth D
Prasthanam by Ravi
Prasthanam by Suresh
Prasthanam by Amarnath
Prasthanam by Krishna Chaitanya
Prasthanam by Che
Prasthanam by Purnesh
Prasthanam by Kumar
YMC by Kumar
YMC by Mallik
YMC by Satya
YMC by Anurag Reddy
YMC by Ramskott
YMC by Dellcom
YMC by Ashok
YMC by Ramya
YMC by Sudheer
YMC by Laya
YMC by Survi
YMC by Rajeev
YMC by Pavan
YMC by Rohit
Inkosaari by Avanthi
Inkosaari by Sneha
YMC by Praveen
YMC by Rajani
YMC by Sujith
Inkosaari by Ganesh
Leader by Sreekanth D
Maya Bazar by Gopal
Mahatma by Kishore
Baanam by Stanley
Josh by Nathan
Magadheera by Ashok
Magadheera by Wannabe Director
Magadheera by Shanti
Magadheera by Anitha
Magadheera by SS
Oy by Prathna
99 by Bala Thirumalasetty
Veedokkade by Srinivas
Delhi 6 by Vamsi
KIKK by Sweta
Luck by Chance by Srini
KIKK by Lalitha Spoorthi
Arundhati by Naveen
Arundhati by Srini
Arundhati by Bharat
Sasirekha Parinayam by Santhi Venkat
Sasirekha Parinayam by Vamshi Muthapu
Sasirekha Parinayam by Niharika Reddy
Nachavule by Vamsi Krishna
Neninthe by movie lover
Avakai Biryani by Vamsi Krishna
Kotha Bangaru Lokam by Vamsi Krishna
Kotha Bangaru Lokam by S
Ashta Chemma by Deepthi
Ashta Chemma by Lalitha Spoorthi
Sarkar Raj by Pradeep
Jalsa by Lalitha Spoorthi
Gamyam by Sridhar
Gamyam by Sreekanth D
Gamyam by Sanjay
Halla Bol by Purnesh
Taare Zameen Par by Ashok Varma
Taare Zameen Par by Raja Simha
Happy Days by Krishna Sastry
Chirutha by Phani Kumar
Chak De India by Ravi
Yamadonga by Lalitha
Chak De India by Shyam
AMAV by Darsakudu
5 in March by Sashidhar
Okkadunnadu by Anand
Black Friday by Ratnakar
Desamuduru by Krishna Prasad
Guru by It's opinion
Dhoom 2 by Lalitha Spoorthi
Dhoom 2 by ASK
Don - Syam
Boss - Anand
Boss - Hrithik
Stalin - Bala
Bommarillu - Nandini
Bommarillu - Darsakudu
Bommarillu - Vasu
Bommarillu - Harsha Prakash
Bommarillu - Lalitha Spoorthi
LRMB - Shravan
Bommarillu - Anirudh
LRMB - Srinivas
LRMB - Darsakudu
LRMB - S Sridhar
Bommarillu - Shridevi
Bommarillu - Vasudev
Bommarillu - Roopa
Sriram - Godavari
Sarath - Bangaram
Bala - Pokiri
Srinadh - Allari Pidugu
Sudheer Allari Pidugu
Anu - Athadu
Shyam Krishna - Iqbal
Purnesh - Grahanam
Sudhindra - Super
Vijay - Aparichitudu
Madhav - Aparichitudu
Hazaraon Kwaishein Aisi
Swades
Shyam - Black
Sai - Anand
Rohit - Anand & Veer Zaara
Jaya Prakash - 7GBC
Raj - Anand
Purnesh - Anand
Purnesh - The Village
Sriram - Gudumba Shankar
Purnesh - Gharshana
Purnesh - Lakshya
Purnesh - Yuva
Leenesh - Yuva
Kis - Lakshmi Narasimha
Indian Pride - Tagore
Raj - Boys
Phani - Gangotri
Phani - Khadgam
Vikram - CKR
BKR - Indra (Singapore)
Ram - Indra (Dubai)
Ranjeet - Idiot
Rahul - Indra
King Koduri - Indra
Srilakshmi Katragadda - Mitr: My Friend