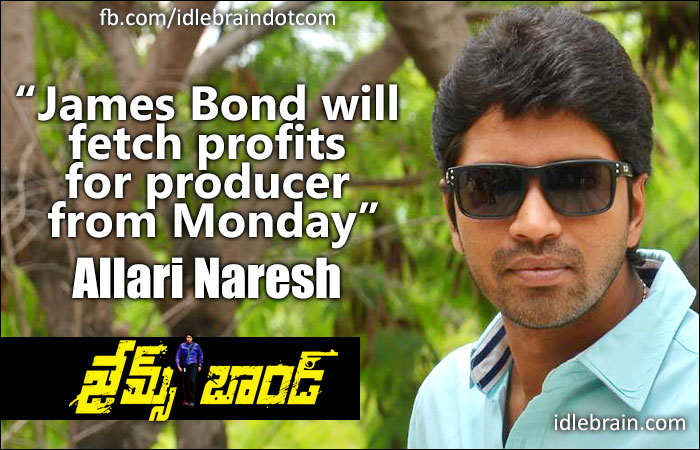 26 July 2015
Hyderabad
Allari Naresh is happy as his latest film James Bond is doing well at box office with nice openings. He talks about irony of good-effort films tanking at box office and light-efforted films doing well at BO in this exclusive interview -
Why did Bandipotu tank at box office in spite of being a decent film in a rare genre?
It's a con-man subject with an intelligent comedy. But audiences expected a film of slapstick comedy because I am in it. It's an example of mismatch between what we delivered and what audiences has anticipated.
Will this failure restricts you from attempting different genre films in future?
No. I will keep attempting this kind of movies once in a while. But, I have realised that audiences expect my kind of comedy films from me. I am not going to experiment. Entertainment is ruling the industry now and being the guy whose strength is entertainment, I will make sure that I do mostly entertainment oriented films. If you look at my different films like Gamyam and Sambho Siva Sambho, my character has comedy in it.
Tell us about the response of your latest release James Bond?
After Sudigaadu, this movie has given me the best opening. After Sudigaadu, my movies started releasing in 2 theaters in a center like Guntur. But, James Bond is released in 3 theaters in Guntur city and all of them are going housefuls. James Bond has collected a share of Rs. 1.2 crores on day 1. It's going very strong on day 2. If this trend continues, we expect it to collect 3.5 cr by the weekend. James Bond's Satellite rights are sold for 3.5 cr. By this weekend, we will breakeven. The producer will be in profits on Monday.
Films in which you worked really hard (Laddu Babu, Action 3D, Jump Jilani (double action)) didn't do well at box office, films with lighter efforts are becoming profitable. How do you feel about it?
I was being selfish while doing Laddu Babu. Prosthetic makeup is generally used by great actors like Kamal Haasan. Being a comedy hero, it was a god-sent opportunity to play Laddu Babu role. I went through a lot of physical hardships and had developed health issues while doing that role. I think, audiences were not prepared well through pre-release publicity for Laddubabu. It's another classic example of mismatch between delivery and expectations. For Action 3D film, I had to work for 18 months. Films which I had done very casually have become nice hits. 95% of my hit films are done without any efforts. It's an irony!
Tell me about your 50th film?
As I told you earlier, I stopped giving importance and putting extra efforts. I don't want to give any importance to my next release which happens to be the 50th film in my career. It will not be highlighted as my 50th film. Maama Manchu Alludu Kanchu will be by next release and it will have Mohan Babu playing my mama. I will be acting in Telugu remake of Kannada comedy film Victory. It will be produced by Chowdary (s/o Chalasani Gopi). Nageswara Reddy is going to direct another film.
How frequently your films are going to release?
I want to release one film for every 3 months. I want to restrict the number of working days to 50 days per film. This year, I am going to have 3 releases. I plan to have 4 releases per year henceforth.
How is life after marriage?
The term marriage is yet to sink it as it's just one and half month. We recently had a long holiday of 20 days in Aruba and USA. But I am feeling more responsible since my marriage. My wife is also getting used to me. She was curiously asking me why I was tensed during James Bond release.