Story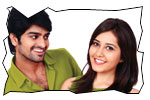 N Venkateswara Rao (Naga Shourya) is an youngster whose ambition is to become a famous TV newsreader just like his bedridden father. He works in a TV studio that is owned by Uday (Srinivas Avasarala). Uday is a socially awkward guy and is bad at communicating with women. Venkateswara Rao falls in love with Prabhavathi (Rashi Khanna) few years back when he visits a relative in Vizag. They break-up because of a misunderstanding. The rest of the story is all about what happens when Uday wants to impress upon Prabhavathi.
Artists Performance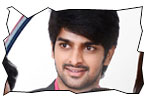 Actors: Naga Shourya looks sweet and lovable despite having a body language that suits aggressive characterization. For a first timer, he does a decent job. Rashi Khanna is impressive with her looks as well as performance. She has a pleasant screen presence. Srinivas Avasarala has got very good scenes in the second half and he excels with extempore performance. He reminded me of Bill Murry (especially in Lost in Translation) when it comes to facial expressions in close-up shots in second half. Music director Kalyann Koduri has done a cameo of a black ticket seller and he exudes confidence. All others are appropriately cast and has performed well.
Technical departments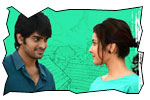 Story - screenplay - direction: The story penned by Srinivas Avasarala is interesting. He gave a different treatment to the plot. It's a plain and simple narration with loads of dialogues. It's a kind of plot that also works for theater (plays) as it has limited characters and limited locations. Srini has his own style of tongue-in-cheek classy humor and he implemented the same for the characters in this movie. It worked very well for the scenes he is involved in the film as an actor. For other actors, it partly worked. The screenplay of the film is very convenient. For example, when the director want to break the pair off he made hero talk about heroine's character (bad influence of Delhi culture and warring parents). There are a few flaws in the story which should have been ironed before going to the shoot. The hero of the film is made spineless in the second half as he blindly helps Srini Avasarala by sacrificing his own love.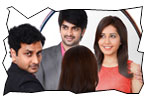 Other departments: Songs composed by Kalyann Koduri are melodious. There are only four songs. Background music is different. Srinivas Avasarala has excelled as a dialogue writer. Cinematography by Venkat C Dilip is alright. Art direction of Ravinder deserves a mention. Editing by Kiran Ganti should be more crisp. Producer Sai Korrapati deserves a pat on his back for trusting the director who tried making a film that doesn't follow the current 'entertainment format'. He has also promoted the film aggressively and brought a lot of visibility.
Analysis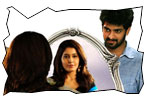 An impressive beginning while establishing the main characters is very important for any film. But the way characters are introduced in this film is lacklustre. However, the momentum picks up with a beautifully narrated flashback episode. Second half should have been balanced among three characters with a nice play among them. The positive points of the film are tasteful dialogues and music. On the flipside, snail-paced narration and uninteresting screenplay hampers the movie. On a whole, it's a good attempt to provide a clean and healthy film. We have to wait and see how crowds embrace the movie.