20 July 2010
My Movie – Bheemili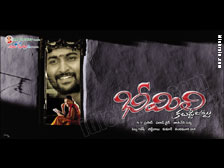 My brother was right. The movie is haunting me like no other movie ever did. Personally, for me, it has to do with the way it ended and how believable Nani made it look. I just cannot get the picture out of my mind. But I would not want the movie to end any other way. A great story cannot be contaminated because the audience is different. I am sure every one will appreciate the audacity of the Bheemili Team for telling a story like it is.
To tell you the truth, I was very disappointed when the movie started. The flashback did not get my attention. I really did not see any premise being well set. To make it worse, I hated the transition scene from the flash back to the present. After that, there was never a dull moment in the movie. Starting from the scene where he races with a bus. Nani racing the bus in a cycle reminded me of how he used to play with my Dhobi's very old cycle. He was too young to reach the seat then, so he used to cross peddle it.
The love story was very beautiful and subtle. I heard comments from people that it is too subtle and there should have been more dialogues between the lead pair. Come on guys, did we forget what it was like for us. I am sure people who grew up in 80 and 90s would know, When was a girl ever allowed to talk more than what Saranya had to say? Yes, people are more straight forward in expressing themselves these days. But back in my school days, the only conversation between boys and girls was with their eyes. Scenes like Saranya getting scared of the dog, the Utti breaking game were so well made that a dialogue between them was so unnecessary.
The Kabaddi games were so real. Everytime Nani took the fall for the game, I kept thinking "Oh my god, Did he just do that for a movie". The crudeness in the kabaddi team, the language, the dressing made it more real. I really liked how each player in the team really had a unique personality and how it was consistent through out the movie. Chanti was hilarious and I just laughed whenever he appeared on the screen. He didn't even had to say anything.
It is definitely Nani's best performance till date. For the first time, I did not see Nani and only saw Suri babu. That in itself is a great achievement. The effort he put into making Suri Babu real, really paid off. His passion for his profession really amazes me. Not sure how I ended up to be his sibling. :).I have no such talent. I am very very proud of you Nani and will always be your biggest fan.
Saranya was amazing within the limited screen presence she had. If an actress can convey everything just with her eyes, You cannot ask for more. The character required decency and she was the perfect pick. Tatineni Satya had showed a lot of maturity for a first timer and made a movie to remember.
On the whole, I thoroughly enjoyed the movie. People will probably never take my word and watch the movie. But I can say that if you don't, you will miss one of the truest at heart movies. Movies like this encourage us to think differently and see what the reality could be in a not so perfect world. And if you cannot appreciate such a movie, then there is always that other movie playing in the theatre next door where the same story is being told for the 1000th time.
Nani's sister
dganta at gmail dot com
More My Movie experiences:
Raavan by Lalitha Spoorthi
Vedam by Praveen
Vedam by Ratnakar
Vedam by Laya
Vedam by Naveen Soma
Vedam by Pavan
Vedam by Deepak
Vedam by Manohar
Vedam by Sridhar A
Vedam by Sarath Chandra
Vedam by Murthy
Vedam by Kumar
Vedam by Santosh
Vedam by Sreekanth D
Prasthanam by Ravi
Prasthanam by Suresh
Prasthanam by Amarnath
Prasthanam by Krishna Chaitanya
Prasthanam by Che
Prasthanam by Purnesh
Prasthanam by Kumar
YMC by Kumar
YMC by Mallik
YMC by Satya
YMC by Anurag Reddy
YMC by Ramskott
YMC by Dellcom
YMC by Ashok
YMC by Ramya
YMC by Sudheer
YMC by Laya
YMC by Survi
YMC by Rajeev
YMC by Pavan
YMC by Rohit
Inkosaari by Avanthi
Inkosaari by Sneha
YMC by Praveen
YMC by Rajani
YMC by Sujith
Inkosaari by Ganesh
Leader by Sreekanth D
Maya Bazar by Gopal
Mahatma by Kishore
Baanam by Stanley
Josh by Nathan
Magadheera by Ashok
Magadheera by Wannabe Director
Magadheera by Shanti
Magadheera by Anitha
Magadheera by SS
Oy by Prathna
99 by Bala Thirumalasetty
Veedokkade by Srinivas
Delhi 6 by Vamsi
KIKK by Sweta
Luck by Chance by Srini
KIKK by Lalitha Spoorthi
Arundhati by Naveen
Arundhati by Srini
Arundhati by Bharat
Sasirekha Parinayam by Santhi Venkat
Sasirekha Parinayam by Vamshi Muthapu
Sasirekha Parinayam by Niharika Reddy
Nachavule by Vamsi Krishna
Neninthe by movie lover
Avakai Biryani by Vamsi Krishna
Kotha Bangaru Lokam by Vamsi Krishna
Kotha Bangaru Lokam by S
Ashta Chemma by Deepthi
Ashta Chemma by Lalitha Spoorthi
Sarkar Raj by Pradeep
Jalsa by Lalitha Spoorthi
Gamyam by Sridhar
Gamyam by Sreekanth D
Gamyam by Sanjay
Halla Bol by Purnesh
Taare Zameen Par by Ashok Varma
Taare Zameen Par by Raja Simha
Happy Days by Krishna Sastry
Chirutha by Phani Kumar
Chak De India by Ravi
Yamadonga by Lalitha
Chak De India by Shyam
AMAV by Darsakudu
5 in March by Sashidhar
Okkadunnadu by Anand
Black Friday by Ratnakar
Desamuduru by Krishna Prasad
Guru by It's opinion
Dhoom 2 by Lalitha Spoorthi
Dhoom 2 by ASK
Don - Syam
Boss - Anand
Boss - Hrithik
Stalin - Bala
Bommarillu - Nandini
Bommarillu - Darsakudu
Bommarillu - Vasu
Bommarillu - Harsha Prakash
Bommarillu - Lalitha Spoorthi
LRMB - Shravan
Bommarillu - Anirudh
LRMB - Srinivas
LRMB - Darsakudu
LRMB - S Sridhar
Bommarillu - Shridevi
Bommarillu - Vasudev
Bommarillu - Roopa
Sriram - Godavari
Sarath - Bangaram
Bala - Pokiri
Srinadh - Allari Pidugu
Sudheer Allari Pidugu
Anu - Athadu
Shyam Krishna - Iqbal
Purnesh - Grahanam
Sudhindra - Super
Vijay - Aparichitudu
Madhav - Aparichitudu
Hazaraon Kwaishein Aisi
Swades
Shyam - Black
Sai - Anand
Rohit - Anand & Veer Zaara
Jaya Prakash - 7GBC
Raj - Anand
Purnesh - Anand
Purnesh - The Village
Sriram - Gudumba Shankar
Purnesh - Gharshana
Purnesh - Lakshya
Purnesh - Yuva
Leenesh - Yuva
Kis - Lakshmi Narasimha
Indian Pride - Tagore
Raj - Boys
Phani - Gangotri
Phani - Khadgam
Vikram - CKR
BKR - Indra (Singapore)
Ram - Indra (Dubai)
Ranjeet - Idiot
Rahul - Indra
King Koduri - Indra
Srilakshmi Katragadda - Mitr: My Friend