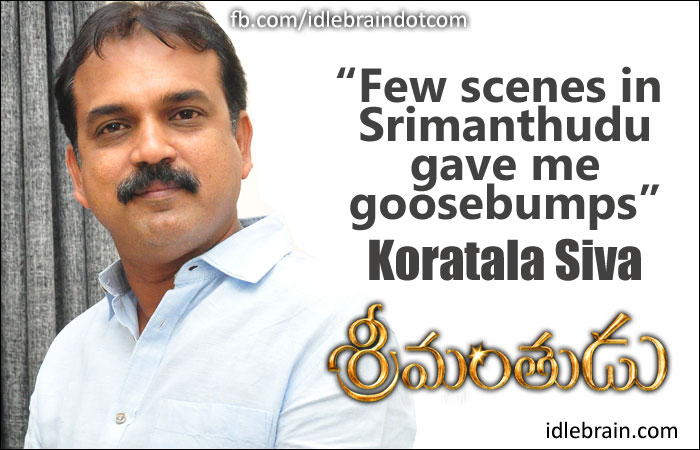 31 July 2015
Hyderabad
Koratala Siva prides himself as a story teller to whom the story form the major ingredient for any of his films. Though deals with village adoption, Siva says that Srimanthudu has high commercial potential. An exclusive interview -
Your directorial debut Mirchi film has become a big blockbuster. What do you think has worked for that movie?
Story has connected with the audiences which resulted in a big hit. Mirchi has a strong and a hard hitting emotion in it's narration.
Mahesh Babu makes sure that he does films that are away from formula like SVSC and 1 Nenokkadine. How different is Srimanthudu going to be?
Mahesh Babu prefers a good story. Srimanthudu is a film where story appears different, but the commercial potential is huge. There is emotional impact in almost all scenes.
What's the impact of songs in the film?
Devi Sri Prasad scored songs that suit multiple emotions. The story of the film is like the biography of a richman (Srimanthudu). Devi Sri Prasad and Rama Jogaiah Sastri has done a perfect teamwork to deliver songs that blend into the story of the movie. My favorites are Jaagore, Rama Rama and Jatha Kalise. If you take Rama Rama song which comes as hero intro song, the lyrics tell us the characterization of hero.
Are there any inspirations for Srimanthudu film?
I used to read articles in newspapers about NRIs donating money for hospitals, schools and to build infrastructure in our surroundings. I used to feel very good about such acts. Wealthiest men in the world like Warren Buffett and Bill Gates have given major portion of their wealth to charity. I feel that there is no bigger heroism than giving back to society. I have also discussed with Mahesh Babu regarding his personal experiences and added that detailing in Srimanthudu. At the same time, I want to reiterate that there is a huge commercial scope in the movie though it deals with the noble aspect of village adoption.
Tell us about the heroine Shruti Haasan?
She has a very important role to play in the script. Her character is equally strong to that of hero's and is pretty dynamic as well.
How did producers react when you narrated the story line?
They were pleasantly shocked when I narrated them the idea. They wanted to enter film industry with a film of good story that has huge potential at box office. They found Srimanthudu to be the right debut.
Tell us about your personal background and how to do relate yourself with the concept of giving it back to the society?
I come from a family of middle class with leftist ideology. I react to incidents that happen around me. If you look at the dialogues in my movies, all of them are inspired by real life incidents that I had either gone through or observed around. I also feel that today's youth is very motivated and socially responsible. It's evident the way youth has reacted to Hud Hud in Vizag and earthquake in Nepal.
Tell us about cinematographer Madhie?
Madhie is a passionate cameraman. He creates mood for the scene. He has the ability to go to hero, communicate to him and convince him so that he gets the right visual. He has an excellent eye for lighting and has fabulous color sense.
We have several successful directors whose primary background is writing. Whats the advantage?
Directing your own script is always better than directing somebody else's writing.
Who influences you as a writer?
Sri Sri is my inspiration. He tells his ideas in a striking way. I follow him while writing my dialogues - they are bold and strikingly odd.
Is Srimanthudu a class film or a mass film?
A mass film is a film that is seen by more number of people. Class film is a film that is seen by less number of people. It's the numbers that differentiates a mass films from a class films. Films like Sankarabharanam and Sagara Sangamam are mass films. Srimanthudu will become a huge mass film because it will be seen by huge number of people.
What's your goal as director?
I am a proud 'story teller'. I love narrating stories. I want to narrate different and good stories.
You have seen the entire movie now. Tell me your gut feel?
Mahesh Babu has made sure that he bettered the script I had written with his expressions. I got goosebumps in some of the episodes and am very eager to watch Srimanthudu in public theater. I have made sure that there is no punch dialogue just for the sake of it. Every dialogue in the film has purpose. It was a wonderful feeling to see Mahesh Babu mouthing my dialogues and bring life to them.
On a whole, Srimanthudu will be a best commercial film involving zero risk. The narration will be racy.
What's your next project?
I have a few story ideas and will take a call after the release of Srimanthudu.