Story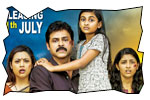 Rambabu (Venkatesh) is a self-made man and a cable operator in a small village near Vijayanagaram. He has a wife (Meena) and two daughters. His elder daughter's nude shots are secretly captured by an youngster when she attends a nature camp. When he blackmails daughter and mother, he is accidentally killed by them. Rambabu comes to know about the issue and assures that he will save his family against possible imprisonment. Rest of the story is about how he creates a plan, executes it and saves his family.
Artists Performance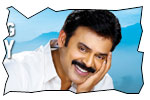 Venkatesh: It's a tailor-made character for Venkatesh. Venkatesh is known as a family hero and this story is about how a man stands up for his family. Venkatesh has done perfect justice to the role that requires innocence, confidence and commitment. There is no commercial heroism in the character (like big fights and entertainment episodes), but an undercurrent heroism that gets elevated due to his deeds. Venkatesh is the only big choice for this film in Telugu and he has given highly convincing performance.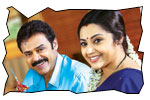 Others: Meena is good as wife. Baby Esther who has also done in original has given an authentic performance. Krutika who has does a key character of Venkatesh's elder daughter did a credible job. Ravi Kale is believable as a corrupt and malicious cop. Nadiya did the role of an IG of police and she plays the role that has to stand up to an actor of Venkatesh's caliber. She impressive. Chaitanya Krishna (Kaalicharan fame) has done a role of an activist with limited screen time. He is nice. Saptagiri is entertaining as an assistant to Venkatesh. Naresh has played a very difficult role. He is the husband of a ruthless cop. He has guilty conscious, but can't stop his wife. Naresh's character is designed well..
Technical departments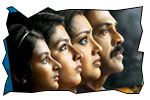 Story - screenplay - direction: The story of this film has the fusion of two contrasting genres - family drama and thriller. It's thriller of a man who stands by his family. It's a different genre attempted by a big star like Venkatesh. The substance is given importance over style in this movie. It's a content based film with an interesting screenplay. The first half an hour might be slow, but it has some clues to help the screenplay in the latter part of the movie. Screenplay of the movie is exciting and it reveals the suspense part by part by leaving the best to climax. The way a day is created is the most thrilling part of the movie. Direction of the film is fair.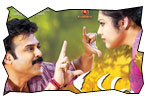 Other departments: Cinematography by S Gopal Reddy is natural. Background music by S Sarath helps movie. Dialogues by Darling Swamy add to the mood of the movie. Paruchuri Brothers have worked on the script of Telugu version. Editing by Marthand K Venkatesh is fine. Art direction is good.


Analysis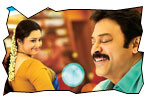 Venkatesh has been telling in interviews in the past one decade that he wants to experiment and do content based films that require low budget. He tried a content based film Eenadu (Telugu remake of A Wednesday) earlier, but it didn't work. Drushyam is going to be his first such movie where a decent content-based film is made on a reasonable budget. This film is going to be a case study for Telugu film industry. We have seen many thrillers where the hero has dark shades. Drushyam is a thriller where hero is positive and he does it to save his innocent family. The main conflict point is very commercial one. But the narrative style (thriller orientation) is new to Telugu audiences. For the kind of budget it is made on, Drushyam is going to be a sure success. However, the range will depend on how it penetrates market. On a whole, Drushyam is a different and content-based family thriller. You may watch it!