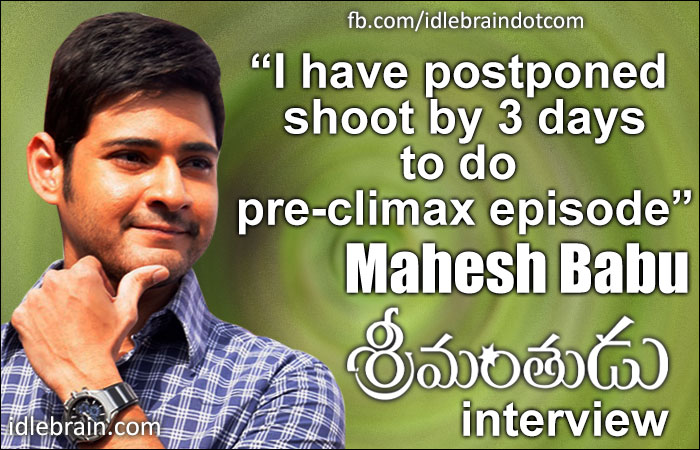 15 August 2015
Hyderabad
Mahesh Babu has been doing different films for a long time. Few of them were successful and few of them weren't. But, the magnitude of success of Srimanthudu has proved that a well-intended film if made in a right way is capable to making a huge impact of Box Office. Here is an exclusive interview of Mahesh Babu by Jeevi for idlebrain.com -
Were you nervous during release of Srimanthudu?
I have to admit that I was nervous for 3 days before release. It's not about the content. My past two films disappointed fans and trade circles. Srimanthudu becoming a hit is very crucial at this juncture of my career. It's a do or die situation and I had to prove myself with Srimanthudu.
But things started turning positive by 4 am on the release day. I started getting calls with positive feedback. I can't forget that date (7 August of 2015) as it's very special to me. I feel that Srimanthudu is the best film in my career spanning 15 years.
I liked the way you aptly summed up the film with the tagline 'content meets commerce' in your review.
Did you watch the film after release?
Yes. I saw five times so far. I enjoy watching Srimanthudu again and again.
Movie lovers felt that Harsha character is so real that it resembles you in real life?
I have a personal connect with Harsha character in the film. The way he talks and the way he dresses is very similar to my personal style. There is purity in the character of Harsha. I would like to thank the director Koratala Shiva for such a wonderful characterization.
What is your favorite scene in the movie?
Pre-climax scene with family. At the end of everyday's shoot, a co-director comes to me and explains me about the scenes to be shot on the following day. The pre-climax scene was planned during the initial days of shoot. I called up director Shiva and requested him to postpone the shoot of pre-climax by 3 days. I had never asked to postpone shoot of any scene in my career before. I wanted to travel with and understand the other characters that are there in the pre-climax scene. When I did the scene, I realised that it's going to work big time as I saw genuinity in it. Jagapathi Babu had genuine tears in his eye. All unit members became emotional during that shot. We have seen films where the family members reunite during the climax. But this is an unique film where family members separate at the end.
There is a sainthood associated with hero characterization?
Director Koratala Shiva has complete clarity about how he was going to make a film with different concept and convince the audiences. It has a preachy content and shot in a realistic way without missing commercial elements. It's not a joke! All the dialogues in the film are colloquial - they are like natural words when two people talk in real life. It's a film that is made organically without deviating from the core emotion. The sainthood worked because Koratala Shiva has started the film with hero having an inner turmoil and slowly sainthood is added to the hero characterization as the movie progressed. The climax in which hero separates from his family sums up the entire journey of Harsha character.
What's the best compliment you have received about Srimanthudu?
Audiences saw Harsha, but not Mahesh Babu in Srimanthudu. That's the greatest compliment I got for Srimanthudu.
Tell us about your next project Brahmotsavam?
It's a content oriented film. It's the best film to follow after Srimanthudu. People expect good films from me after Srimanthudu. Brahmotsavam will be a good film with a great commercial potential.
Mahesh Babu - Trivikram combination is a golden combination. When can we expect your next film with Trivikram?
It will start after Brahmotsavam film.