4 October 2010
My Movie – Robo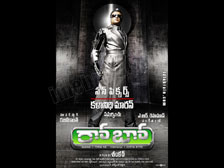 I watched Robo today in Virginia. Touted as one of the most expensive movies ever made and boasting a lethal combination of the biggest mass hero of India and a top-most commercial & visionary director, Robo has been the most awaited movie of the year.
The only hero in the entire Indian film industry who can be ordained the tag of a SUPER HERO without any additional attire (like superman or batman) is none other than SUPERSTAR RAJNIKANTH. At the age of 60, this man's chutzpah and appeal remains inconceivable. I don't mind being referred to as a low class movie fan but if a director shows Rajnikanth stopping a train or a flight with his bare hands, I will believe it without any argument. This adulation is probably because of my excessive bias towards the Superstar who came from a very poor background and emerged into one of the most popular film actors of India ever.
However Robo is not a Rajnikanth movie. This is a movie where the director's vision dominates the hero image. The aura of invincibility and supreme power associated with Rajnikanth is missing. However, the director very skillfully transferred those powers to the Robo character (played by Rajnikanth). The first half of the movie is good. The pace goes down in the second half and comes back to track during the last half hour. The biggest letdown is music. I don't know if it was just me but for some reason, I felt the interlude placement was irregular and I observed this pattern in 3 songs. The re-recording was not catchy as well. The art and graphic work (especially in the second half) is top class.
Robo is worth a watch for the directorial vision. It will be a good treat for kids. It is a great privilege to see India's most popular superstar allowing a director's vision overshadow his unconquerable image. I hope our Telugu heroes (especially youngsters) follow the footsteps of the Superstar in this regard.
Tailpiece:
During mid-nineties, Star Plus telecast a sitcom titled Small Wonder. The series is about a robotics engineer (named Ted Lawson) who builds a robot modeled after a real human girl and passes it off as his daughter. As the series progresses, the robot, which is named as Vici/Vicki (played brilliantly by Tiffany Brissette), begins to display human emotions and becomes an inseparable and integral part of the Lawson family. In some episodes, the robot behaves snobbishly and is "shut down" and restored to a more harmless version by its inventor. As a teen and totally in awe of American lifestyle, I thoroughly enjoyed this series. One of the first things I did after coming to America was attempting to contact the stars of the show and I did succeed getting an email response from Emily Schulman who played the role of Harriet Brindle in the series.
I was reminded of Small Wonder episodes at least on 5/6 occasions while watching this movie. The Robo character scanning through the book and cramming its entire contents, turning its head 360 degrees, attracting guns/weapons through magnetic power and taking orders literally are some of the similar acts that I noticed in the above series. I also found similarities to Frankenstein movie.
A good director is necessarily a good observer. In one of his early interviews, Shankar mentioned that he makes it a point to watch Hollywood films and TV shows to derive ideas for story development. I will not be surprised if Small Wonder was one such TV show that enjoyed this illustrious film maker's patronage. A great lesson to every wannabe film director is to keep their eyes and ears open. Be perceptive to every thing you see, every individual you meet – big or small. You never know what an itty-bitty thing could turn into!
Sreekanth Devarakonda
devarakonda at hotmail dot com
More My Movie experiences:
Maryada Ramanna by Kumar
Inception by Kumar
Bheemili by Nani's sister
Raavan by Lalitha Spoorthi
Vedam by Praveen
Vedam by Ratnakar
Vedam by Laya
Vedam by Naveen Soma
Vedam by Pavan
Vedam by Deepak
Vedam by Manohar
Vedam by Sridhar A
Vedam by Sarath Chandra
Vedam by Murthy
Vedam by Kumar
Vedam by Santosh
Vedam by Sreekanth D
Prasthanam by Ravi
Prasthanam by Suresh
Prasthanam by Amarnath
Prasthanam by Krishna Chaitanya
Prasthanam by Che
Prasthanam by Purnesh
Prasthanam by Kumar
YMC by Kumar
YMC by Mallik
YMC by Satya
YMC by Anurag Reddy
YMC by Ramskott
YMC by Dellcom
YMC by Ashok
YMC by Ramya
YMC by Sudheer
YMC by Laya
YMC by Survi
YMC by Rajeev
YMC by Pavan
YMC by Rohit
Inkosaari by Avanthi
Inkosaari by Sneha
YMC by Praveen
YMC by Rajani
YMC by Sujith
Inkosaari by Ganesh
Leader by Sreekanth D
Maya Bazar by Gopal
Mahatma by Kishore
Baanam by Stanley
Josh by Nathan
Magadheera by Ashok
Magadheera by Wannabe Director
Magadheera by Shanti
Magadheera by Anitha
Magadheera by SS
Oy by Prathna
99 by Bala Thirumalasetty
Veedokkade by Srinivas
Delhi 6 by Vamsi
KIKK by Sweta
Luck by Chance by Srini
KIKK by Lalitha Spoorthi
Arundhati by Naveen
Arundhati by Srini
Arundhati by Bharat
Sasirekha Parinayam by Santhi Venkat
Sasirekha Parinayam by Vamshi Muthapu
Sasirekha Parinayam by Niharika Reddy
Nachavule by Vamsi Krishna
Neninthe by movie lover
Avakai Biryani by Vamsi Krishna
Kotha Bangaru Lokam by Vamsi Krishna
Kotha Bangaru Lokam by S
Ashta Chemma by Deepthi
Ashta Chemma by Lalitha Spoorthi
Sarkar Raj by Pradeep
Jalsa by Lalitha Spoorthi
Gamyam by Sridhar
Gamyam by Sreekanth D
Gamyam by Sanjay
Halla Bol by Purnesh
Taare Zameen Par by Ashok Varma
Taare Zameen Par by Raja Simha
Happy Days by Krishna Sastry
Chirutha by Phani Kumar
Chak De India by Ravi
Yamadonga by Lalitha
Chak De India by Shyam
AMAV by Darsakudu
5 in March by Sashidhar
Okkadunnadu by Anand
Black Friday by Ratnakar
Desamuduru by Krishna Prasad
Guru by It's opinion
Dhoom 2 by Lalitha Spoorthi
Dhoom 2 by ASK
Don - Syam
Boss - Anand
Boss - Hrithik
Stalin - Bala
Bommarillu - Nandini
Bommarillu - Darsakudu
Bommarillu - Vasu
Bommarillu - Harsha Prakash
Bommarillu - Lalitha Spoorthi
LRMB - Shravan
Bommarillu - Anirudh
LRMB - Srinivas
LRMB - Darsakudu
LRMB - S Sridhar
Bommarillu - Shridevi
Bommarillu - Vasudev
Bommarillu - Roopa
Sriram - Godavari
Sarath - Bangaram
Bala - Pokiri
Srinadh - Allari Pidugu
Sudheer Allari Pidugu
Anu - Athadu
Shyam Krishna - Iqbal
Purnesh - Grahanam
Sudhindra - Super
Vijay - Aparichitudu
Madhav - Aparichitudu
Hazaraon Kwaishein Aisi
Swades
Shyam - Black
Sai - Anand
Rohit - Anand & Veer Zaara
Jaya Prakash - 7GBC
Raj - Anand
Purnesh - Anand
Purnesh - The Village
Sriram - Gudumba Shankar
Purnesh - Gharshana
Purnesh - Lakshya
Purnesh - Yuva
Leenesh - Yuva
Kis - Lakshmi Narasimha
Indian Pride - Tagore
Raj - Boys
Phani - Gangotri
Phani - Khadgam
Vikram - CKR
BKR - Indra (Singapore)
Ram - Indra (Dubai)
Ranjeet - Idiot
Rahul - Indra
King Koduri - Indra
Srilakshmi Katragadda - Mitr: My Friend