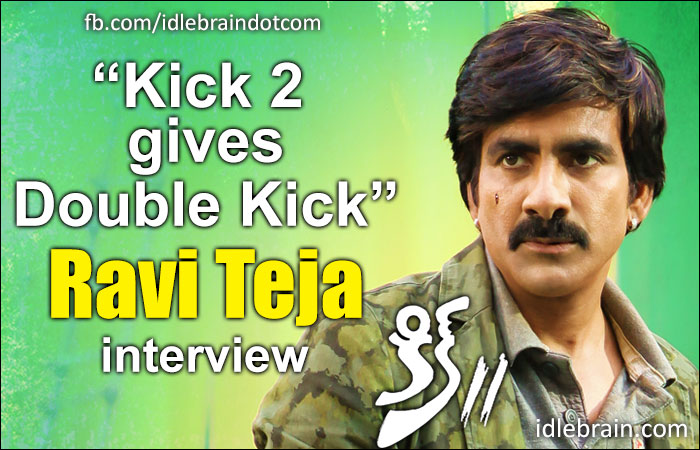 18 August 2015
Hyderabad
Ravi Teja - the mass entertainer is giving us Kick 2 this Friday. "Kick 2 will give double kick", says Ravi Teja in this interview -
I am the robin hood in Kick 2
During the end credits of Kick, you can see Kick 2 announcement. But, we didn't have the story ready by then. Vakkantham Vamsi gave us this story line around 2 and half years back. I have agreed upon acting in a film produced by Kalyanram long back. Thanks to Kalyan Ram. Kick 2 ended up being the most expensive film in my career.
My character's name is is Robin Hood in Kick 2. It has the backdrop of Rajasthan. The entertainment and action orientation will be doubled in Kick 2 compared to Kick. Though titled as Kick2, this film is just a franchize film and not a sequel to Kick in terms of story. Bollywood actors like Rajpal Yadav and Sanjay Mishra acted in this movie. They learnt Telugu dialogues to make sure that lip sync is correct. Brahmanandam plays a character called Ravi Teja in this movie and he is at his best.
I knew Surender Reddy from the days when he was the assistant director. Kick was Surender Reddy's first comedy entertainer. His last movie Race Gurram too had terrific entertainment. Kick 2 will be highly entertaining as well.
Rakul Preeth Singh is a hardworking and talented actress. All her films are becoming box office hits. I am sure that she brings her luck factor for Kick 2.
Each character in Kick 2 is integrated with the main story line. There are no separate tracks in the movie. All action episodes composed by Ram - Lakshman are driven by situations. This credit goes to the story writer Vakkantham Vamsi. Manoj Paramahamsa who has done contrasting films like Ye Maya Chesave and Race Gurram has done neat photography for Kick 2. There is north flavor for music scored by SS Thaman. Mummy song has punjabi music and the lyrics tell about hero's characterization. Nuvve Nuvve melody is more like a bollywood song than a Telugu song if you look at composition and orchestration.
Entertainment is the criteria
Entertainment is the main criteria for selecting scripts for my films. I had always been a fan of entertainment films. I used to watch films of Rishikesh Mukherjee and Amol Palekar repeatedly. I have seen Jaane Bhi Do Yaroo for over 50 times in Rambha theater of Vijayawada.
Liked Cinema Choopista Maava a lot
I have recently watched Cinema Choopista Maava. It reminded me of my Idiot days. It has typical Rishikesh Mukherjee kind of sensibility. I have loved performance of Raj Tharun. If a film of this content is released in Tamil, it makes a lot of money. A small film like Soodhu Kavvum has collected 40 crores in Tamil film industry. We don't get such kind of patronage from Telugu films. I wish that small films like Cinema Choopista Maava collects a lot of money. Jayam was the last film where a small film collected humongously.
I have lost 10 kilos
I used by around 80 kg. Recently I have lost 70 kg as it took diet and fitness more seriously. I want to maintain this look in the future.
Baahubali brought self respect to Telugu people
I am happy the way Baahubali brought recognition to Telugu nationwide. I am also happy that the industry took a positive turn after Baahubali release. 3 films released later - James Bond, Srimanthudu and Cinema Choopista Maava also became hits. I am wish Kick 2 becomes successful and also hope that Rudramadevi becomes a big hit. There were 9 hits in 2002 and Telugu film industry flourished in that year. I am sure that 2015 is having a golden period since Baahubali release.
Future projects
Shooting of my next movie Bengal Tiger is almost complete. We are aiming to release it in October. At one point of time, I had considered doing Telugu remake of Special 26. It is a realistic story, it needs to be cleverly adapted to Telugu. I have started my career as assistant director. I plan to direct a film in distant future. I am not going to act in it.