Story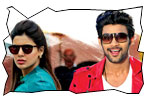 Seenu (Bellamkonda Sreenivas) is an orphan and he has the best buddy and caretaker in the form of Narasimha (Prakash Raj) who is also an orphan. Bhai (Prakash Raj) - a lookalike of Narasimha is a major mafia figure in Hyderabad. Seenu comes to know about it and plots a scheme to use Narasimha to gain money and a girl Anjali (Samantha) he loved at the first sight. The rest of the story is all about what happens when Bhai realises the ploy of Seenu.
Artists Performance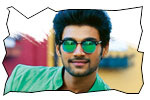 Bellamkonda Sreenivas: Bellamkonda Sreenivas makes a positive and convincing debut as hero with Alludu Seenu. He has got 6+ feet height and good personality. He has a positive body language. It's pretty difficult for people of such height to do smooth-looking dances, but Sreenivas makes it happen with ease. He looks believable in fights. For a first timer, he has done an impressive work. However, he need to polish his dialogue delivery while delivering casual dialogues.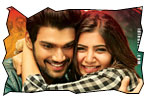 Others: Samantha is pretty good in a masala role. Her dances/expressions in the last song of the film are massy, yet cool. Prakash Raj has done two contrasting roles. An actor of Prakash Raj caliber needed for these dual roles as there is play between these characters that causes confusion. It's an usual role for Pradeep Rawat. Brahmanandam plays the role of Dimple, a personal assistant of Bhai. Brahmanandam gets into his groove towards the climax of the film and entertains in the latter part of second half. Ravi Babu did a semi-comic role. Vennela Kishore is entertaining as an auto driver. Tamanna sizzled in the first song of the film.
Technical departments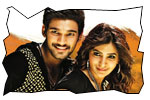 Story - screenplay - direction: The basic story given Bobby has potential for a good commercial film. The exchange of two characters and the play between hero and Brahmanandam offers ample scope for entertainment. VV Vinayak who is established as one of the big contemporary directors of Telugu cinema handled the story in a commercial framework. Since it's a debut of hero, VV Vinayak made sure that all emotions are covered in the story. However, he didn't bother about detailing while doing such an extravagant film. The episode of telling story to airport authorities and escape in flight with vehicles chasing it is heavily inspired by Hollywood film Argo.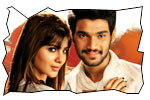 Other departments: Songs scored by Devi Sri Prasad are peppy. Title song of the film is the best. The makers have got best of locations in Japan in to shoot two songs. The unit traveled all the way to Macau to shoot just a bungee jumping episode and matched it to the backdrop of Sharjah. Dialogues penned by Kona Venkat are partly entertaining. Cinematography by Chota K Naidu deserves a big applause. Art director AS Prakash has done pretty neat work with art direction and locations scouting. There are several stunt choreographers for this movie. Production values by Bellamkonda Suresh are extraordinary. He has covered many countries like UAE, Japan and Macau to the film in rich scale. There is a flight chase on runway, an action episode on bungee jumping tower and a road accident in UAE. Doing such scenes in abroad costs a lot.

Analysis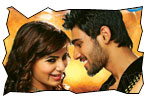 Alludu Seenu is a formula-driven script that caters to all sections of audiences and it corporates all kinds of emotions. VV Vinayak brand value and Bellamkonda Suresh's publicity for this film are the main reason for good openings for the movie. The plus points of the film are casting, songs, cinematography and production values. On the flip side, a more contemporary treatment and narration would have made it a better film. Brahmanandam's comedy worked towards end. Vinayak is known for connecting with masses with his content. We have the wait and see how Alludu Seenu connects with masses with it's time-tested, yet minimum guarantee content!