28 October 2010
My Movie – Rakta Charitra 1
Return to Tollywood – RGV's style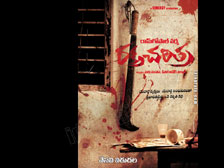 Ram Gopal Varma's much awaited Rakta Charitra movie released last week. To review this movie in one sentence, it would be fair to say that Rakta Charitra I provides a perfect platform for its sequel with some good performances, interesting characterizations and excellent shot making. I liked the following scenes in the movie:
Vivek's introduction
Bukka Reddy's introduction
Kidnapping of a girl from a jeep – liked the way RGV shot this scene using a side/diagonal angle. Any other director would have used a straight angle (that's why RGV shot making is regarded as second to none)
Bukka Reddy's "act" when confronted by the female police officer
Vivek and Shatrugan Sinha's first meeting
Typically RGV's most movies (Shiva, Satya, Company to name a few) religiously follow the 3 act structure of story telling:
Act I does the honors of introducing the main characters – Protagonist (Hero), Antagonist (Villain), Romantic Interest (Heroine) and other supporting characters.
Act II defines the main conflict point and its escalation
Act III talks about resolving the conflict
Rakta Charita I has an excellent Act I. The characters are very well introduced and story scope is perfectly defined. I liked the way the characters of Vivek Oberoi and Abhimanyu Singh (Bukka Reddy) are introduced. "The bigger the conflict, the better the elevation" said a great director and script writer. From that stand-point, the antagonist is shown very powerful. We therefore are mentally prepared to root for the hero turning into a bigger force to annihilate the villain.
Act II is also equally good. The hero faces a formidable challenge losing his father and brother and is forced to fight for the sake of his people. He meticulously plans the killing of his enemies. The hero also faces an internal struggle when he has to convince his romantic interest of his path and retaining her faith in him.
Act III is the only weak link in Rakta Charitra I. Once the hero character joins forces with Shivaji Rao, the path becomes very easy for him to elminate Bukka Reddy. But this can be excused since the main conflict is between Vivek and Surya characters that will surface in Rakta Charitra II.
I was disappointed with the background score and voice over. RGV's pronunciation appears slightly unclear but the emotional levels are well maintained.
Overall, Rakta Charita I paves a perfect jumping off point for its sequel. Surya's intensity matched by Vivek's body language will certainly make it the most awaited film of this year :-)
Sreekanth Devarakonda
devarakonda at hotmail dot com
More My Movie experiences:
Robo by Sreekanth
Maryada Ramanna by Kumar
Inception by Kumar
Bheemili by Nani's sister
Raavan by Lalitha Spoorthi
Vedam by Praveen
Vedam by Ratnakar
Vedam by Laya
Vedam by Naveen Soma
Vedam by Pavan
Vedam by Deepak
Vedam by Manohar
Vedam by Sridhar A
Vedam by Sarath Chandra
Vedam by Murthy
Vedam by Kumar
Vedam by Santosh
Vedam by Sreekanth D
Prasthanam by Ravi
Prasthanam by Suresh
Prasthanam by Amarnath
Prasthanam by Krishna Chaitanya
Prasthanam by Che
Prasthanam by Purnesh
Prasthanam by Kumar
YMC by Kumar
YMC by Mallik
YMC by Satya
YMC by Anurag Reddy
YMC by Ramskott
YMC by Dellcom
YMC by Ashok
YMC by Ramya
YMC by Sudheer
YMC by Laya
YMC by Survi
YMC by Rajeev
YMC by Pavan
YMC by Rohit
Inkosaari by Avanthi
Inkosaari by Sneha
YMC by Praveen
YMC by Rajani
YMC by Sujith
Inkosaari by Ganesh
Leader by Sreekanth D
Maya Bazar by Gopal
Mahatma by Kishore
Baanam by Stanley
Josh by Nathan
Magadheera by Ashok
Magadheera by Wannabe Director
Magadheera by Shanti
Magadheera by Anitha
Magadheera by SS
Oy by Prathna
99 by Bala Thirumalasetty
Veedokkade by Srinivas
Delhi 6 by Vamsi
KIKK by Sweta
Luck by Chance by Srini
KIKK by Lalitha Spoorthi
Arundhati by Naveen
Arundhati by Srini
Arundhati by Bharat
Sasirekha Parinayam by Santhi Venkat
Sasirekha Parinayam by Vamshi Muthapu
Sasirekha Parinayam by Niharika Reddy
Nachavule by Vamsi Krishna
Neninthe by movie lover
Avakai Biryani by Vamsi Krishna
Kotha Bangaru Lokam by Vamsi Krishna
Kotha Bangaru Lokam by S
Ashta Chemma by Deepthi
Ashta Chemma by Lalitha Spoorthi
Sarkar Raj by Pradeep
Jalsa by Lalitha Spoorthi
Gamyam by Sridhar
Gamyam by Sreekanth D
Gamyam by Sanjay
Halla Bol by Purnesh
Taare Zameen Par by Ashok Varma
Taare Zameen Par by Raja Simha
Happy Days by Krishna Sastry
Chirutha by Phani Kumar
Chak De India by Ravi
Yamadonga by Lalitha
Chak De India by Shyam
AMAV by Darsakudu
5 in March by Sashidhar
Okkadunnadu by Anand
Black Friday by Ratnakar
Desamuduru by Krishna Prasad
Guru by It's opinion
Dhoom 2 by Lalitha Spoorthi
Dhoom 2 by ASK
Don - Syam
Boss - Anand
Boss - Hrithik
Stalin - Bala
Bommarillu - Nandini
Bommarillu - Darsakudu
Bommarillu - Vasu
Bommarillu - Harsha Prakash
Bommarillu - Lalitha Spoorthi
LRMB - Shravan
Bommarillu - Anirudh
LRMB - Srinivas
LRMB - Darsakudu
LRMB - S Sridhar
Bommarillu - Shridevi
Bommarillu - Vasudev
Bommarillu - Roopa
Sriram - Godavari
Sarath - Bangaram
Bala - Pokiri
Srinadh - Allari Pidugu
Sudheer Allari Pidugu
Anu - Athadu
Shyam Krishna - Iqbal
Purnesh - Grahanam
Sudhindra - Super
Vijay - Aparichitudu
Madhav - Aparichitudu
Hazaraon Kwaishein Aisi
Swades
Shyam - Black
Sai - Anand
Rohit - Anand & Veer Zaara
Jaya Prakash - 7GBC
Raj - Anand
Purnesh - Anand
Purnesh - The Village
Sriram - Gudumba Shankar
Purnesh - Gharshana
Purnesh - Lakshya
Purnesh - Yuva
Leenesh - Yuva
Kis - Lakshmi Narasimha
Indian Pride - Tagore
Raj - Boys
Phani - Gangotri
Phani - Khadgam
Vikram - CKR
BKR - Indra (Singapore)
Ram - Indra (Dubai)
Ranjeet - Idiot
Rahul - Indra
King Koduri - Indra
Srilakshmi Katragadda - Mitr: My Friend