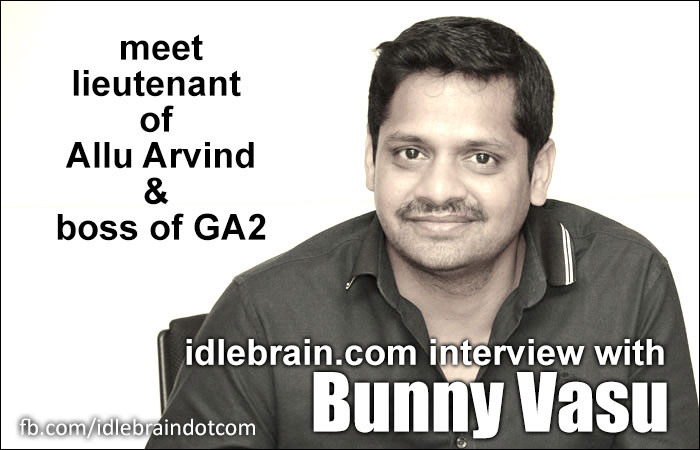 1 September 2015
Hyderabad
Bunny Vasu is the lieutenant of Allu Arvind and is carrying the legacy of Geetha Arts forward. He is the best friend of Bunny, hence is called as Bunny Vasu. Known for budget control and script judgement, Bunny Vasu talks about his journey and his 4th Sep release Bhale Bhale Magadivoi (BBM) -
Background:
I have dropped out of MIT (masters in IT) course and learnt 3D animation at Pentasoft. I was approached by Allu Bobby (elder brother of Bunny) to do logo animation of Johnny film. They liked my work and my attitude. I also come from Palakollu and there are distant family connections. I have joined Geetha Arts as a trainee.
I have joined hands with Vamsi (UV Creations) and distributed 57 films for Guntur and West Godavari. The films I have distributed include blockbusters like Pokiri, Arya, Magadheera etc. My last movie as distributor was Gabbar Singh. I was involved in production and creativity collaborated in all films Bunny has acted in. I have also traveled with Dil Raju in production.
Allu Bobby is not interested in films and he is in different line of business. Bunny is completely busy as an actor. Allu Sirish is becoming busy as an actor. Allu Arvind needed a lieutenant to assist him. He has seen me producing 100% love. I was also involved in the production of Pilla Nuvvu Leni Jeevitham (PNLJ). He was impressed by the way I handled complicated situations arisen due to unforeseen circumstances (Srihari's death was one among them). When Allu Arvind asked me to handle full-fledged production for Geetha Arts, I told him that I don't want my name to be credited as producer for Geetha Arts banner which has a glorious history. I asked him if we can start a new banner which i can handle as a producer. That's how GA2 is born.
100% Love is made in a limited budget with Sukumar as director. How did you make it possible?
It happened because Sukumar is my friend and I can talk to him without any inhibitions. It's a known fact that Sukumar takes a lot of working days to shoot a film. I would like to give you an example. At that time, we were using negative to shoot a movie. I wanted to reduce the negative cost. We do use 4 pre-perf to shoot films. We took the help from ACS (Anand Cine Services) and modified the camera settings to use it for 3 pre-perf. By that technique, we have reduced the negative cost by 25%. 100% Love was the first film in India to be shot using that technique.
Srihari died after we shot 80% of the PNLJ movie. We had to shoot 40% of the movie again. We managed to complete that 40% shoot with a cost of 15% of budget.
All the films I have worked in production are directed by my friends. Hence, it was a smooth process to reduce the budget as ego doesn't come in between.

You have been doing films with different concepts (100% Love, Kottha Janta & BBM). When are you going to scale it up to do with big stars?
I am comfortable with medium budget films.
Don't you think the risk is more for medium budget films?
Yes. But returns are almost same if you compare the scale. But, big films are guaranteed of huge openings. For small films, we need to publicize more. If the film is good, a medium budget movie will also collect well.
How do you okay a script?
Me and Arvind listen to the story first. Then, Bunny will have to okay the script. Then, we go to sets. Bunny will also have to okay the film on editing table.
Tell us about Bhale Bhale Magadivoy?
It's a family film from the first frame to the last frame with healthy entertainment sprinkled all over. Maruthi knows how to deal films in different genres. His films Ee Rojullo and Bus Stop have masala elements as they are targeted at youth. PKC and Kotha Janta were clean films. BBM is going to be a healthy family entertainer.
You have seen the film. What is your gut feel?
Nani's timing to Maruthi's dialogues is fantastic. Music by Gopi Sundar is a plus. Bunny and Prabhas watched it and they liked it immensely.
What are your future films?
GA2 will produce a film with Raj Tharun as hero in the direction of a new director Munna. We will also do a film in the direction of ETV Prabhakar.