Story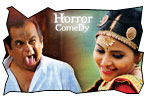 A woman commits suicide in an apartment in Hyderabad. That apartment becomes a haunted one. Srinivas (Srinivasa Reddy) is a passionate movie lover who comes to Hyderabad looking for direction opportunities. He rents this haunted apartment without knowing about suicide incident. Strange things start happening and he is visited by Anjali (Anjali). He slowly realises that there is a ghost in the house. The rest of the story is about the connection between ghost and Anjali.
Artists Performance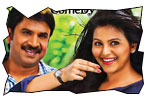 Actors: Anjali looks pretty and does the horrifying role very well. Srinivas Reddy is known more for his comedy timing and dialogue delivery than subtle performance. But he has done a serious role (like Sunil in KSD Appalraju) in Geetanjali. He is fair. Rao Ramesh plays a vital character and he justifies his role. Harshavardhan Rane did a cameo. Brahmanandam's role of Saitan Raj is plain average despite having a Dookudu like ending for it. Shakalaka Shankar who made a career out of imitating Ram Gopal Varma is entertaining with RGV imitation.
Technical departments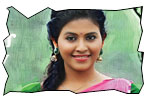 Story - screenplay - direction: The basic story and screenplay format of the film is good. Kona Venkat has written good screenplay. First time director Raja Kiran has done a satisfactory job. He did well to generate entertaining and suspense. However, the emotions in scenes towards climax got diluted. The makers have taken liberty for the sake of creating creating confusion and situational comedy. One wonders why Anjali comes at 11 pm to Srinivas apartment if her intention was to search for clues. The climax of the film reminds us of Bollywood flick Om Shanti Om.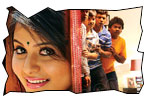 Other departments: Dialogues written by Kona Venkat are entertaining. The coffee song scored by Praveen Lakkaraju is good. But both songs in second half (duet and pre-climax song) are ineffective on screen. Background music is okay. Cinematography is average. Editing is alright. This film is made in a minimal budget, hence we can't find much of production values.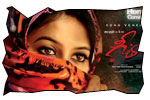 Analysis: First half of the film is entertaining and the interval point makes us to look forward for the second half with a great interest. The revelation in second half takes the horror factor out of the proceedings. But there is a twist in the tale. The second half should have been handled well. The entertainment in the first half and a few moments in the second half are enjoyable. We have to wait and see how the movie lovers lap the Geethanjali up.