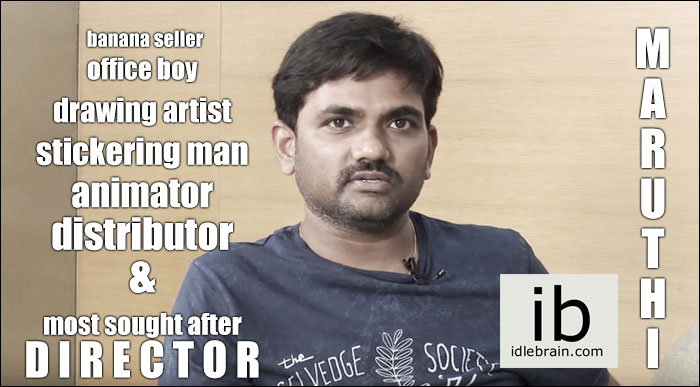 2 September 2015
Hyderabad
Banana seller. office boy.. stickering man… drawing artist… animator…. distributor….. producer…… and a much-sought-after film director. The journey of Maruthi is inspiring to wannabes from towns and villages who want to realize their direction dreams. Here is an exclusive interview with the latest selling brand in tinsel town - Maruthi
Journey:
I am from Machilipatnam and am a normal student at studies. My father used to sell bananas in front of a theater. I used to go there every day to carry lunch for my father. I used to bribe a couple of bananas to watchman of theater and used to enter without ticket during interval. I watched films like Kanchana Seetha, Chettu Kinda Pleader and Kanakamaha Lakshmi Dance Troup innumerable times. I used to sell bananas when my father was having lunch. I used to open my notebook and draw the cutouts and posters at the theaters (posters designed by Gangadhar and Eeswar were of drawing/painting nature at that time). That's how my interest in drawing grew.
During the holidays after 10th class, I joined my uncle's motor agency office as an office boy. I used to take commissions when I was given errands like xeroxing etc. I used to earn Rs. 5/- per day. Then I joined college. During that time, stickering on number plates of motor cycles was introduced. I started doing stickering of number plates. I used to be called as 'stickering Maruthi' and earn around 5 to 10 rupees per number plate. I used to write names of vehicle owners using fonts of hit movie logos on number plates.
During that time, GK Mohan came to Machilipatnam to do Gemini TV's Cheppukondi Chooddam. I approached him and asked if I could decorate the stage. He said that he will give me the contract to decorate the stage for the rest of the tour if he liked my work. He gave me the contract, but my parents didn't let me go.
After a couple of years, I came to Hyderabad in search of a job. I have worked as an assistant to art director Ashok for Radiant 'Antyakshari' hosted by Suma and Sri. After working there for few days, I have realised that there is no money in that profession.
I have returned to Machilipatnam and started a number plate stickering shop. That's when I met love of my life Spandana. Our story was just like the 1st half of Premiste (Premiste wasn't released by then). Spandana was going to college and I used to take a brand new bike every day (left by customers to sticker them) to circle around her and her college. I was from a poor background and she was from a well-off family. We fell in love. I have realised that I should earn a lot of money and be in a good position to convince her parents. Then I came to Hyderabad again to make money. After a few years, I have earned money and convinced her parents to marry her.
Annapurna studios has started an animation company called Heart Animation. The foundation course cost was 15k. I brought 18k which I earned by stickering. I stayed at my sister's house and the institute was located at MLA colony for which only one bus goes there. I used to wait at bus shelter for bus and do live sketching. I have got scholarship (only 16 students were selected for that scholarship given by USA) to complete BFA (Bachelor in Fine Arts) degree.
After completing BFA, I have joined Sriven Multitech for a salary of Rs. 4,000/-. Later my salary was hiked to 13k. That's when Allu Arvind's family has shifted to Hyderabad from Chennai. Bunny wanted to learn drawing. Allu Arvind called me to his house and asked me if I can teach Bunny drawing through home tuition. I told them that I was willing to teach, but it will be more convenient if Bunny comes to my office. Bunny was such a down-to-earth boy. He used to come to our office every day and we used to eat together in messes. There were times, when we rode bikes in threes.
I started designing logos. The logos of Mass and Athadu were design by me for Kiran Poster Ads. I have designed J logo for Johnny's merchandise. Pawan Kalyan was impressed with my work and gave me money for my work.
When Bunny told my intention of direction to Allu Arvind, he called. He said that if 1000 people come to industry to direct, only 100 get work in direction department as assistants. And only 4 get to direct films. He asked to me think over the odds and try my luck. I was disillusioned and dropped my idea to direct films as marriage was the important issue at that time.
That's when Bunny Vas told me that Arya film has come out well and he has taken Arya rights for East Godavari. I invested 5 lacs for Palakollu and made double profit. I placed my bet on 7G Brindavan colony when everybody were skeptical about it. I made a lot of money in it.
Sekhar Suri is my friend and his first film Adrustam was a failure. He was finding hard to get investors for his movie 'A Film by Arvind'. I have invested around 25 lacs in that film and lost heavily. I learnt how not to direct a movie while working for that film in production.
I saw DVD of Kadhal movie an year after release. I have liked it immensely and found it to have potential for Telugu audiences. I have partnered with Santosham Suresh who has worked as PRO for A Film by Arvind. We went to NV Prasad and bought the rights. It became a big profit earner. I recovered all the money I lost and made profits over it.
Allu Bobby was planning to start a clothesline and he wanted me to design a few. When I went to meet him, Chiranjeevi has asked me to design Prajarajyam flag. I designed it in one day and shown it to him. He was impressed as the ideology behind the flag is what Chiranjeevi was looking for. It gave me immense confidence. Then he has asked me to do ads and TV commercials for Prajarajyam party. I have realised that I have it in me to become a director after doing PRP ads.
Later, I have attended premiere of Dongala Mutha and a press conference given by RGV for usage of 5D camera. After the conference, Harish Shankar suggested me that 5D is the most cost effective camera if used for a film with good content.
I have bought 5D camera with lenses, a mini jimmy jib and avid system for 3 and half lacs (all put together). I have started Bus Stop film with son of a politician as hero. We thought that he would get money and invest after some time. We realised after 10 days of shoot that his parents were not interested to invest. We shelved the film.
SKN and G Srinivasa Rao became my producers and we started shooting Ee Rojullo with minimal resources and in guerilla style of making. Hero Sree has invested around 3 lacs. We have completed the movie with a budget of 52 lacs and it has collected close to 7 crores.
After Ee Rojullo, I have narrated a script to Nithin, which was later made as Kotha Jantha with Sirish. Nithin has suggested some changes and it didn't materialize.
Bellamkonda Suresh has come forward to produce my second film Bus Stop. I have made it with a budget of 1.5 crore. It was also shot with a 5D camera. We had the copy ready and got it censored. And were looking for a proper release date. Bellamkonda Suresh sensed an opportunity when Dhamarukam release was pushed back at the last minute. We had released Bus Stop on Sunday, an inappropriate day to release any film. Bus Stop made a killing at box office by collecting 12 crores.
I have signed my 3rd film for Geetha Arts. But there was a lot of time before film was launched. I wanted to do another film. I have started Prema Katha Chitram for fun and without having any script. The first shot in the film is the first one I shot in the shooting. I used to write everyday for the next day's work impromptu. Since I can't use my name as director, I requested my assistant Rajesh Puli if I can lend his name. He said that he doesn't want his name for a film that's not his. I have also asked another assistant Sivanjaneyulu. That's when cinematographer Prabhakar requested me to use his name as director as he was 100% sure that he was never going to direct in his life. Initially, PKC had a confusing screenplay. I had to edit it 6 times to set it straight. PKC was made with a cost of 1.75 crores. The total landing cost was 3 crores. It went on to collect 15 crores. The remake rights for various languages were sold for 2 and half crores. PKC is the film that set the ball rolling for horror comedies in Telugu.
Then I have directed Kotha Janta which deals about a selfish guy. It was a simple film made with a budget of 5 and half crores and went on to collect 10 crores. It Vizag territory, Kotha Janta has collected 1.15 crore.
Tell us about BBM:
Everybody forgets in real life. But some people forget a lot and stand out. Nani's character in this movie is of such nature. But he doesn't have any medical/psychological issues. Nani got excited when I narrated it to him. It was SKN who took me to UV Creations. Vamsi (one of the producers of UV Creations) also liked the concept. Allu Arvind laughed uncontrollably when I gave full narration to him. That's how the movie was started. We have started the shoot on 2nd of March 2015. I liked Lavanya in Andala Rakshasi and it's a similar characterization in this movie. I loved Murali Sharma's performance in Hindi film - Baby. He plays father of heroine in this film. It's a nice role for Vennela Kishore. Srinivasa Reddy has another good role. Bhadram - a guy from short films has done a nice job.
Essense of BBM is that life can be perfect despite imperfections (like amnesia). There is entertainment in this film throughout. There are good family values and nice emotions as well.
What happened with Radha project that was supposed to be made with Venkatesh?
A similar story line was written by another writer. A popular newspaper has misrepresented entire episode. Venkatesh who always prefers to be non-controversial decided that we should make a film with another story line at a later point of time.
You lent your name to many youth films and most of them failed?
I wanted to help other producers/directors who were at crossroads just like me when I was making Ee Rojullo. But all of them have backfired except for Lovers. I have decided to endorse only for films for which I have written story.
How do you want to go forward as a director?
I love the way Rajamouli gets excited by unique points and makes great films out of them. The concept of Maryada Ramanna and Eega are born out of exciting points. I also do films based on story ideas that excite me.
I came from poor family and having work in hand is more satisfying than anything. I feel good and content with the fact that I am able to continuously direct movies of my choice.
What are your future films?
I have many exciting scripts in my hand. Will announce one after the release of BBM.