Story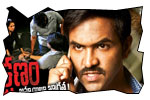 Gowtam (Vishnu Manchu) is an ACP. A taxi driver is on rampage and starts killing beautiful women. As the rate at which the taxi driver tortures and kills his victims increases, there is lot of panic in the city and a lot of pressure on Gowtam to nab the serial killer. A US returned psychologist (Revathi) helps Gowtam to analyse the behavior and pattern of killing of serial killer. Meanwhile, killers enjoys the attention he is getting on TV. Rest of the story is all about how Gowtam traces down the serial killer and arrests him.
Artists Performance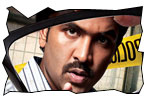 Actors: Vishnu Manchu gives an intense performance as an ACP and his work during 'box opening' episode is nice. Surya who did the psycho killer character makes an impact though he looks like one among us. Revathi has acted without makeup and dubbed her voice. She fits in the role perfectly. Madhu Shalini did the role of a TV news reporter who irks the both sides. Tejaswi played a limited role of hero's wife. Sana has portrayed the role of a mother with inner turmoil. Her big eyes and expressions are used effectively. Supreet and Shravan played the role of cops. Brahmanandam's character looks forced in the story..
Technical departments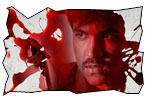 Story - screenplay - direction: Ram Gopal Varma has the history of making films the way he likes it than the way the trend is. He has chosen a new genre for himself. A film like this can be made in two ways. One is to do in Indian way by adding masala, make the film colorful and add a personal loss as a motivation for protagonist. The other one is the western way, where the villain has more edge than hero and hero chases him down. Unlike other Indian thrillers, Ram Gopal Varma reveals the identity of villain right in the beginning episode and tries to give a human angle to the psycho.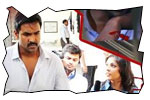 Other departments: Ram Gopal Varma is known for using different and cost-effective cameras and processes to shoot movies. The digital intermediate also plays a role in getting the visuals right. Most of the visuals are good except for the shot where hero comes into open area from a house in the climax. Dialogues are realistic. There are no songs. The background music for the scene of hero opening the box is very good. Editing is alright. Producer Vishnu Manchu should be commended for trying to do a dark and different film instead of an entertainment oriented masala film.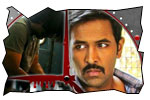 Analysis: Ram Gopal Varma has made Anukshanam by sticking to its genre and by not adding any Indian masala to it (except for Brahmanandam scenes). This film is shot in a reasonable budget in Varma kind of innovative film techniques. Anukshanam is probably the first Telugu film that is auctioned online. It's like an independent film. It's a dark film and is definitely not for weak hearted. Anukshanam is a film that has chances to appeal to the movie lovers who like this genre.