16 December 2010
My Movie - Ala Modalaindi - by Nani's sister, Deepthi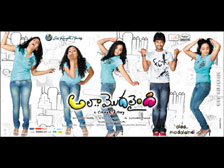 Ladies and Gentlemen, We have a winner. Sit back and let the movie take it from there. Seriously, I don't remember the last time I laughed so much. When Bheemili Kabaddi Jattu released, I could not really drag people to the theatre even if I loved the movie. Bheemili is not every one's cup of tea. Some people don't want to get upset at the movies, no matter how good the movie is. For Ala Modalaindi, I can guarantee that it will be the best 3 hours you will spend, no matter what you like or don't. Going into the the theatre, you might be thinking about your exams, your kids, the traffic,,,but coming out of it, You can only have one thought, that it is the best money you spent in a while. Total "Paisa Wasool" is how I would like to define it.
The Movie starts off on a bumpy note when Nithya's ball hits nani and he is admitted to the hospital. I could not see the significance of that scene at that time but as the movie roles on, it all made perfect sense and it gracefully picked up the pace, not trying too hard. There were no unnecessary comedy tracks or introduction songs which break the flow. Every scene that made me laugh in this movie was so much more funny as it just blended right into the story. Every relationship was beautifully weaved into the love story. The friendships, the mom, the other girlfriend graciously hold the love story together. Specifically, It was the ideal mother son relationship that stood out among everything else. My favorite dialogue in the movie was when the Mom tells her son that "You will know that some one is the right person for you, when you decide so".....Absolutely amazing!!!
The last 1 hour of the movie was a not stop laughing riot. The theatre was buzzing with laughter. A 3 year old kid who sat next to me was laughing everytime he saw Nitya. I guess he just loved her very expressive dialogues. The group of guys that sat behind me were laughing so loudly that I could hardly hear anything. One of my friend's mother was at the show and just loved the movie. She is now a big fan of Nani...She was glad the movie did not have unnecessary fights and also told me that she thoroughly enjoyed a movie after a long time.
Needless to say, I think Nani was amazing as the Lover boy. With every movie, I can tell that he is getting more and more comfortable in front of the camera. In this movie, It was like I was watching him at home. His attire, his speech, his mannerisms make this role closest to his natural self. I guess thats the advantage when the Director and the Lead are best buddies. I am also amazed with his diction. There is not an iota of hesitation(Thadabatu) in his dialogue delivery. I can see that it is turning out to be a great asset for him. Nithya had an amazing debut with this movie. She got to portray every emotion in the book and she excelled with flying colors. I wish her the best and I am sure she is here to stay. Kalyani Malik's Music is just so kind on your ears. Melodious tunes and the meaningful lyrics give the perfect push to a great story.
And finally, The director, Nandini, You go girl. You did it. There is a lot of emphasis on her being a Lady Director. All I can say is, Lady or not, she kicked some very fine behinds and Oh, with what flare. Fantabulous Debut!!!!!!. Congratulations and just show your baby off. I was told about the hard work that you put into this movie and this is your time to bask in the glory. Kudos to you for standing by it and making the most fun filled movie. I heard you call Nithya and Nani the rock stars. I say, You are the real rock star .They were just dancing to your beats.
Finally, Like I told my friends, I am feeling like a 3 year old who just got to eat a lot of icecream. Congratulations to the entire Ala Modalaindi team. You deserve this win. Celebrate this victory and enjoy the moment. I could not have asked for a better Friday Night. Go watch it guys. I guarantee that your money and time is well worth the 2 hours 20 minutes of flawless fun. As for me, I will be back at the cinemas tomorrow for a second round.
Deepthi
dganta at gmail dot com
More My Movie experiences:
AOD by King Koduru
Rakta Charitra 2 by Sreekanth
Rakta Charitra 2 by Mahesh
Orange by Dayakar
Rakta Charitra 1 by Sreekanth
Robo by Sreekanth
Maryada Ramanna by Kumar
Inception by Kumar
Bheemili by Nani's sister
Raavan by Lalitha Spoorthi
Vedam by Praveen
Vedam by Ratnakar
Vedam by Laya
Vedam by Naveen Soma
Vedam by Pavan
Vedam by Deepak
Vedam by Manohar
Vedam by Sridhar A
Vedam by Sarath Chandra
Vedam by Murthy
Vedam by Kumar
Vedam by Santosh
Vedam by Sreekanth D
Prasthanam by Ravi
Prasthanam by Suresh
Prasthanam by Amarnath
Prasthanam by Krishna Chaitanya
Prasthanam by Che
Prasthanam by Purnesh
Prasthanam by Kumar
YMC by Kumar
YMC by Mallik
YMC by Satya
YMC by Anurag Reddy
YMC by Ramskott
YMC by Dellcom
YMC by Ashok
YMC by Ramya
YMC by Sudheer
YMC by Laya
YMC by Survi
YMC by Rajeev
YMC by Pavan
YMC by Rohit
Inkosaari by Avanthi
Inkosaari by Sneha
YMC by Praveen
YMC by Rajani
YMC by Sujith
Inkosaari by Ganesh
Leader by Sreekanth D
Maya Bazar by Gopal
Mahatma by Kishore
Baanam by Stanley
Josh by Nathan
Magadheera by Ashok
Magadheera by Wannabe Director
Magadheera by Shanti
Magadheera by Anitha
Magadheera by SS
Oy by Prathna
99 by Bala Thirumalasetty
Veedokkade by Srinivas
Delhi 6 by Vamsi
KIKK by Sweta
Luck by Chance by Srini
KIKK by Lalitha Spoorthi
Arundhati by Naveen
Arundhati by Srini
Arundhati by Bharat
Sasirekha Parinayam by Santhi Venkat
Sasirekha Parinayam by Vamshi Muthapu
Sasirekha Parinayam by Niharika Reddy
Nachavule by Vamsi Krishna
Neninthe by movie lover
Avakai Biryani by Vamsi Krishna
Kotha Bangaru Lokam by Vamsi Krishna
Kotha Bangaru Lokam by S
Ashta Chemma by Deepthi
Ashta Chemma by Lalitha Spoorthi
Sarkar Raj by Pradeep
Jalsa by Lalitha Spoorthi
Gamyam by Sridhar
Gamyam by Sreekanth D
Gamyam by Sanjay
Halla Bol by Purnesh
Taare Zameen Par by Ashok Varma
Taare Zameen Par by Raja Simha
Happy Days by Krishna Sastry
Chirutha by Phani Kumar
Chak De India by Ravi
Yamadonga by Lalitha
Chak De India by Shyam
AMAV by Darsakudu
5 in March by Sashidhar
Okkadunnadu by Anand
Black Friday by Ratnakar
Desamuduru by Krishna Prasad
Guru by It's opinion
Dhoom 2 by Lalitha Spoorthi
Dhoom 2 by ASK
Don - Syam
Boss - Anand
Boss - Hrithik
Stalin - Bala
Bommarillu - Nandini
Bommarillu - Darsakudu
Bommarillu - Vasu
Bommarillu - Harsha Prakash
Bommarillu - Lalitha Spoorthi
LRMB - Shravan
Bommarillu - Anirudh
LRMB - Srinivas
LRMB - Darsakudu
LRMB - S Sridhar
Bommarillu - Shridevi
Bommarillu - Vasudev
Bommarillu - Roopa
Sriram - Godavari
Sarath - Bangaram
Bala - Pokiri
Srinadh - Allari Pidugu
Sudheer Allari Pidugu
Anu - Athadu
Shyam Krishna - Iqbal
Purnesh - Grahanam
Sudhindra - Super
Vijay - Aparichitudu
Madhav - Aparichitudu
Hazaraon Kwaishein Aisi
Swades
Shyam - Black
Sai - Anand
Rohit - Anand & Veer Zaara
Jaya Prakash - 7GBC
Raj - Anand
Purnesh - Anand
Purnesh - The Village
Sriram - Gudumba Shankar
Purnesh - Gharshana
Purnesh - Lakshya
Purnesh - Yuva
Leenesh - Yuva
Kis - Lakshmi Narasimha
Indian Pride - Tagore
Raj - Boys
Phani - Gangotri
Phani - Khadgam
Vikram - CKR
BKR - Indra (Singapore)
Ram - Indra (Dubai)
Ranjeet - Idiot
Rahul - Indra
King Koduri - Indra
Srilakshmi Katragadda - Mitr: My Friend