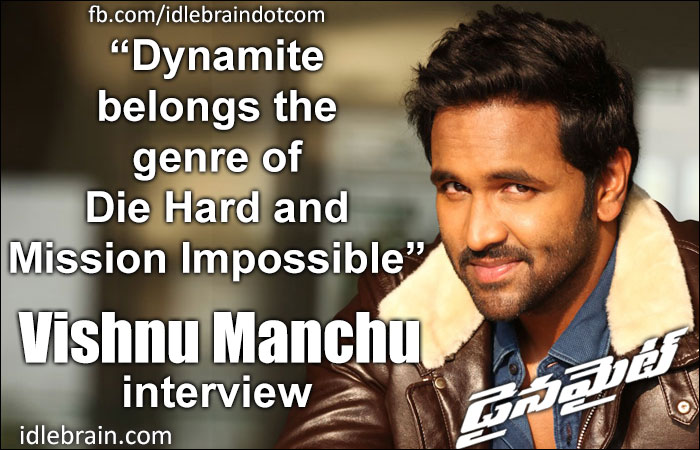 3 September 2015
Hyderabad
Vishnu Manchu talks about his latest action film Dynamite and his future projects in this exclusive interview by idlebrain.com -
Tell me about your new look for Dynamite?
I play the role of an youngster who fights against an invisible enemy. I wanted to sport a look that should be fit and menacing. Hence I had to sport a tattoo, pierced ear, rough beard in addition of bulky biceps. And Vijayan master who is behind the success of superstars of South India in fights departments has made sure that the fights match up with the look I sported.
What's the reason to sign Deva Katta for a remake?
I watched his films and understood his sensibilities and strengths. Dynamite is a film that is of his kind. There is a mind game in the movie. It all starts with a love story. Dynamite is not just a bang bang film, but hero uses his brain to eliminate baddies. The Telugu version of the film is made on a bigger canvas and it's span is larger compared to the Tamil version.
The film industry is going through a healthy phase now with Baahubali and Srimanthudu becoming huge blockbusters. Telugu film lovers are craving for good cinema even if it doesn't have comedy and formula. Dynamite is such a commercially different yet a sensible film.
What are the economics of Dynamite?
We have taken less than 60 working days to make this movie and the runtime is just 2 hours and 10 minutes. We had a pre-production work for 3 months. I feel that we could have bettered it as we were capable of making this movie in 40 days and we could have saved around 2 crores on budget. I am learning how to minimise cost from each and every film.
You always keep costs low and don't scale up in production. What's the reason?
I believe in gradual growth. I am here for keeps. I am not here for instant rise and subsequent fall. I feel that minimizing the budget is minimizing the risk. Money spent is money gone if the film doesn't workout. I can set a big combination and do a massive film. But what's next? I need to wait for a couple of years to get such a big combination again. If you look at my directors, either they are new or they are experiences one with recent flops. I gave three nice films in my career - Dhee, Denikaina Ready and Pandavulu Pandavulu Thummeda.
I am a kind of guy who is also into production. I am a producer first and hero next. I look for the safety of producer. That's why I am able to minimize the risks. Content of my film Rowdy might be debatable, but it made money for me as a producer. That's because of the combination craze of RGV and Mohan Babu. All big names who have worked for the film reduced their remunerations as they know that it's a different film.
My next two films are for outside producers. I am not a greedy guy. If you look at George Clooney, he charged 30 million dollars for Ocean's 11, but charged only 400,000 dollars for The Descendants movie. Actors should be flexible enough to change differently for films of different genres.
You have seen Dynamite. What's your gut feel?
Once you are into 15 minutes of the film, you will be on the edge of the seat. We had a preview for friends recently. They felt that movie shouldn't have interval since the narration is so gripping and racy.
Tell me about your future films?
I am confident that I will prove myself as a hero who deserves to be called as action hero with Dynamite film. Dynamite is of Die Hard and Mission Impossible genre film. There will be a bit of humor associated with my character as well.
I have signed two films for outside producers. One will be a superhero genre film which will be directed by Hanuma. Another one will be an action comedy to be directed by Sai Karthik who directed Adda in the past.
What are your future business plans?
I have started pre-school Springboard International Preschool in 2013 and now it has 35 branches. The current valuation is 75 crores and I want to take it to 100 crores by June of 2016. I am planning to go for public in 2019. I am also going to start Springboard Academy in 2016 which will start schools that teach upto 10th class.
I am going to launch an art foundation in Tirupathi next year. Art work of my art foundation will be featured in the forthcoming international airport of Tirupathi.
We are producing quality students at Sree Vidyaniketan, Tirupathi. My dream is to make it best in country like Princeton University.