Story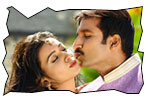 Venkateswarlu (Gopichand) is a good natured youngster who helps out a sister of a goon to elope from Warangal. He falls in love with Chandra Kala (Rakul Preet Singh) in Hyderabad. Chandra Kala is fond of her brother and he fixes her marriage with another guy. Rest of the story is all about how Venkateswarlu traps heroine's brother to make him agree.
Artists Performance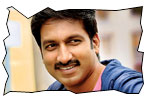 Actors: Gopichand who has done mostly action oriented films has changed his route to do a complete entertainment oriented film. He has adapted his style to suit entertainment and he is at ease. Rakul Preet Singh is cute and did well. Brahmanandam steals show with improvisation and hilarious body language and perfect comedy timing. Pruthvi plays the role of TV actor 'boiling star' and he is hilarious in the climax episode. Chandra Mohan has got a big role after a long gap and he entertains along with Brahmanandam. Sampath Raj plays a vital role and he is settling as one of the big time character artists/villains in Telugu. Mukesh Rushi and Rahul Dev are okay. Hamsa Nandini plays a vital glamorous role in the second half. Pragathi played the role of hero's mother and she has got an opportunity to give a lot of expressions.
Technical departments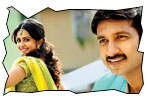 Story - screenplay - direction: The story of the film is formulaic - it's about hero staging a drama for villain in order convince him and to marry villain's sister. What differentiates this formulaic story from other films is an interestingly woven screenplay in the second half. Screenplay written by Kona Venkat and Gopi Mohan is good in the second half. Director Sriwas who started off his career with an action film Lakshyam seems to have settled down with comedy/entertainment genre films. His has the ability to get the right stuff from artists and made sure that there is ample entertainment in the second half.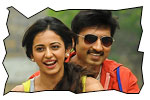 Other departments: Music scored by Anup Rubens is decent. Background score is good (not noisy). Cinematography by Vetri is very good and you can see richness in each and every frame. Dialogues written by Sridhar Seepana are entertaining and go well with scenes. Editing by Sekhar is nice. Loukyam is an example where they prepared script first and then recruited the director. Hence we see good writing and decent execution. Bhavya Creations banner has made sure that the film is made on reasonable good scale with rich visuals.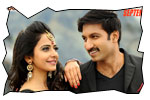 Analysis: First half of the film is average. Second half is entertaining. Plus points of the film are entertainment and screenplay in second half. On the flip side, it's disheartening to see our writers sticking to the same pattern/formula of Dhee film since 2007. Brahmanandam adds more to this movie with his improvisation. On a whole, Loukyam works at box office due to an entertaining second half. You may watch it!