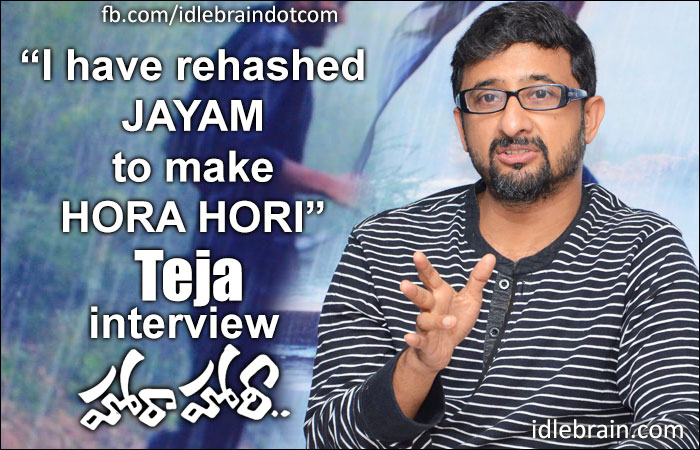 11 September 2015
Hyderabad
Teja had his last hit in the form of Jayam in 2003. It's been 12 years and he is still searching for that elusive success. His latest film Hora Hori provides a ray of hope as it's being made on Ranjith movies banner that delivered decent movies in the recent past. Here is an exclusive interview with the candid director Teja -
You are a firebrand director and Damu (Ranjit Movies) is another straight forward guy. How did this project materialize. Were there no ego issues?
I first met him while resolving a film chamber issue. He has asked me about my next film and I had casually narrated the line of Hora Hori. He liked it and wanted to produce it. But, he has asked me many doubts regarding logics and sensibilities. I have modified the scenes he referred to and made sure that script is ironed out without any basic flaws before going to shoot. I like being questioned and it's good for the film. There were no ego issues.
Tell me about economics of Hora Hori?
We have finished the movie by spending less than what is allocated for budget. We have saved around 25 lacs of rupees. We have planned to shoot the film in 50 days, but we took 56 days. Generally for a small film there will be a crew of at least 60 people during shoot. But, we had only 23 crewmembers. We had cut down on manpower in various departments. There is no art director, set assistant, production boys and production manager for our movie. During the lunch break, we used to stand in queue and do self service. It's same food for every body and same category room stay for all crewmembers.
We have shot the most of the movie in a place called Ajumbe in Karnataka. It's a remote location with only one bus service per day. It's one of the most rainy areas in the world. I have used rain as a backdrop for the movie as rain gives more romantic feel.
What's the story of Hora Hori?
Story is not new. I have remade Jayam again. Like Jayam, this film too has a powerful villain. I feel that villain should always be stronger than hero for a story to succeed. Ramayanam and Maha Bharatham are finest examples. Gabbar Singh is more popular than heroes in Sholay film. Nuvvu Nenu and Jayam too have powerful villains and vulnerable heroes.
Hero and villain love heroine. Heroine rejects both of them. Hero goes into depression and develops suicidal tendency. Villain becomes insulted and spreads death around heroine. It's a fight (hora hori) between hero and villain. Audience will get hooked to the main plot in 3rd minute of movie and it's narrated in linear format.
Both villain and heroine have done a terrific job. Hero looks nice with a bit of vulnerability.
Music director Kalyan Koduri is very straightforward and un-filmy when it comes to attitude. How did you two get along?
We used to roam around together during our Chennai days. I am a workaholic. I don't care about family and money. For me, cinema is first and family comes later. Kalyan gives equal preference to work and family. That's where we had major differences. Kalyan is a regular music director for Ranjith Movies banner. Kalyan used to get upset with me and go away. Executive producer Vivek Kuchibhotla used to mediate between us and set things right. Kalyan has given terrific work and gave different tunes for Hora Hori. Shyam Prasad Reddy's niece Gowri has sung 'gunde chappu' song. My daughter Aila Teja has sung Orey Orey song.
Tell us about cinematographer?
Cinematographer Deepak was the official still photographer for Tanjavur temple. Later on, he did a course in LV Prasad Institute in Chennai. I saw a commercial ad and signed him for Hora Hori. We had limited resources while shooting. We had one light and one generator. When we used rain machine, the light failed. We have shot the entire film without lights. Generally, we do DI (color grading) for skin tones in postproduction. But I have done DI for black color. Because of that, the depth in visuals has increased. I have also decreased the height of visuals by adding black strips at top and bottom to make sure that visual looks more panoramic.
What's your next project?
It's going to be a science fiction that uses mind control and bionics together. We have ordered a robotic arm in New York and it costs around 35 lacs rupees. It's going to be a revenge story. I might go with a new hero or an existing flop hero. I might do it in Ranjit Movies banner.