12 July 2012
Eega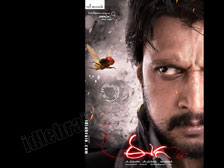 "EEGA" A Master stroke by SS Rajmouli. Now we can understand why he revealed the story on day one because he want to keep enthusiasm until release to show case how small fly can kill human only on celluloid. It is 2 hrs 20 min spellbound journey which will keep u on edge of the seat.Story of this film is single liner but it is very difficult to narrate this kind of story on screen in interesting manner. Rajmouli takes this risk and succeeded in grand scale
Some of the scenes which i liked most are
Beginning Titles where girl asking her father( rajmouli voiceover) to tell a story
Love episodes between Nani & Samantha & Kuncham Ishtamina Song picturization
Nani incarnation as Eega and accustomed to the environment episodes
Eega funny trials to irritate Sudeep in first half
Sudeep performance
EEGA body language and various expressions (love,comedy,happiness,angry e.t.c)
Eega trying to tell samantha that itself is nani
Eega title song(Samantha helping nani scenes)
Tantra episode
Climax
Eega dance in end scrolling
Nani did fair job. Even though his role is very limited but his character will always remains u until end of the movie. Samantha justifies her role and looks pretty. Sudeep steal the show with his stellar performance and he will get more applause for doing this role.
If Eega is created by rajmouli then Keervani who given life to this. Rerecording is great asset to the file which increases the tempo of each scene. I still wonder how my mind accepted it without looking for any logistics whether it is possible or not in real life,that is the dramatics created by this character.VFX/CGI done by makuta are top notch and surprise to hear that this graphical extravaganza was made with limited budget(even 30 crs seems to be very less with the CG shots shown on screen) and senthil photography is worth praisable.He is one one of the top cameramen in recent times who raise the tollywood cinema to new heights.All other dept Dialogues/Art/Editing/Styling did their fair job which added complement to the movie. Totally it is a team effort which make this fablous product.
The one man who behind this creation and make his wild imazination possible on silver screen none other than "SS RAJMOULI". what ever we praise are less for him but defnetly he is the finest story teller and director in current era with out any doubts. From last 10 years he himself transformed as mass,action director to classic/genius film maker.Hope we could see more different kind of generes from him in near future.
We have seen so many hollywood movies with giant dragons,dinasours and robots but first time in indian cinema small fly creating buzz all over the world.Being logistics kept aside, personally i enjoyed this movie very much from begining titles to end card and also surprised to see that everyone in theatre not moving even after end card.
Those who havent watch the movie yet go and book the tkts as it is 100% Entertainment guarantee and complete family package. This movie is defnetly going to make ripples in Indian cinema.
Thanks jeevi for giving chance to share my views.
Regards
Saisridhar.p at gmail dot com
More My Movie experiences:
Eega by Ajay
Eega by Sreekanth
Gabbar Singh by Sreekanth
Love Failure by Lalitha
Sri Ramarajyam by Santosh
Sri Ramarajyam by Sandeep
Sri Ramarajyam by Srini C
Sri Ramarajyam by Sreekanth
Sri Ramarajyam by Kumar
Sri Ramarajyam by Sarada
Sri Ramarajyam by Sarath
Sri Ramarajyam by Kiran
Gaganam by fan
Ala Modalaindi by Lalli
Ala Modalaindi by Deepthi
AOD by King Koduru
Rakta Charitra 2 by Sreekanth
Rakta Charitra 2 by Mahesh
Orange by Dayakar
Rakta Charitra 1 by Sreekanth
Robo by Sreekanth
Maryada Ramanna by Kumar
Inception by Kumar
Bheemili by Nani's sister
Raavan by Lalitha Spoorthi
Vedam by Praveen
Vedam by Ratnakar
Vedam by Laya
Vedam by Naveen Soma
Vedam by Pavan
Vedam by Deepak
Vedam by Manohar
Vedam by Sridhar A
Vedam by Sarath Chandra
Vedam by Murthy
Vedam by Kumar
Vedam by Santosh
Vedam by Sreekanth D
Prasthanam by Ravi
Prasthanam by Suresh
Prasthanam by Amarnath
Prasthanam by Krishna Chaitanya
Prasthanam by Che
Prasthanam by Purnesh
Prasthanam by Kumar
YMC by Kumar
YMC by Mallik
YMC by Satya
YMC by Anurag Reddy
YMC by Ramskott
YMC by Dellcom
YMC by Ashok
YMC by Ramya
YMC by Sudheer
YMC by Laya
YMC by Survi
YMC by Rajeev
YMC by Pavan
YMC by Rohit
Inkosaari by Avanthi
Inkosaari by Sneha
YMC by Praveen
YMC by Rajani
YMC by Sujith
Inkosaari by Ganesh
Leader by Sreekanth D
Maya Bazar by Gopal
Mahatma by Kishore
Baanam by Stanley
Josh by Nathan
Magadheera by Ashok
Magadheera by Wannabe Director
Magadheera by Shanti
Magadheera by Anitha
Magadheera by SS
Oy by Prathna
99 by Bala Thirumalasetty
Veedokkade by Srinivas
Delhi 6 by Vamsi
KIKK by Sweta
Luck by Chance by Srini
KIKK by Lalitha Spoorthi
Arundhati by Naveen
Arundhati by Srini
Arundhati by Bharat
Sasirekha Parinayam by Santhi Venkat
Sasirekha Parinayam by Vamshi Muthapu
Sasirekha Parinayam by Niharika Reddy
Nachavule by Vamsi Krishna
Neninthe by movie lover
Avakai Biryani by Vamsi Krishna
Kotha Bangaru Lokam by Vamsi Krishna
Kotha Bangaru Lokam by S
Ashta Chemma by Deepthi
Ashta Chemma by Lalitha Spoorthi
Sarkar Raj by Pradeep
Jalsa by Lalitha Spoorthi
Gamyam by Sridhar
Gamyam by Sreekanth D
Gamyam by Sanjay
Halla Bol by Purnesh
Taare Zameen Par by Ashok Varma
Taare Zameen Par by Raja Simha
Happy Days by Krishna Sastry
Chirutha by Phani Kumar
Chak De India by Ravi
Yamadonga by Lalitha
Chak De India by Shyam
AMAV by Darsakudu
5 in March by Sashidhar
Okkadunnadu by Anand
Black Friday by Ratnakar
Desamuduru by Krishna Prasad
Guru by It's opinion
Dhoom 2 by Lalitha Spoorthi
Dhoom 2 by ASK
Don - Syam
Boss - Anand
Boss - Hrithik
Stalin - Bala
Bommarillu - Nandini
Bommarillu - Darsakudu
Bommarillu - Vasu
Bommarillu - Harsha Prakash
Bommarillu - Lalitha Spoorthi
LRMB - Shravan
Bommarillu - Anirudh
LRMB - Srinivas
LRMB - Darsakudu
LRMB - S Sridhar
Bommarillu - Shridevi
Bommarillu - Vasudev
Bommarillu - Roopa
Sriram - Godavari
Sarath - Bangaram
Bala - Pokiri
Srinadh - Allari Pidugu
Sudheer Allari Pidugu
Anu - Athadu
Shyam Krishna - Iqbal
Purnesh - Grahanam
Sudhindra - Super
Vijay - Aparichitudu
Madhav - Aparichitudu
Hazaraon Kwaishein Aisi
Swades
Shyam - Black
Sai - Anand
Rohit - Anand & Veer Zaara
Jaya Prakash - 7GBC
Raj - Anand
Purnesh - Anand
Purnesh - The Village
Sriram - Gudumba Shankar
Purnesh - Gharshana
Purnesh - Lakshya
Purnesh - Yuva
Leenesh - Yuva
Kis - Lakshmi Narasimha
Indian Pride - Tagore
Raj - Boys
Phani - Gangotri
Phani - Khadgam
Vikram - CKR
BKR - Indra (Singapore)
Ram - Indra (Dubai)
Ranjeet - Idiot
Rahul - Indra
King Koduri - Indra
Srilakshmi Katragadda - Mitr: My Friend